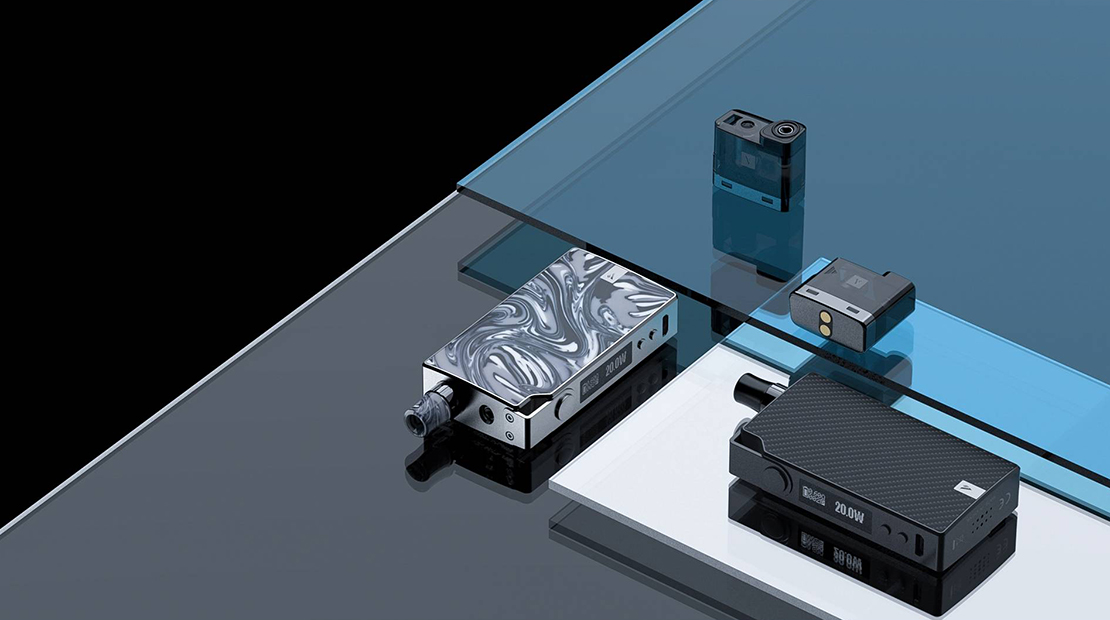 It seems that the pod mod kit will be the next developing trend of the pod kit. Especially this year, a handful of e-cigarette manufacturers start to do that in unison. And more and more manufacturers seem to realize all of a sudden and conform to this trend. Smok RPM40 Pod Mod Kit and Voopoo Vinci Mod Pod Kit are what we're familiar with, and OBS Alter Pod Kit(

) is another great pod mod kit that features 70w max output. Today, we will have another 'pod mod kit' to review. The Vaporesso Degree Pod Kit(

).
(Update: please click here to check the full review, https://www.ave40.com/blog/post/vaporesso-degree-pod-kit-review-i-cant-ask-for-more)
There're two versions that covered with different panels. Resin version and carbon fiber version. And there's a total of 6 colors you can choose from.
On the top of the Vaporesso Degree Pod Kit(

), you can see the PTF filling port and 510 drip tip. Of course, you can adjust the airflow by slightly twisting the airflow ring under the drip tip.
Inside the battery mod, you will have the 950mAh internal battery and the AXON chipset. And you have already seen that chip in Vaporesso Gen Mod(

).
That chipset makes the device more intelligent ever. First, it will help you to adjust the output wattage automatically that works best for your coil when you replace a new pod cartridge. Secondly, it will prevent the annoying dry hit by reminding you of the low capacity of liquid in your pod cartridge with a pop-up reminder on the screen. Thirdly, you will have the pulse mode to use.
The capacity of the pod cartridge is 2ml. And the resistances of the irreplaceable built-in coil are 0.6ohm mesh and 1.3ohm Ccell, which is the same as Vaporesso Podstick Pod Kit as well.
Specifications:
Dimensions: 90.5x41.5x16.45mm
Battery: 950mAh
Capacity: 2ml
Power Range: 5-30W
Charge Current: DC 5V/2A
Refillable Method: PTF ™
Display: 0.69" OLED Screen
POD: Meshed Pod, 0.6Ω(Optimal Range 16-22w)
CCELL Pod, 1.3Ω(Optimal Range 7-12.5w)
Kit Includes:
Vaporesso Degree with CCELL POD(2ml, 1.3Ω) * 1
Vaporesso Degree MESHED POD (2ml, 0.6Ω)* 1
E-Juice Filling Bottle (10ml)* 1
USB cable* 1
User Guide* 1
Warranty Card* 1
Reminder Card* 1
Vaporesso Podstick Pod Kit:(

)
Now you can find it in our store.
Click here to see: https://www.ave40.com/vaporesso-degree-vape-pod-system-kit-950mah.html
Vape Wholesale & buy Electronic Cigarettes online in Bulk.
Quality Vape Products, Trusted Vape Wholesale Supply by Vape Shops Owners.
Wholesale Inquiry: https://www.ave40.com/wholesale-service.html
Thanks for Reading!