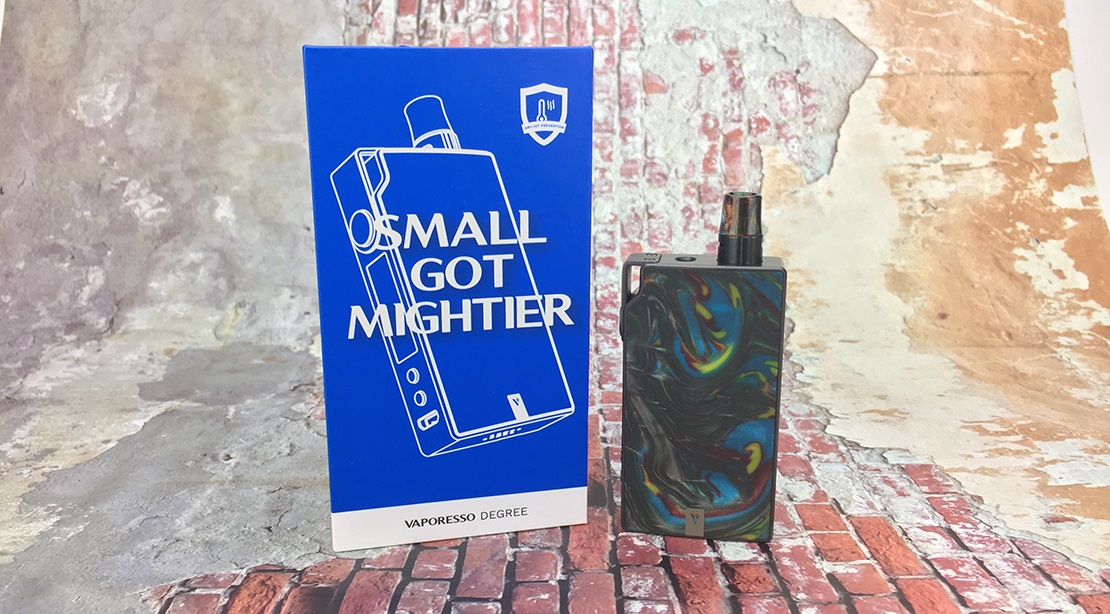 Frankly, I don't know if Vaporesso's reaction slowed down. In recent months, specifically in August, the emergence of pod mod kits, like Smok RPM40 Pod Mod Kit and Voopoo Vinci Mod Pod Kit, definitely brought us something refreshing. And we have seen more and more new type devices sprung up like mushrooms. Such as Smok Fetch Mini Pod Kit, Augvape Narada RBA Pod Kit, THC Tauren X RBA Pod Kit, etc. But anyway, Vaporesso seems to realize that and make their reaction. The Vaporesso Degree Pod Kit. Let's check it out!
Initial Thoughts
Seriously, I like the shape and color-matching of this Vaporesso Degree Pod Kit. The beautiful resin panel on the front side is the very highlight of this whole kit. And the coordination of the color between the 510 drip tip and the main body also makes itself much more outstanding.
On the other side, the rectangular design has also been well-received recently. To be honest, I like this device when I took my first glance at it.
The Battery Mod
This Vaporesso Degree Pod Kit has a removable battery door on the back, which you can take it off first and replace your pod cartridge. And the battery door and the main body both have three pieces of magnets in contact with each other. Due to the great build quality, there're no movements or rattles at all.
On the left side of the battery mod, you can see a handful of buttons, a monochrome screen, and the USB port.
One thing that is worth mentioning particularly is this Vaporesso Degree Pod Kit is equipped with an AXON chip inside that has made its debut in Vaporesso Gen Mod. And I think people out there who have used that mod already clearly know it's a great chipset by far!
The main effect of a safety chip is to ensure everything works well. And I have used this device for almost three days, it did a great job. The actual functionality of this device is pretty simple. Let me list them below so you can have a clear understanding.
5 clicks on the fire button to turn the device on/off.
3 clicks on the fire button to lock/unlock the wattage. (Once you do this, you can not adjust the output, but you can still vape)
Press the fire button and up button together to reverse the screen.
Press the fire button and down button together to set your puff time. (From 0s to 10s)
On the other hand, when you install a new pod cartridge, the battery mod will scan the coil information and automatically adjust the output that works best for your coil. And when the juice inside the pod is below the safe level, it will also automatically stop you from vaping and pop up a reminder on the screen.
The Airflow
On the top, you will have an airflow adjustment ring and a PTF filling port. Do you guys still remember the Vaporesso podstick pod kit? In my view, it's a great pod kit and I have used it for almost two weeks. But what annoys me a lot is its airflow is nonadjustable. Even you have a 1.3ohm coil pod.
The PTF fill port is comfortable to use. It's a patented design of Vaporesso, so you can see this kind of configuration in most Vaporesso devices, such as Vaporesso Renova, Vaporesso Podstick, etc.
The Pod Cartridge
There're two pod cartridges included in the package. A 0.6ohm mesh coil pod and a 1.3ohm Ccell coil pod. Does these look familiar? The coil parameters are the same as those on Vaporesso Podstick Pod Kit.
On top of the pod, there're two single holes. The larger one is where the vapor comes out and the smaller one is where you fill your liquid.
It's disappointing that the coil inside the pod is still irreplaceable. I don't know why Vaporesso always insists on that. Even I get an extra pod, I still want to replace the coil by myself instead of replacing the whole pod.
Adding
I forget to tell you something worth mentioning as well. The juice bottle and the juice window on the back. Vaporesso manufacturer always gifts customers a juice bottle in their packaging to help them experience the convenience that PTF fill port brings. Without any doubt, that quite makes sense.
And the juice window on the back is also comfortable to use. With that, you can easily check or fill the liquid without having to take off the back door.
The Verdict
I have to admit this Vaporesso Degree Pod Kit is a great device. Without exception, Vaporesso manufacturer keeps making what we want as always. But, let me complain about something!
First, the battery capacity is only 950mAh. Given its size, I legitimately think Vaporesso could make it much bigger, such as 1000mAh or 1200mAh. Smok Fetch Mini Pod Kit is much smaller than this kit, but it has a 1200mAh battery!
Another point is the coil is irreplaceable. I eagerly want Vaporesso to change their mind about this design. After all, it's not difficult to do!
Actually, it's just my subjective thoughts. Maybe I'm too picky. But exactly, it's a perfect device! Perfect airflow control, perfect PTF fill port, perfect resin panel, and perfect color-matching. And no matter in terms of the whole design or the intelligent AXON chip, I will pay for that! Will you?
Specifications:
Dimensions: 90.5x41.5x16.45mm
Battery: 950mAh
Capacity: 2ml
Power Range: 5-30W
Charge Current: DC 5V/2A
Refillable Method: PTF ™
Display: 0.69" OLED Screen
POD: Meshed Pod, 0.6Ω(Optimal Range 16-22w), CCELL Pod, 1.3Ω(Optimal Range 7-12.5w)
Kit Includes:
Vaporesso Degree with CCELL POD(2ml, 1.3Ω) * 1
Vaporesso Degree MESHED POD (2ml, 0.6Ω)* 1
E-Juice Filling Bottle (10ml)* 1
USB cable* 1
User Guide* 1
Warranty Card* 1
Reminder Card* 1
Now you can find it in our store.
Click here to see: https://www.ave40.com/vaporesso-degree-vape-pod-system-kit-950mah.html
Vape Wholesale & buy Electronic Cigarettes online in Bulk.
Quality Vape Products, Trusted Vape Wholesale Supply by Vape Shops Owners.
Wholesale Inquiry: https://www.ave40.com/wholesale-service.html
Thanks for Reading!