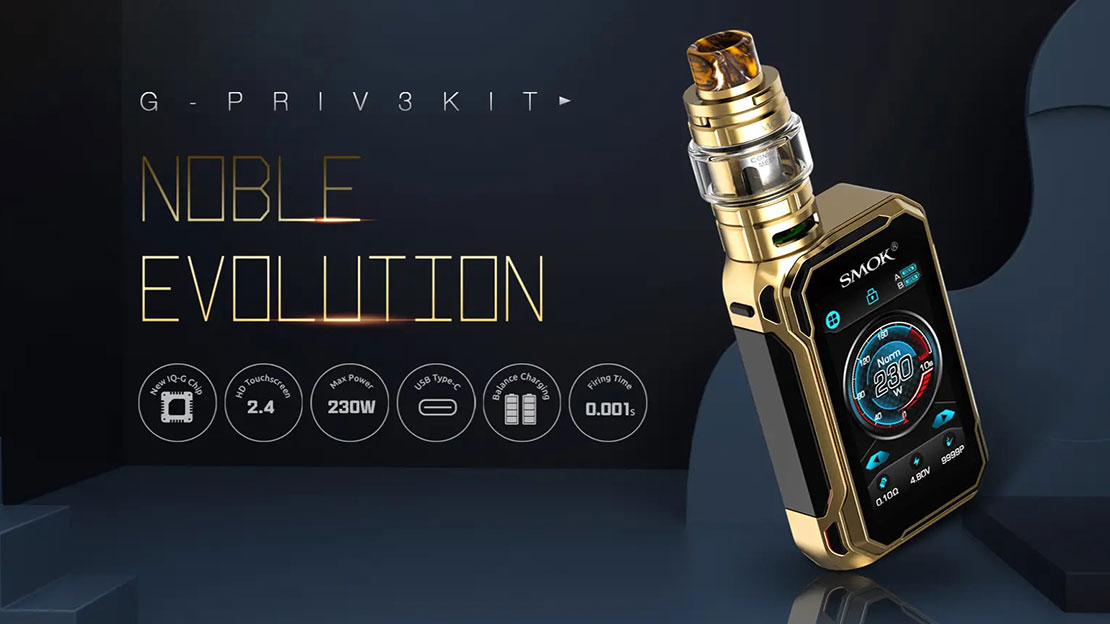 So, Smok finally unveiled the Smok G Priv 3 Kit, which is considered as their mainline product. Also, this new kit comes with TFV16 lite sub-ohm tank, which is an upgraded version of TFV 16 tank that has been released a few months ago. Now, let's have a look!
The Mod
The profile design of the Smok G Priv 3 Kit has not changed too much. The only difference you can find is on the back. So, it's easy to differentiate.
The chassis is still constructed from zinc alloy material and the dimension is almost the same as the previous version.
Technically, Smok unveiled their own chipset IQ series this year, which made its debut on Smok RPM40 Pod Mod Kit. Also, the new IQ-G chip also makes its debut on the Smok G Priv 3 Kit.
With the help of the IQ-G chip, there's a ton of new features and functions you can find below. Furthermore, the screen has been enlarged to 2.4-inch, which is also touchable.
On the other hand, this kit is also powered by dual 18650 battery and the maximum output wattage is 230 watts as well. But the charging configuration is 5V/2A and you can charge it via USB-C port.
The Tank
As a lite version, the capacity of juice storage is 5ml. And the capacity of the previous Smok TFV16 Tank is 9ml. Anyway, it's not bad.
The construction structure of the Smok TFV16 Lite tank remains the same as the previous one in order to simplify the operations. Also, the upgraded airflow system also guarantees as abundant airflow as possible.
There're two coil heads included in the packaging. The 0.2ohm mesh coil is worth introducing in detail due to the conical mesh structure, which aims to improve the effect of liquid evaporation.
Specifications:
G-PRIV 3 Box Mod
Size: 54*28*85mm
Standby Current: <400uA
Power Range: 1-230W (VW) / 10-230W (TC)
Input Voltage: 6.4-8.4V
Output Voltage: 0.5-8.2V
Firing Time: 0.001s
Charging Voltage: 5V
Charging Current: 2.0A
Resistance Range: 0.1-2.5ohm (VW) / 0.05-2.0ohm (TC)
Temperature Range: 200-600℉ / 100-315℃
TFV16 Lite Tank
Material: Stainless Steel
Size: 28*58.5mm
Capacity: 5ml
Kit Includes:
G-PRIV 3 Mod * 1
TFV16 Lite Tank (5ml)* 1
Conical Mesh 0.2ohm Coil (Pre-installed)* 1
Dual Mesh 0.15ohm Coil* 1
Glass Tube Replacement* 1
USB Cable* 1
User Manual* 1
Spare Parts
Click here to see: https://www.ave40.com/smok-g-priv-3-iii-230w-mod-kit-with-tfv16-lite-tank-5ml.html
Vape Wholesale & buy Electronic Cigarettes online in Bulk.
Quality Vape Products, Trusted Vape Wholesale Supply by Vape Shops Owners.
Wholesale Inquiry: https://www.ave40.com/wholesale-service.html
Thanks for Reading!