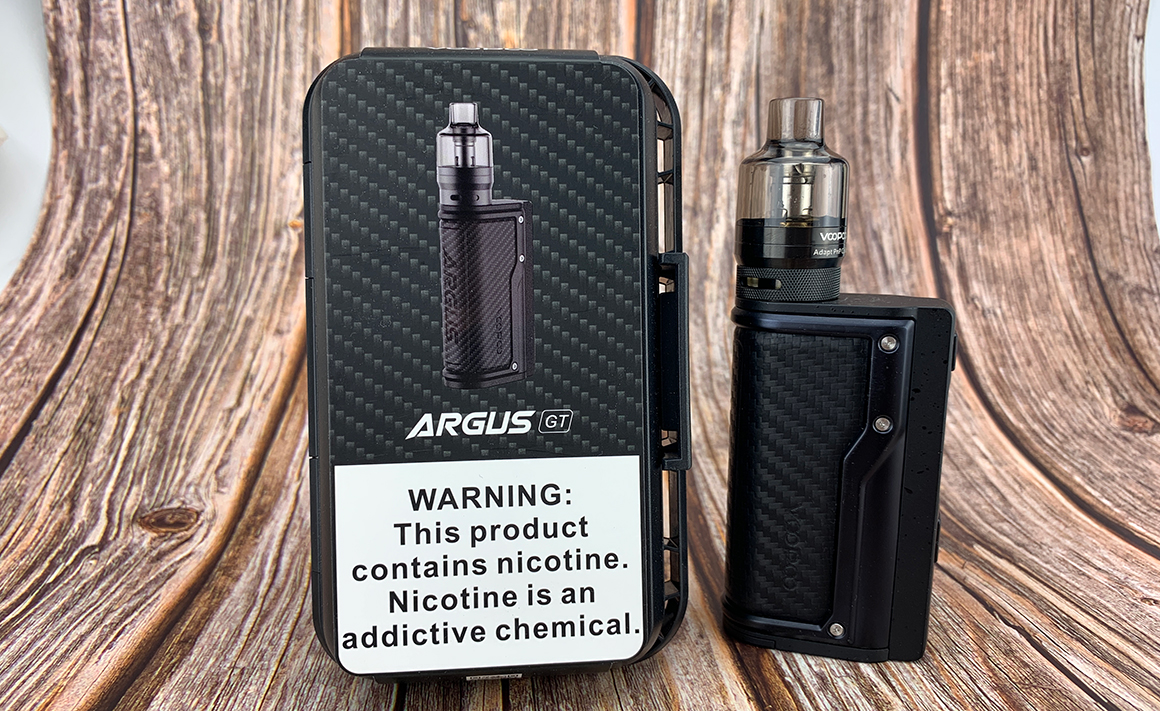 I have no idea why Voopoo would make such a 'special' vape, Voopoo Argus GT Kit.
Frankly, the current vape market has been through an unexplained situation that pod system kits have made it to the top while traditional box mod vapes have dropped down. Without a doubt, the pod system vapes gained a reputation and became fairly successful due to its inborn compactness. And the majority of vapers are all glad to pay for that! By the year 2019, Smok RPM40 Pod Mod Kit came out with the label of the world's first 'Pod Mod Vape' which brought some fresh energy into the market. Then, this specific field kept expanding where more and more the same type of vape devices sprung up. Technically, it's a quite great phenomenon in which some new blood has cut a striking figure and brings something different to the changeless field. But, the VAPE is meant to be powerful and vaporous! The Pod or Pod Mod could only be a flavored snack rather than the main course. Undeniably, high-powered vapes are always the protagonist.
Back to business, I spend a little time to figure out what's the original intention for Voopoo to make a cross-border product between old traditions and new concepts. The very deep fusion between the two big fields(Pod and Mod) is something that nobody has considered to make before. Or rather, to make a further integration of Voopoo's own highly acclaimed product lines, the Voopoo Vinci and Voopoo Drag.
Now, let's take a detailed look at this a little unique device, Voopoo Argus GT Kit.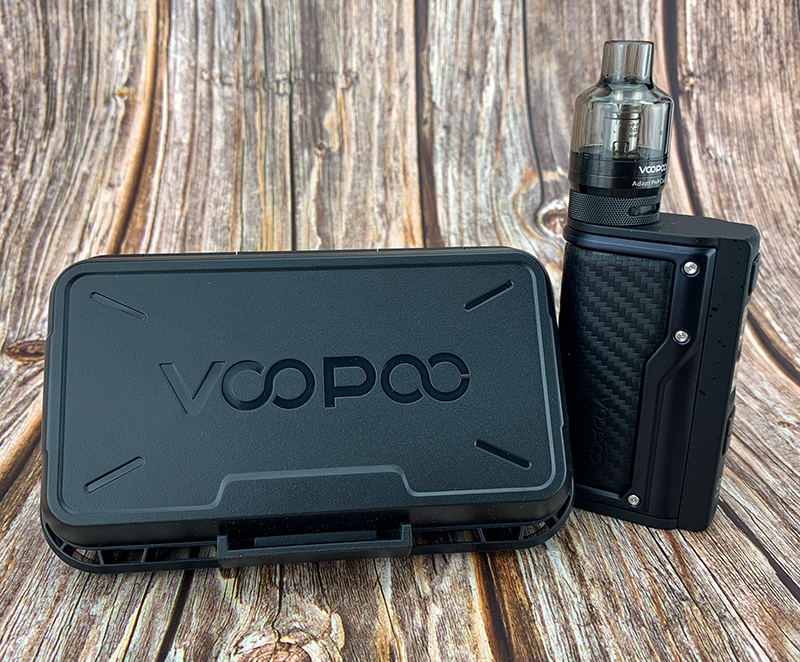 Initial Thoughts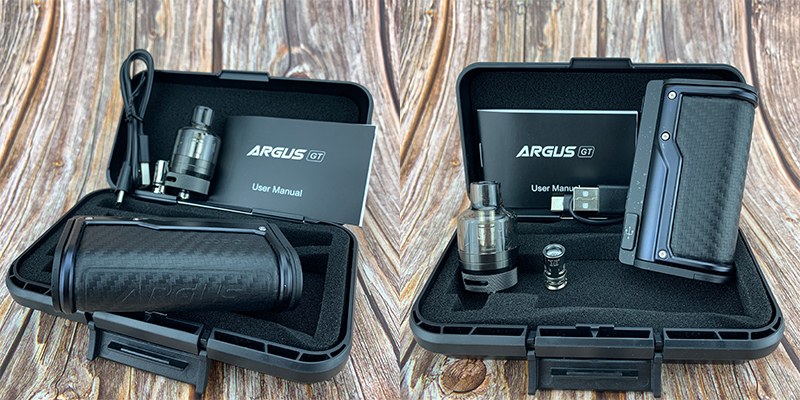 The surprise has come to me when I got this device. The whole packaging is a portable case instead of a conventional paper box which contained all components including the Argus GT 160w mod, two PnP coils, paperwork, USB-C cable, and an unconventional PnP pod tank. In fact, it's not the first time that we see something like this. But, it's the first time for the box mod.
Frankly, the Argus GT mod amazed me a lot by its dimension. I will show you below with a quick comparison. On the other hand, the actual PnP pod tank is a combination of the pod cartridge from Voopoo Drag S/ Voopoo Drag X and a 510 threaded connector. In case of some information you missed, Voopoo has released a refresh edition Drag 2/ Drag Mini a few weeks ago which paired with this special atomizer. Also, you can purchase this PnP pod tank separately if you don't need a new mod. No matter how interesting the PnP pod tank is, we will further discuss the Argus GT mod.
The Mod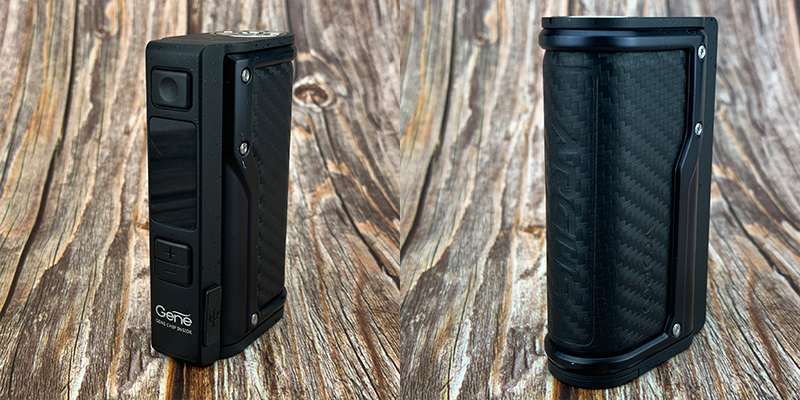 The mod is formed from zinc alloy and a large coverage of a leather-like material that feels the same as Voopoo Drag S/ Voopoo Drag X. The built quality is quite solid and the fluffy grip section feels great in the hands. Somebody thinks Voopoo is famous for its great products and I want to give credit to Voopoo's brilliant ability of industrial design and quality regulation. Generally speaking, every Voopoo device just makes me feel like it's worth paying for every aspect of it. Without any doubt, their performances are fairly great as well.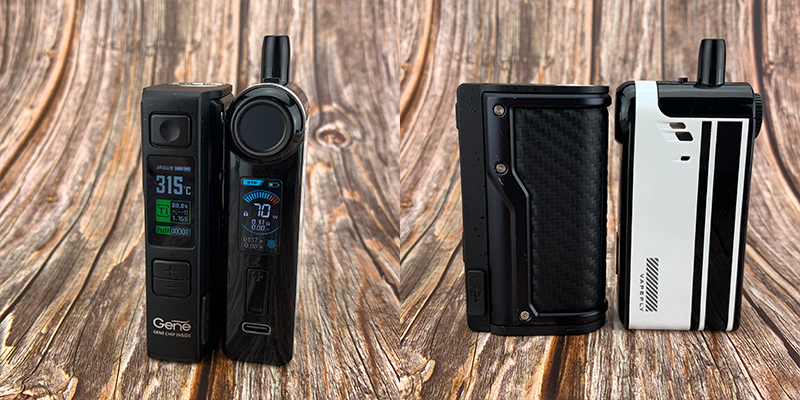 Here is a quick comparison between the Voopoo Argus GT Kit and Vapefly TGO Pod Mod Kit to give you a basic idea of its size. The Vapefly TGO is a 70w pod mod vape that integrated with a 2300mAh interior battery and a functional fingerprint structure. In fact, the dimension of the TGO Kit is under fairly great control because of its decent battery capacity. And some extra space is needed to adopt the fingerprint structure. Even though, it still shares the same size as the Voopoo Argus GT mod. As a matter of fact, I don't want to show you how large the TGO Kit is, I just want you to know how compact the Argus GT is. XD~!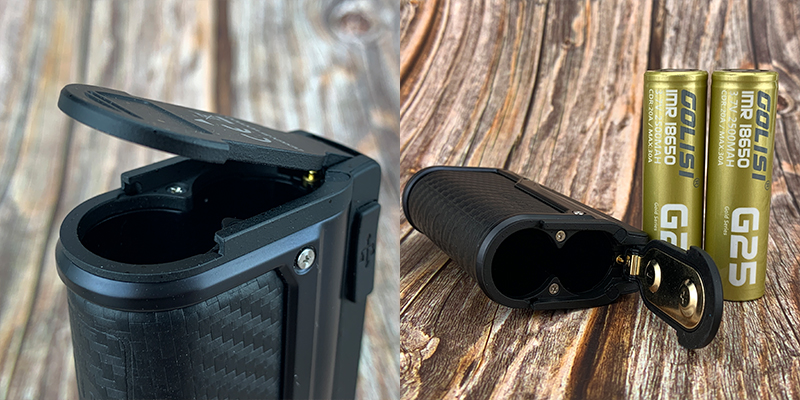 As a dual-battery box mod, it's not that easy to shrink down the whole dimension because some essential configurations are indispensable. A screen display and traditional buttons can take over quite a lot of space due to their size and the more complex circuit board also need more space. So, I'm quite surprised by the size of the Voopoo Argus GT Kit.
The Functions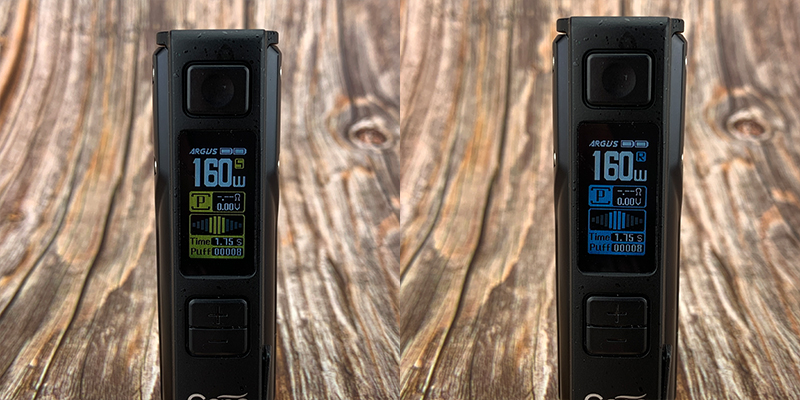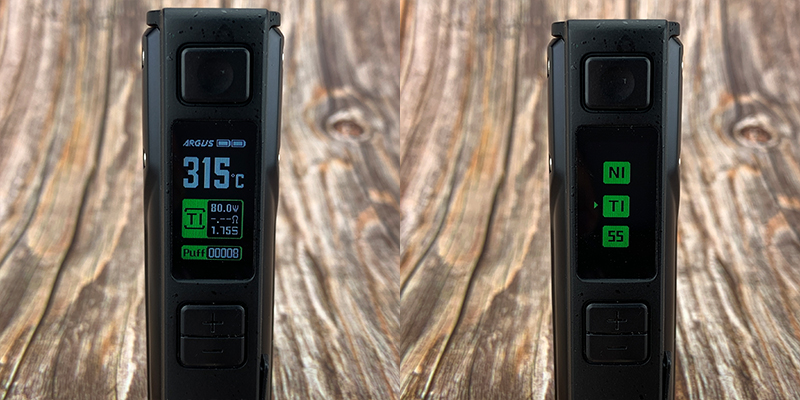 With the help of dual 18650 and GENE.TT chipset, the Argus GT is capable of delivering 160w power output and achieving more functions like default VW mode, RBA mode, and TCR mode. And the operation still tastes the same as the Voopoo Vinci and Voopoo Drag(Pod Mod). Three presses on the fire button to switch through three modes and a long press to confirm the current selections. As far as the PnP pod tank's concerned, the default VW mode is the only one available function because the coil has its power restrictions and the GENE.TT chip inside won't allow you to turn up the wattage any more once it reaches the limit. On the contrary, the RBA mode can let you cross the boundary and set up random wattage figures you like. For example, the two coils included in the packaging( PnP-VM5 0.2Ω and PnP-VM6 0.15Ω) are suggested to serve at 40w - 60w and 60w - 80w respectively. In RBA mode, you can make these coils work at 65w or 85w. The fun fact is these coils are strong enough to handle it and work great. But, for the sake of safety and coil lifespan, I kindly advise you to run these coils under the regulation.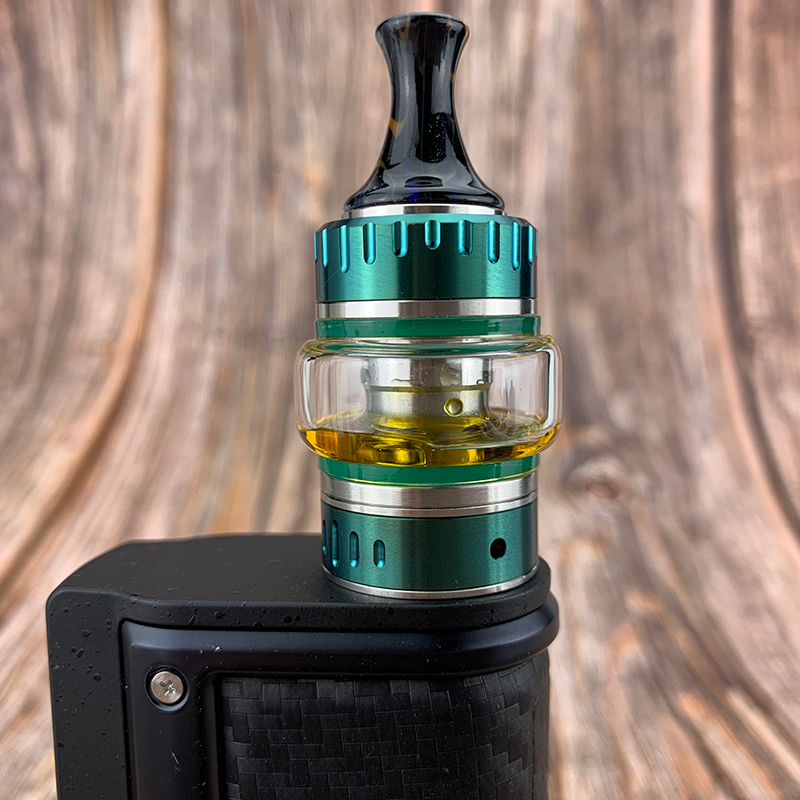 The Voopoo Argus GT is a great mod and I don't want to waste its talents with just a PnP pod tank. As a 510 threaded box mod, you can feel free to put any atomizers on it such as RDA, RTA, RDTA, and sub-ohm tanks. As the picture showed above, I put a 22mm Fireluke 22 tank, which comes together with Freemax Twister 30W Kit, on the mod and it looks great. I also have tested a couple of different types of atomizers, and it's able to work perfectly with the atomizers with a diameter of less than 26 or 25mm.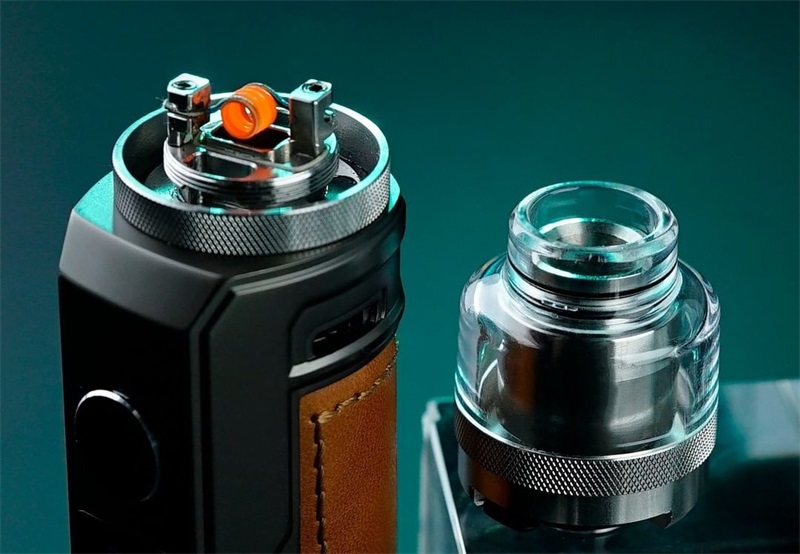 If you're a fan of Voopoo, you must notice that they have released an RTA pod a few days ago which is compatible with Voopoo Drag(Pod Mod) and the 510 connector. If you don't want to waste the PnP coils on RBA mode while higher power is what you're chasing, you can consider purchasing this RTA pod to release the full potential of the Voopoo Argus GT Kit.
The PnP Pod & Coils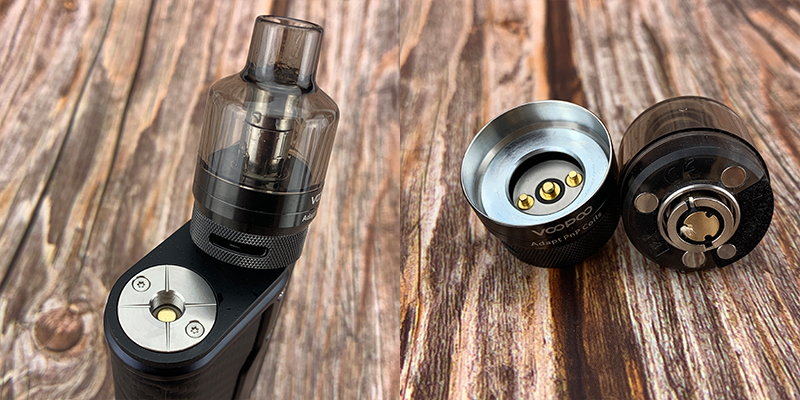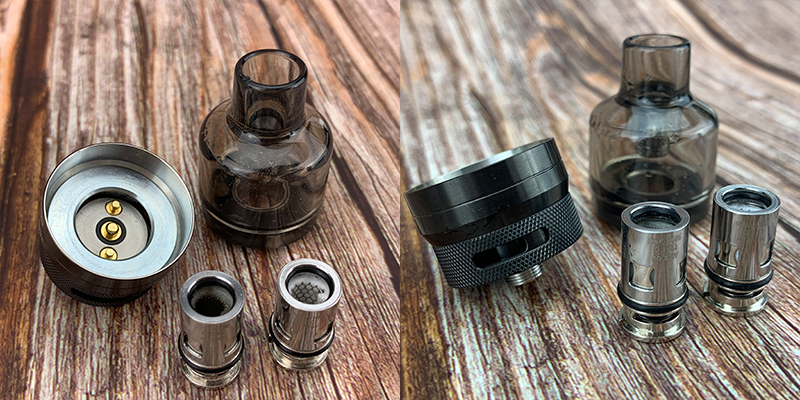 This part of the introduction won't be too long because the mysterious PnP pod tank is quite simple. A 510 connector is what we've talked above and the PnP pod is the same one installed on Voopoo Drag(Pod Mod).
The 510 connector is totally different from any other 510 adapters that make the Pod Mod Kit compatible with sub-ohm tanks or the rebuildable. As far as I'm concerned, I think that's pretty stupid to install an advanced atomizer on a slim and skinny 'Pod Mod'. I really want to know where the inspirations come from and what's the motivation to make something like that? In my opinion, Voopoo made a great difference at this time.
On the other hand, this PnP 510 connector has an individual airflow adjustment mechanism in order to satisfy different personal preferences. For me, that's fairly awesome!
The Verdict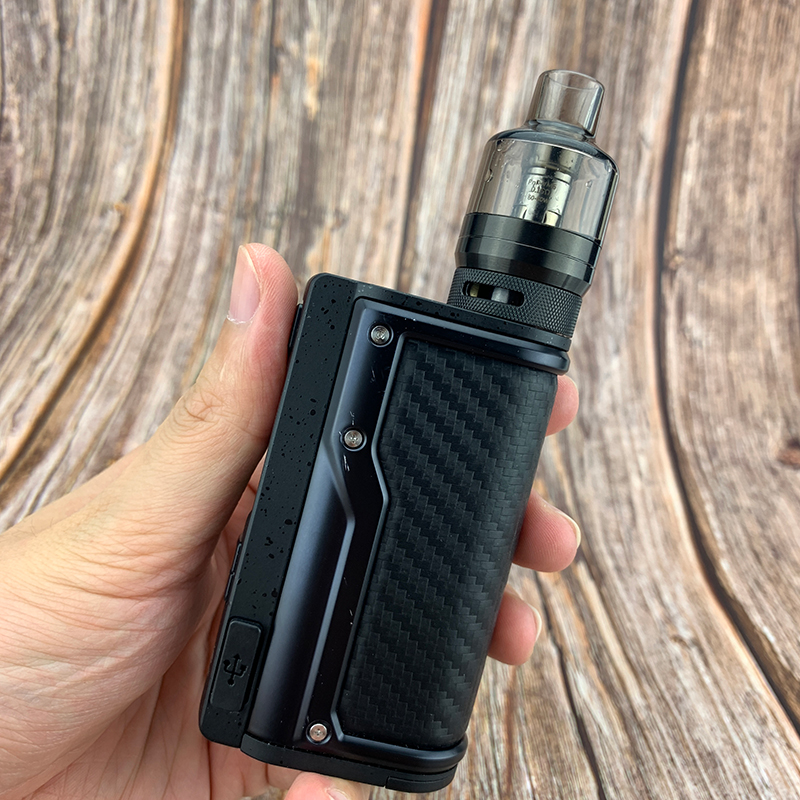 Now you have a clue of how about the Voopoo Argus GT Kit. In fact, it's a great but different vape starter kit that combined a flawless mod and an interesting PnP pod tank. Comparing to the pod tank, I would like to recommend the mod to you.
First thing first, it's a powerful 160w kit and maintains the compactness as well. From the aspect of its built quality and functionalities, it truly satisfies me. I'm curious about the habitual vaping of the majority of vapers because I want to know if I'm the only one that uses the VW mode all the time?
On the other hand, the PnP pod tank is an interesting device because of its uniqueness. As you can use your RTAs and RDAs on the Argus GT mod, you can also use the PnP tank on other mods. Even it's called a 'Pod Tank', it actually works like a sub-ohm tank. The coil is replaceable and the airflow is adjustable. And the pod cartridge is capable of housing 4.5ml e-liquid. Furthermore, the magnetic connection between the pod and the 510 connector is pretty impressive. If I have to complain about something, it should be the refilling port because you have to take off the pod before refilling it.
The whole performance of this Voopoo Argus GT Kit is on a satisfactory level. If you're a heavy user of Voopoo devices, this kit will not give you an unfamiliar feeling. Just like how I felt about the Drag S/ Drag X, this special 'PnP Tank' gives me impressively hot vapor. And there is no doubt that the flavor tastes great. What's more, the pod tank is compatible with all PnP coils which means you have a total of 9 options. Or else, you can go straight to purchase an RTA pod to experience your very own flavor productions.
That's all I want to tell you! Hope you find it useful!
Specifications:
PnP Pod Tank


Capacity: 4.5ml




Material: Stainless Steel+PCTG




Resistance: 0.2Ω (PnP-VM5) 0.15Ω (PnP-VM6)

Argus GT Mod


Material: Leather + Zinc Alloy




Output Power: 5-160W




Output Voltage: 6.4-8.4V




Resistance: 0.1-3.0Ω




Battery Capacity: Dual 18650 (Excluding battery)
Package Includes:
ARGUS GT Device * 1




PnP Pod Tank (4.5ml)* 1




VM5 0.2Ω* 1




VM6 0.15Ω* 1




Type-C Cable* 1




User Manual* 1
Click here to check more vape devices: https://www.ave40.com/voopoo-argus-gt-160w-vape-starter-kit.html
Vape Wholesale & buy Electronic Cigarettes online in Bulk.
Quality Vape Products, Trusted Vape Wholesale Supply by Vape Shops Owners.
Wholesale Inquiry: https://www.ave40.com/wholesale-service.html
Thanks for Reading!