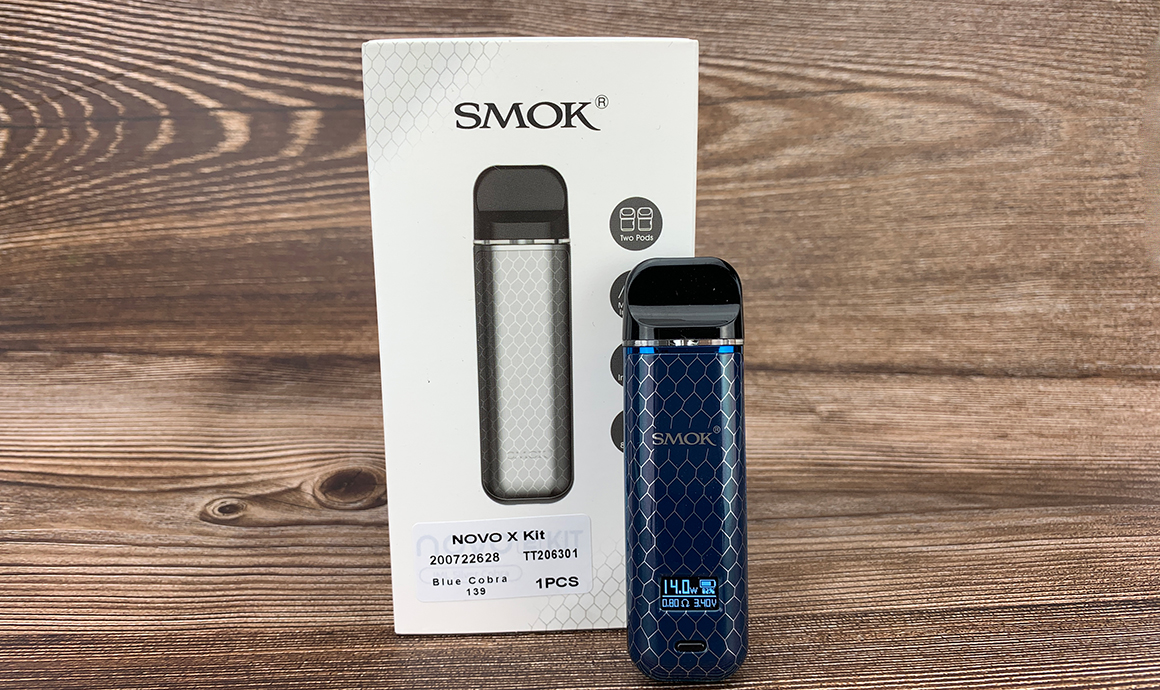 This device, Smok Novo X Kit, could be the third generation of the Smok Novo Series which truly maintained the traditions of the last two Novos(original Novo and Novo 2). The palm-size dimension, family profile design, and easy-to-use functionalities.
If I'm not mistaken, the original Smok Novo Pod was released in the first half of 2018 which was an extremely easy-to-use pod system device up to that time! I don't know if you had used it or not, the true story about that kit is that it quite caused something extremely phenomenal which everyone in Reddit and Quora kept talking about it. Undeniably, Smok Novo Pod is a great pod device and it also gained a tremendous amount of reputation and praise. And at least for that time, Smok did something innovative and created great products. But, it seems like this kind of exploration just stopped by then!
There's something I don't want to talk about further. But I still want to mention it a little that the only thing that drives you forward is non-stopping development rather than sticking around with the past honor!
Let's go straight to the review and find something you might be interested in and something I can not stand!
(Notice: The package I got is a sample pack. The final package maybe not identical. )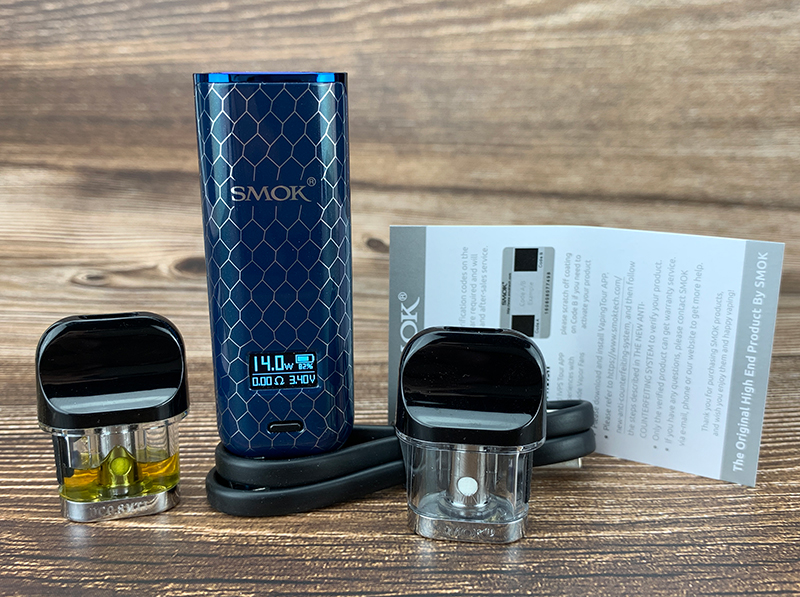 Initial Thoughts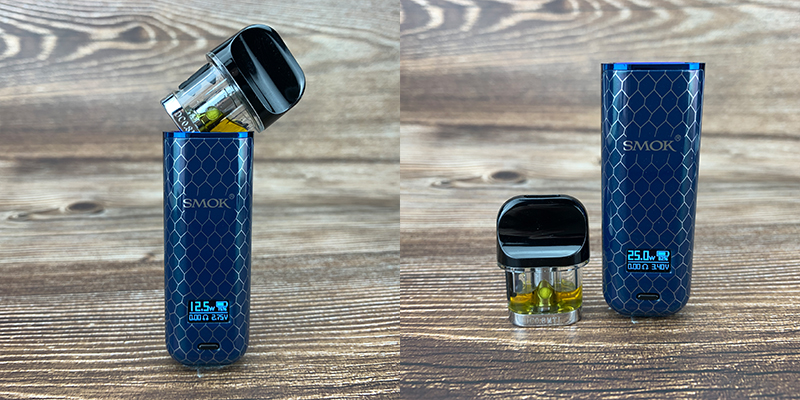 I'm supposed to compare this Smok Novo X Kit with the previous Smok Novo 2 Pod to let you have a basic idea of the exact differences between them. But I just can't remember where it is. And I will put a quick comparison between the Novo X and Nord 2 down below! If you want to know it right now, please scroll down a little bit!
Frankly, this Novo X gave me a strong taste of the Smok Novo Series with its tiny size and representative cobra pattern appearance. If you have the original Novo or are a user of Novo 2, you must have caught that as well. To be honest, it could be the simplest design in the current vape market. But it's also important for Smok to maintain the consistency of the Novo traditions. Sometimes, no design is the best design.
The biggest adjustment that exists on this Smok Novo X Kit is it has a teeny-tiny screen display and an extremely minor button that sets the previous Novo 2 apart. Honestly, these two differences are the only thing that could make you differentiate them!
The Battery Module
Due to the new screen configuration, the dimension of the Smok Novo X Kit is a little bigger than the previous Novo 2 by 4mm in height, 2mm in width, and 2mm in thickness. The difference in size is easy to tell, but it's not a big deal whatsoever. After all, the entire size is still portable and it's still easy for you to conceal it in your pocket. On the other hand, it has a fire button now which allows you to adjust output wattage from 1w to 25w. But the actual range of adjustment is still limited regarding the best wattage of the pod cartridge is limited as well.
The battery capacity remains in 800mAh and that's the reason why its maximum output is the same as the Novo 2. As far as the battery module's concerned, there're no massive improvements. The screen display or the fire button won't give you something different on the whole experience. Comparing to the previous two Novos, the output will be automatically set up to the best level without a hand setting. Now, you need to press the button one by one to switch up the power to the recommended wattage level. The truth is the Novo X has become more complicated than before.
I don't think a screen display is necessary for a pod system kit. Because the pod system kit is supposed to be simple and straight. Unlike the higher power box mod devices or the medium pod mod devices on the market, it's probably not the right way for the pod devices.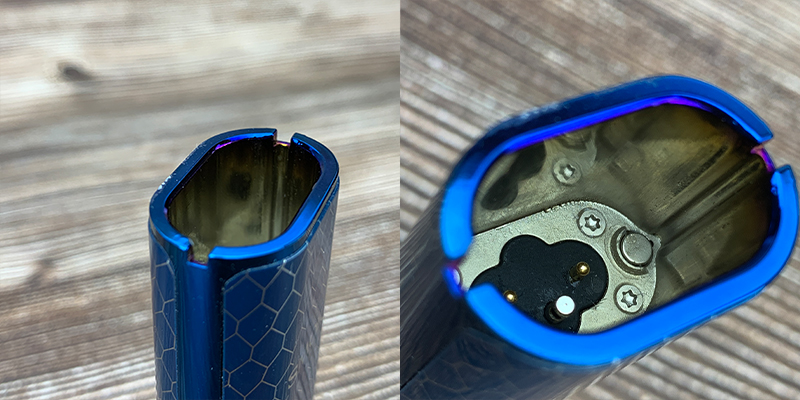 The airflow slots are also the same as the previous Novo 2 that there're two cutouts on the top of the battery module which allow the airflow travels through and get into the pod cartridge from the bottom. And there's one thing I have found which is different from the others is the sensor hole is replaced by a contact that has dual openings rather than a traditional bare hole. I'm guessing this solution aims to prevent accidental firings when the device has been put into the pocket. Even I've never come across this kind of situation, it's still great that Smok has adjusted.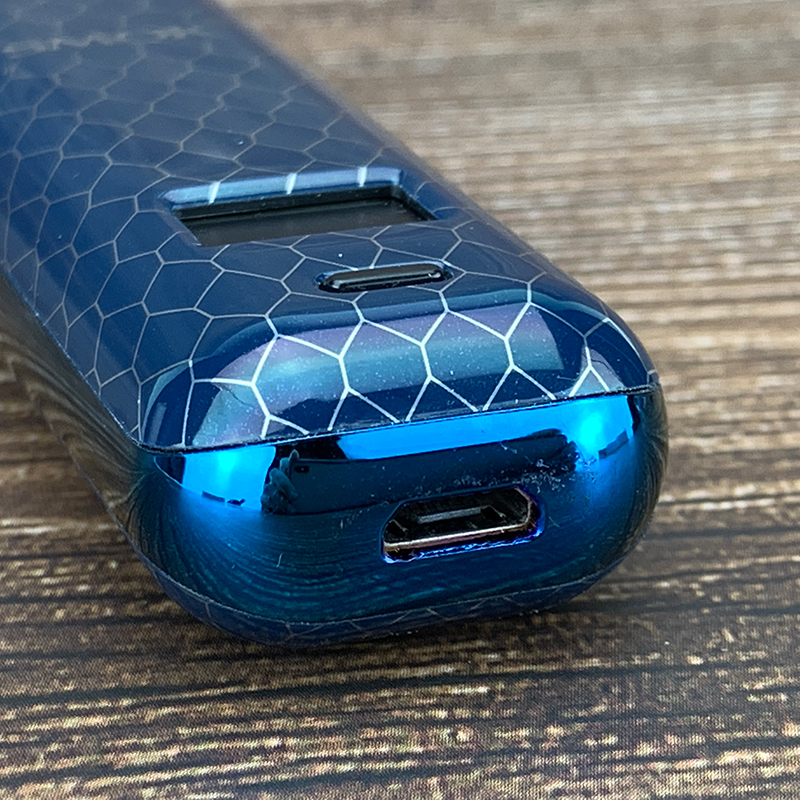 Good traditions should be inherited and outdated traditions should be changed. As a matter of fact, it's not a big deal that a pod system kit has a traditional Micro-USB port. After all, pod devices have small batteries that can be fully real quick. But referring to the price point of the Smok Novo X Kit, I think it could make more sense if has a USB-C port.
The Pod Cartridge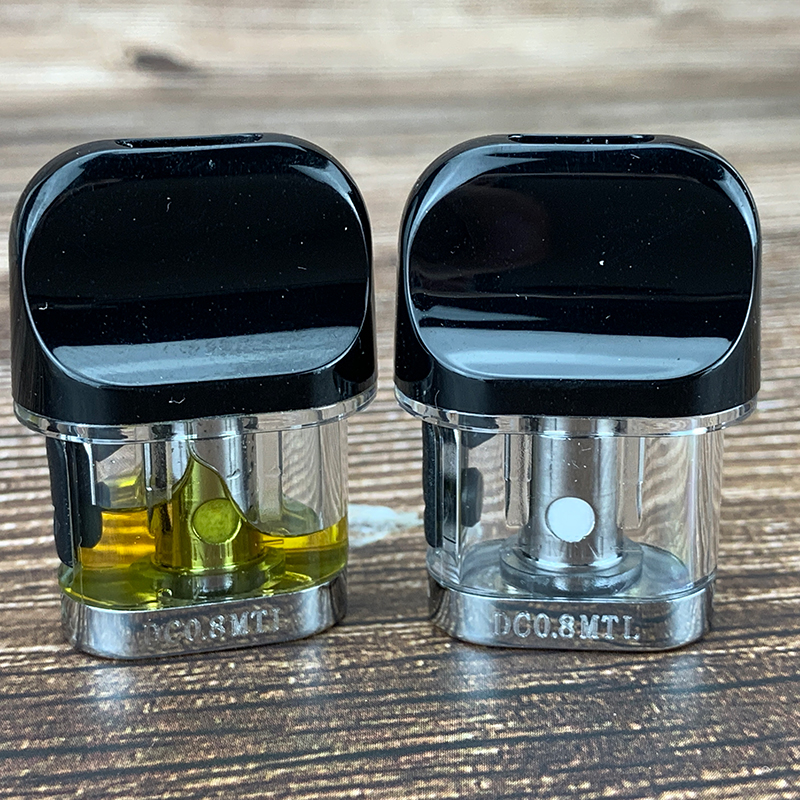 Unconventionally, there're two same pod cartridges included in the packaging, DC 0.8ohm MTL pod. It's a new pod cartridge that is only compatible with Novo X Kit. If you want to know if it's possible to use Novo pod cartridge or Novo 2 pod cartridge on this Novo X, the answer is NO! I can tell that Smok is trying to promote this new cartridge because it did a pretty great job in flavor delivery as far as I'm concerned. To some extent, I have no issues with this new cartridge because its whole structure is completely inherited from the former which has a great capacity to fully utilize the e-liquid that you squeezed inside. From the perspective of the flavor performance, it's a great pod!

The recommended wattage of this 0.8ohm pod cartridge is 14w - 28w. From the aspect of my personal experience, 14w-18w would be a perfect power range for this pod in conjunction with its fixed airflow. The fun fact is the whole performance has no big difference when I switched up to 22w.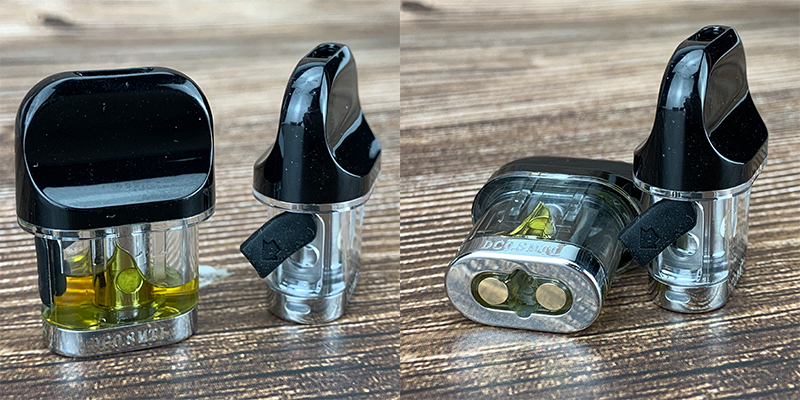 The pod is undetectable and all you can do is do the refilling and throw it away when the flavor is not good enough. The DC 0.8ohm MTL pod is capable of housing 2ml of e-liquid. There's no need to instruct the pod too much because there's nothing new to talk about! I will talk about the flavor performance in detail below.
Quick Comparison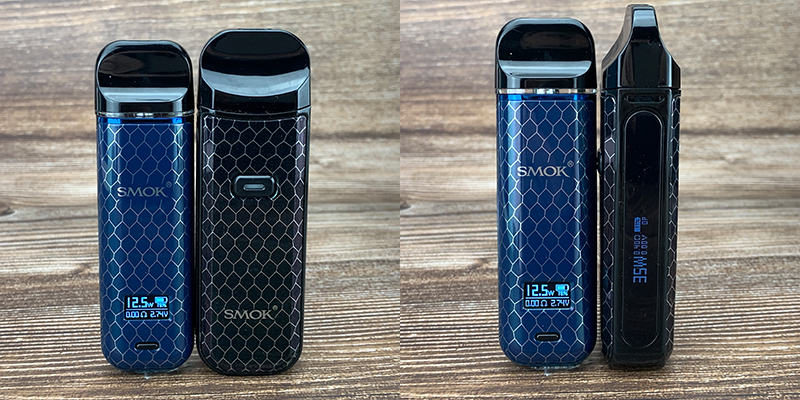 The Smok Novo X Kit and Smok Nord 2 Kit are both the latest device in their series. Coincidentally, they both have screen display and power adjustment configuration. But I' like to say Nord 2 is a truly new product because its maximum output has reached 40 watts which the original Nord Pod is a 15w pod device. Without a doubt, Novo X has something new indeed but I just think it's not enough though!
The Verdict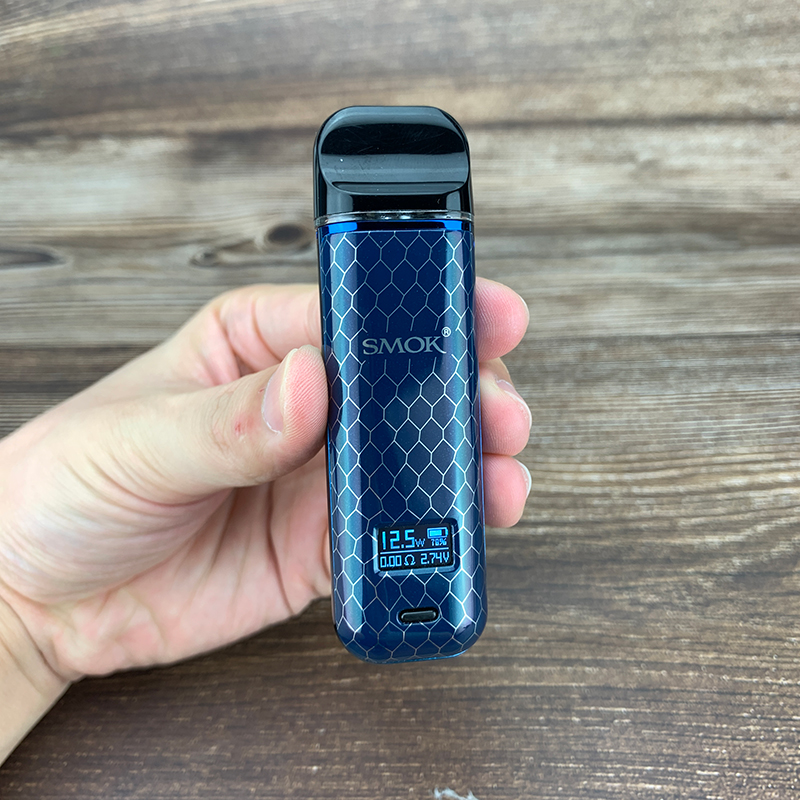 Let's just go straight into the conclusion because there's nothing more I can find to talk about!
First of all, this pod, Smok Novo X Kit, is a 100% true pod system kit. Leave aside the power adjustment feature, it gives a decent pod vape experience. The airflow is smooth and rich and delivers an impressive MTL draw which I'm pretty satisfied with. The flavor performance is fairly great and feels similar to the Uwell Caliburn Pod. I've been using the device for three days and it didn't fail me at all. There's no leakage issue and no dry burn hit situation. Frankly, it's a mediocre device.
As a matter of fact, the screen display and the fire button don't give me anything different! The device itself has no automatic power matching function which means you have to choose the power when you use it for the first time. After then, there's no need to make any adjustments because the figure won't change when you put back the pod cartridge after you refill it.
If you tend to choose a pod device as you're a vape starter or you're planning to switch to pod vape, I undoubtedly recommend it. But if you have the previous Novo 2 already and you're still planning to buy another pod device, I'm surely not going to advise you to buy it. Take a step forward for the Vaporesso XROS Pod System Kit or the Voopoo Argus Air Pod System Kit, they will give you something unfamiliar with the Smok Novo.
That's all I want to share with you! Hope you find it useful! And leave your comment down below to let me know your thoughts!
Specifications:
Size: 26.5*16.5*92mm




Weight: 50.2g




Battery Capacity: 800mAh




Output Voltage: 0.5V-4.0V




Output Power: 1W-25W




Resistance Range: 0.4Ω-3Ω




Charging Voltage: 5V




Charging Current: Max 0.68A




Package Includes:
1 x novo X Device (800mAh)




2 x novo X DC 0.8Ω MTL Pod (2ml)




1 x USB Cable




1 x User Manual
Click here to check more vape devices: https://www.ave40.com/smok-novo-x-25w-vape-pod-system-kit.html
Vape Wholesale & buy Electronic Cigarettes online in Bulk.
Quality Vape Products, Trusted Vape Wholesale Supply by Vape Shops Owners.
Wholesale Inquiry: https://www.ave40.com/wholesale-service.html
Thanks for Reading!