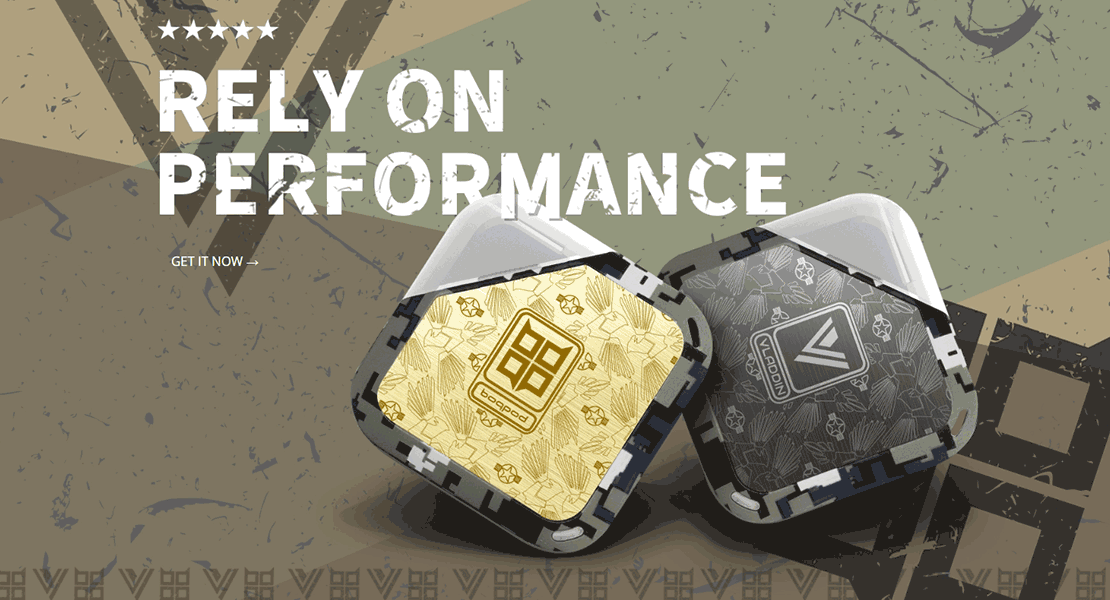 Obviously, Vladdin is a brand that only manufactures pod kits. Vladdin RE Kit, Vladdin Popo Disposable Kit, Vladdin Eden Pod Kit, Vladdin Slide Pod Kit, and this one, Vladdin Boqpod Kit. Hard to imagine these devices are come from the same brand due to they're totally different from each other. Now, let's have a look at the new one!
There're two points worth introducing! The teeny-tiny size and inner structure improvements.
First, this Vladdin Boqpod Kit is obviously a device that is friendly to your hand. A good balance between square structure and lightweight design makes it much more outstanding.
While this kind of shape precisely reduces the battery capacity to only 400mAh. But don't worry, it won't take you too much time to full charge it. Anyway, it's not bad!
Secondly, the inner structure improvements include the new ceramic coil and the new way of airflow transmission!
The new coil inside combines ceramic and metal mesh together while takes the advantages of both. Uniform heat and long lifespan.
The new way of airflow transmission reduces the probability of liquid leaking. On the other hand, it also avoids the issue of spit-back.
And the LED indicator will tell you the remaining battery. A very common configuration!
Specifications:
Dimensions: 46*10*46mm
Battery: 400mAh
Capacity: 1ml
Output Voltage: 3V
Resistance: 1.1ohm
Charging Time: 40 minutes
Atomizer Type: Microporous Ceramic
Kit Includes:
Vladdin Boqpod Battery * 1
Vladdin Boqpod Pods* 2
Lanyard* 1
Metal Tag* 1
USB Charging Cable* 1
Warranty Card* 1
Now you can find it in our store.
Click here to see: https://www.ave40.com/vladdin-boqpod-vape-pod-system-kit-400mah.html
Vape Wholesale & buy Electronic Cigarettes online in Bulk.
Quality Vape Products, Trusted Vape Wholesale Supply by Vape Shops Owners.
Wholesale Inquiry: https://www.ave40.com/wholesale-service.html
Thanks for Reading!