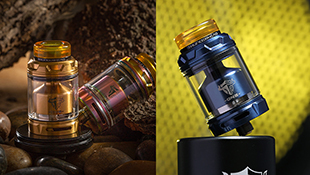 So here's another RTA from Thunderhead Creations, THC Tauren One RTA, which just brings me something familiar. A few days ago, I just talked about their 'new' Tauren RTA or Tauren Beast RTA in the last one preview. Actually, I don't know how to call its name correctly cause you can find there're three different names on the detailed page of their website which just makes me a little bit confused! Well, compare to the Tauren RTA, I just think there are not too many differences between them! Let's dive down to see if I'm right!
Parameters:
Size: 24x41mm
Material: 304SS
Drip tip: 810
Deck: Single Coil Building
Fill Type: Top Fill
Capacity: 2ml/4.5ml(with an extra frosted PC bubble tube)
Package Included:
THC Tauren One RTA
510 Stand Basement
Replacement Glass
Spare Parts
The Details
Judge from the appearance of them, it's hard to tell the exact differences because they both come with the same structure. Even the materials are totally identical.
Well, you can easily distinguish them by the logo and letters on the chimney. In my view, in order to differentiate them, THC brand just applies distinct processing. The uneven and the knurling on the airflow control ring and top cap!
THC Tauren One RTA is a single coil RTA which is another difference from Tauren RTA. Frankly, you may don't like it. You may like an RTA which supports single coil or dual coil building. Of course, it's easy for those manufacturers to do that. But keep this in mind, if this Tauren one also supports dual coil building. The only difference between Tauren RTA and it is the name!
Like what THC brand introduced, the 3D airflow design of this Tauren one RTA will bring you as much air as possible to offer you denser vapor and great flavor. The honeycomb air holes absolutely will transport the air more efficiently. And the airflow comes from both sides and the bottom of the coil will also ensure the juice will be evenly atomized. That's another difference from Tauren RTA!
All in all, I just think THC brand is so clever in their products planning. Single coil with 3D airflow design and Dual coil with hexagonal honeycomb air holes. You can find the advantages of each one, and you can find the shortcomings of this one from another!
The Gallery
Now you can find it in our store.
Click here: https://www.ave40.com/thc-tauren-one-rta.html
Vape Wholesale & buy Electronic Cigarettes online in Bulk.
Quality Vape Products, Trusted Vape Wholesale Supply by Vape Shops Owners.
Wholesale Inquiry: https://www.ave40.com/wholesale-service.html
Thanks for Reading!