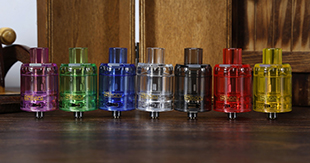 Sikary brand just released their new vape device, Sikary OG Disposable Tank, which comes without a sense of novelty due to this kinda devices are not that popular on the market. I don't know if some of you are interested in this device. But anyway, I'm still glad to introduce! Let's have a quick look!
Parameters:
Size: 40 * 24mm
Capacity: 2ml
Resistance: 0.15ohm
Package Included:
3 x OG Tank
1 x Desiccant
1 x Quality certificate
The Details
Frankly, there's no need to talk about its structure or something else in detail cause this kind device is pretty simple. Top cap or upper cap, middle airflow adjustment ring, coil and bottom base! That's all about it!
And just like its name, disposable tank. You can not replace the coil when you find out it does not work well. All you can do is change another one new tank and keep on vaping! So that's why this kind of devices are all constructed of plastic material or something similar! To control the produce cost.
The liquid capacity is 2ml. You can also control the airflow for various vaping needs. And 24 mm in diameter will not cause overhang issue when you install it in your box mods!
As for its retail price is, $17.99, in our store. There're 3 pieces in one pack. Compare to the price and service life of a replacement coil. I think it's worth ordering!
Click here if you like: https://www.ave40.com/sikary-og-disposable-sub-ohm-tank-2ml.html
Vape Wholesale & buy Electronic Cigarettes online in Bulk.
Quality Vape Products, Trusted Vape Wholesale Supply by Vape Shops Owners.
Wholesale Inquiry: https://www.ave40.com/wholesale-service.html
Thanks for Reading!