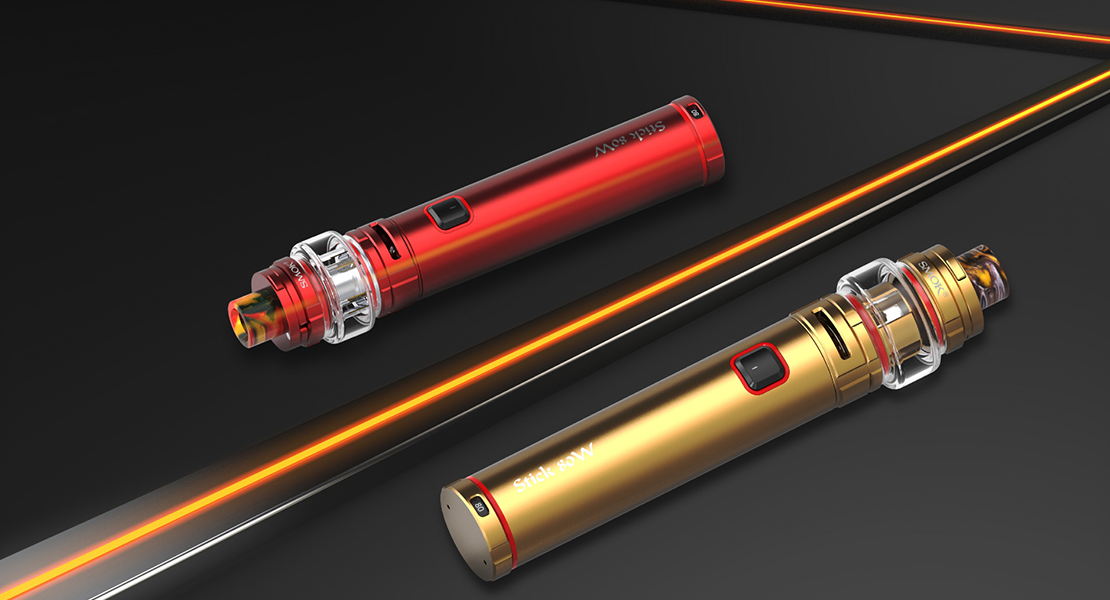 So here we get a new stick vape device, Smok Stick 80w Kit, which comes with something new we can talk about here. Well, before we start, I have some words to say!
Do you guys like Freemax Twister 80w Kit? Of course, you do. So do I. The success of Freemax twister is absolutely not occasional, but inevitable in some way! The traditional pen-style shape design can always catch some customers who are really into it. And the rotate-to-adjust button design on the bottom of the battery mod is also literally innovative. And needless to say, the Fireluke series of mesh tanks are the representative of the vape tank market. That's why Freemax twister can achieve such great success!
Maybe Smok saw that? Or they also have this products design scheme. So they bring us this new stick device, but it is not totally new in some way!
Parameters:
Stick 80W Battery
Size: 95 * 24.5mm
Battery Capacity: 2800mAh
Input Voltage: 3.3V-4.2V
Output Voltage: 0.6V-4.1V
Output Power: 5W-80W
Resistance Range: 0.15Ω-2.5Ω
Charging Voltage: 5V
Charging Voltage: 1.5A(MAX)
TF Tank
Material: Stainless Steel
Size: 30 * 56mm
Capacity: 6ml
Thread: 510
Package Included:
Stick 80W Battery
TF Tank(6ml)
Stick Mesh 0.15Ω Coil (Preinstalled)
Stick Mesh 0.15Ω Coil
USB Cable
User Manual
Spare Parts
The Battery Mod
When I had a first glance at this kit, I was like, 'Damn, this is literally a reproducing device'. I'm glad to see Smok keeps updating their Stick series of vape device all the time cause personally I tend to prefer this shape of device. And undoubtedly there's a larger number of pen-style fans around the world. But I just don't know why Smok will go down the road to plagiarize!
Without any doubt, the rotation adjustment button is innovative and comfortable to use. If you already got a Freemax twister, you could find how convenient this design is! Now, you get another rotation button design kit, this Smok Stick 80w Kit. Specifically, there's no big difference between them!
The 2800mAh internal battery is awesome which is a little bit larger than the 2300mAh battery of Freemax twister. And the charging standard is 5V/1.5A(Max). Rarely can we see Smok appling fast charge tech to their vape devices. And no exception this time.
The square fire button has been redesigned for comfortable operations. And the built-in LED indicator can also remind you the battery status.
The Tank
Actually this is not the first TF tank. If my memory serves me right, the first TF tank named TF2019 was equipped in Smok Morph 219 Kit which was released few months ago. And it's also the first plugged coil design tank on the market.
Compare to the common tanks of Smok TFV series. The base part of TF tank series has been redesigned in order to make much more room for airflow. You can clearly see the bottom base of TF tank is much higher than the ordinary one.
And the redesigned mesh coil comes with new installation method. Plug out and plug in. No traditional screw structure offers more convenience for replacing.
Now you can find it in our store.
Click here to see: https://www.ave40.com/smok-stick-80w-vape-kit-2800mah.html
Vape Wholesale & buy Electronic Cigarettes online in Bulk.
Quality Vape Products, Trusted Vape Wholesale Supply by Vape Shops Owners.
Wholesale Inquiry: https://www.ave40.com/wholesale-service.html
Thanks for Reading!