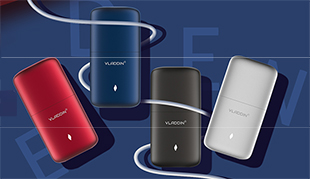 After the Slide Pod Kit, Vladdin brand just brought another one pod kit to us, Vladdin Eden Pod Kit, which comes with a superior small size.
Frankly, I tend to prefer pod system kits due to its portable size. But I'm sort of tired of seeing more and more ordinary new pod kits showing out in the market. No big changes, no improvements. More and more manufacturers just change their old pod kits into another shape, without any new concepts, then put their 'new pod kits' into the market. Innovation is always lacking.
Well, let's have a look at the Vladdin Eden first. Maybe some surprises are waiting for us!
Parameters:
Size: 37mm x 77mm x 15.5mm
Charging Current: 5V/0.4A
Battery Capacity: 350mAh
Resistance Range: 1.2ohm -1.5ohm
Capacity: 1.5ml
Resistance Range: 1.2 ohm -1.5ohm
Package Included:
VLADDIN Eden Device
VLADDIN RE Replacement Pod (Refillable)
1 x USB Cable
1 x Quick Guide
The Details
Honestly speaking, the Eden battery mod is the only part where worth talking about here due to the pod cartridge is exactly the same to the first generation!
The shape design of this kit is adorable. Maybe inspired by the shape of capsule. LOL. Actually I can not remember how many pod system kits with removable cap on the market. But the last one I see is Aspire Breeze series. That maybe make vaping more complicated because of you have to take off the cap first before you vape. But in some way, it can prevent the dust if you generally put it on the table or in your pocket.
On the other hand, the whole size is super compact. Despite its style is totally different from Vladdin Pod Kit, they both come with hand-friendly size.
Well here is the thing I do not want to talk further. The plastic material shell. Although alloy material is widely used in vape devices, no matter the box mod or pod kit. It's still strange to see newly launched vape device with all plastic shell. In consideration of its sale price, I'm just a little bit confused.
On the other hand, the battery capacity is totally the same to Vladdin Pod Kit. The same Micro-USB charging port, the same charging standard. Well, you can just regard it as a Vladdin battery mod with a new appearance.
Now you can find it in our store.
Click here to see: https://www.ave40.com/vladdin-eden-vape-pod-system-kit-350mah.html
Vape Wholesale & buy Electronic Cigarettes online in Bulk.
Quality Vape Products, Trusted Vape Wholesale Supply by Vape Shops Owners.
Wholesale Inquiry: https://www.ave40.com/wholesale-service.html
Thanks for Reading!