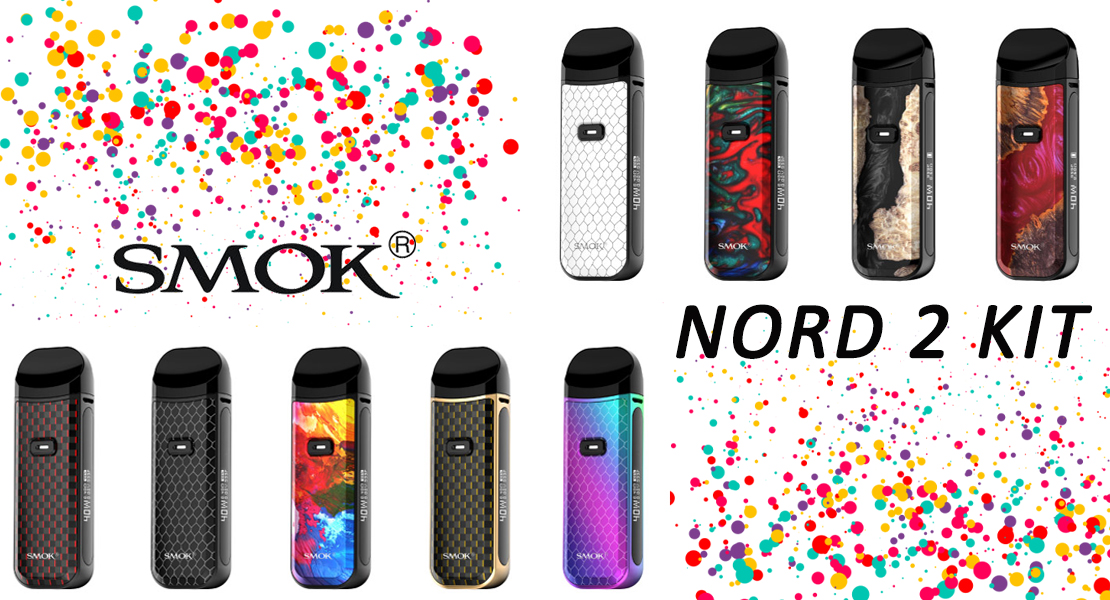 Smok decided to upgrade its global well-received Nord series pod system kit. Without any doubt, the 1st generation Smok Nord Pod Kit is favored by the majority of vapers all around the world. Even after a long time, there's plenty of consumers still use that kit as their daily drivers. Now, let's have a detailed look at the brand-new Smok Nord 2 Kit.
One of the important improvements of this Smok Nord 2 Kit is a 0.69" OLED screen display. It's undeniable that screen display is the first choice to attract consumers, Specifically, a colorful screen is much more appealing. But apparently, this screen on Nord 2 Kit is just monochrome. Anyway, it's great!
The battery capacity is 1500mAh and its max output has been increased to 40 watts. One thing is worth mentioning here, the max output of the previous Smok Nord Kit is only 15w.
The Nord 2 is also a button-activated device. There are no adjustment button configurations, so it's a little inconvenient to switch to higher output power.
Pressing the fire button three times to activate the power setting and wattage value will flash to increase. When it comes to your preference, you just click that fire button to set.
There're two pod cartridges included in the package. Nord 2 RPM Pod is designed to fit for hot selling RPM coil series. And the Nord 2 Pod is compatible with all Nord series coils.
Here're the Smok OCC coils you can use on this Smok Nord 2 Kit.
Needless to say, you can build something on your own with Nord 2 RPM Pod.
Here's a simple table to let you have a clear understanding of the difference between Smok Nord Kit and Smok Nord 2 Kit.
Specifications:
Size: 95*30.5*20mm

Output Power: 1-40W

Battery Capacity: 1500mAh

Input Voltage: 3.3-4.2V

Output Voltage: 0.5-4.0V

Standby Current: <50uA

Load Resistance Range: 0.3-3.0ohm

Charging Voltage: 5V

Charging Current: MAX 1.2A

Charger Output: 5V/2A

Overcahrge Voltage: 4.3V

Overdischarge Voltage: 2.4V

Overcharge Current: 1.75A
Kit Includes:
Smok Nord 2 Device (1500mAh) * 1

Nord 2 RPM Pod (RPM Mesh 0.4ohm Coil Preinstalled) (4.5ml)* 1

Nord 2 Nord Pod (Nord DC 0.8ohm MTL Coil Preinstalled) (4.5ml)* 1

USB Cable* 1

User Manual* 1
Click here to see: https://www.ave40.com/smok-nord-2-pod-kit-1500mah.html
https://www.ave40.com/smok-rpm80-pro-pod-mod-kit.html
Vape Wholesale & buy Electronic Cigarettes online in Bulk.
Quality Vape Products, Trusted Vape Wholesale Supply by Vape Shops Owners.
Wholesale Inquiry: https://www.ave40.com/wholesale-service.html
Thanks for Reading!