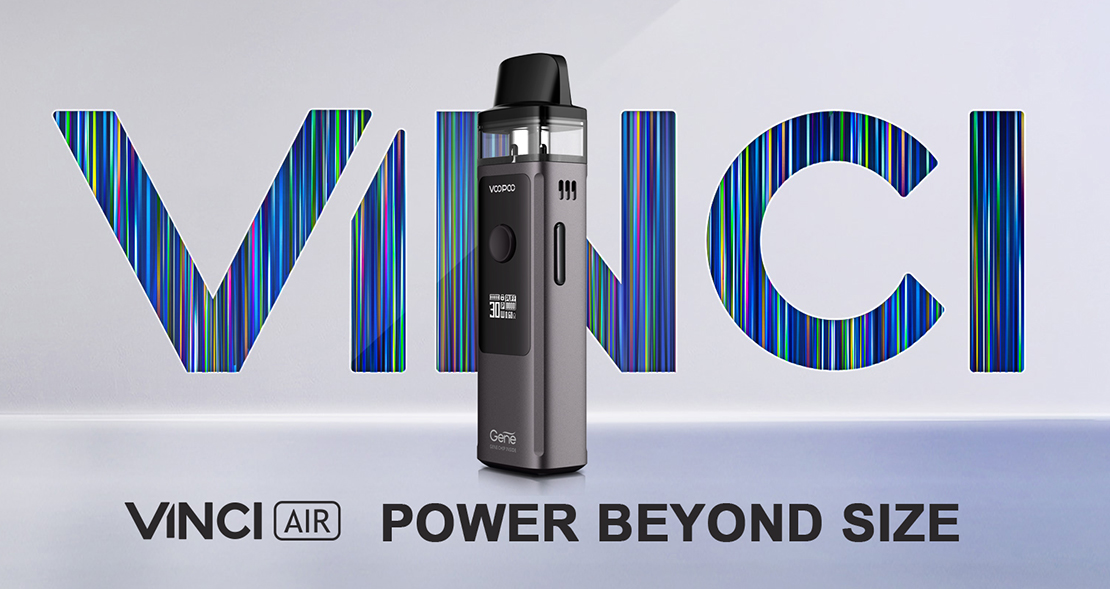 I'm not surprised at all about Voopoo's new products by now, specifically during these two months. Several weeks ago, we ushered in the release of Voopoo Navi Mod Pod Kit. Today, we have another one new, Voopoo Vinci Air Kit.
Judge by the picture above, it's obvious to see the construction material of the outer shell and pod cartridge of this Voopoo Vinci Air Kit is exactly the same as all previous Vinci series devices.
Voopoo official says this new kit is 20% lighter and 30% thinner. Apparently, it's much more portable.
The Changes
Here're some important improvements to this Voopoo Vinci Air Kit.
First, it features a new airflow system. As usual, you can still adjust the airflow abundance by rotating the pod cartridge 180 degrees. But the airflow is a little on the restrictive side to meet your MTL vaping need. Given this, you will get a 1.0ohm OCC coil from the package.
Secondly, the screen size has been shrunk. It's much smaller now and also becomes monochrome as well. That quite makes sense in order to control the product costs.
Thirdly, the battery capacity has also been reduced to only 900mAh. And its max output is 30 watts. So, I don't know if it's still appropriate to call it a pod mod kit.
Fourthly, this Voopoo Vinci Air Kit comes in a cuboid shape now, unlike the cube shape of all Vinci devices before. Technically, its pod cartridge is no longer cross-compatible with other Vinci devices.
This kit is still equipped with GENE.AI chip inside to guarantee user safety!
Due to that, the range of available replacement coils has also been shrunk down. Except for the included coils already, you only have three extra OCC coils to choose from.
Specifications:
Size: 100.9*27*18mm

Power Range: 5-30W

Capacity: 4ml/2ml (TPD)

Resistance Range: 0.45-3.0ohm

Output Voltage: 3.2-4.2V

Battery: 900mAh (Built-in)

Material: Zinc Alloy + PCTG

Standard Coils: PnP-VM4/PnP-R2

Compatible Coils: PnP-VM3/PnP-R1/PnP-RBA
Kit Includes:
Vinci AIR Device * 1

Vinci AIR Replacement Pod (4ml)* 1

PnP-VM4 0.6ohm* 1

PnP-R2 1.0ohm* 1

User Manual* 1

USB Cable* 1

GENE Chip Card* 1

Warranty Card* 1
Click here to see: https://www.ave40.com/voopoo-vinci-air-pod-kit-900mah.html
https://www.ave40.com/smok-rpm80-pro-pod-mod-kit.html
Vape Wholesale & buy Electronic Cigarettes online in Bulk.
Quality Vape Products, Trusted Vape Wholesale Supply by Vape Shops Owners.
Wholesale Inquiry: https://www.ave40.com/wholesale-service.html
Thanks for Reading!