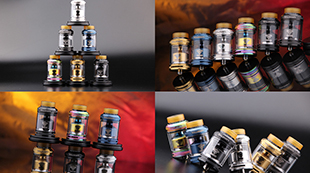 Here is a new Tauren device from ThunderHead Creations, The THC Tauren RTA, which comes with something familiar and something new!
Honestly, I'm just a little bit confused by the way THC brand naming their products. Look back at all vape devices from THC brand, I think Tauren is their sub-brand or something else. Because all their devices are named after Tauren, even the DIY tool kit.
Well, by any chance. This Tauren this time will bring us something different? Look below!
Parameters:
Size: 24*41mm
Material: 304SS
Drip tip: 810 PEI
Thread: Gold-plated 510 connection
Deck: single/dual coil building
Capacity: 2ml/4.5ml(with an extra frosted PC bubble tube)
Package Included:
Tauren RTA
Allen wrench
Frosted PC Bubble Tube
Bag of extra screw & O-rings
Aluminium alloy box with 510 basement
The Details
The whole structure is exactly the same to every RTA on the vape market. 810 PEI drip tip, the middle part which is consisted of top cap, chimney or inner airflow chamber(whatever you call it), the 2ml glass tube. Building deck and the airflow adjustment ring. And you will also get a 4.5ml frosted PC bubble tube in the package. If you like that style of RTA, you will have an extra selection.
As for refilling, you can just screw off the top cap and do that. Twist the control ring at the bottom to adjust the airflow. And both of the two part come with knurling on the surface, so it's easy to operate!
And the THC Tauren RTA comes with postless design. So the building deck will be much more durable to use. The honeycomb air holes will also offer as much air as possible!
There're four grup screws on the bottom to tighten up the coils. If you don't have an allen wrench, you will get one from the package!
Now you can find it at our store.
Click here to see: https://www.ave40.com/thc-tauren-rta.html
Vape Wholesale & buy Electronic Cigarettes online in Bulk.
Quality Vape Products, Trusted Vape Wholesale Supply by Vape Shops Owners.
Wholesale Inquiry: https://www.ave40.com/wholesale-service.html
Thanks for Reading!