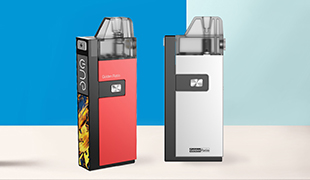 On April 15th, Onevape official posted their upcoming vape device pictures in their Instagram. And finally, we could see all the details about it this time, Onevape Golden Ratio Pod Kit.
Well talk about the 'Golden Ratio' theory, Some of you probably know some details. Pythagoras once found that and used the number to describe it. The value of the golden ratio is equal to 0.618. And even to this day, this value still takes a great part in most fields. No only in manufacturing or construction, but also exists in every beautiful things we've ever known.
But what a pity! It seems like Onevape Official intends not to introduce the details about the name of their device. But from the name, we could know something!
Parameters:
Size: 94 x 38.5 x 14mm
Battery Capacity: Built-in 1100mAh
E-liquid Capacity: 2ml
Input Voltage: 3.2-4.2V
Power Range: 10-25W
Changer Parameter: DC5V 1A
Standby Power: <100uA
Resistance: 1.2ohm Regular-MTL Coil (Max 14W, Fit for Nicotine E-liquid / 0.6ohm Mesh
Coil (Max 27W, Fit for Non-Nicotine E-liquid)
Package Included:
Golden Ratio Device
Golden Ratio Empty Pod (2ml)
1.2ohm Regular-MTL Coil ( for Nicotine E-liquid )
0.6ohm Mesh Coil ( for Non-Nicotine E-liquid )
1 x Micro USB Cable
1 x User Manual
The Battery Mod
The whole kit is made from zinc alloy material and PCTG which is the ordinary material combination. And the resin decoration panel has been removed to the left side.
And the dimension of this kit is not so big. Although the square corners do not seem like to be the ergonomic design, well the weight of the kit won't give you a sense of heaviness. On the contrary, the fire button position seems like to be the most comfortable location for your operations. We should thank the 'Golden Ratio' in some way.
On the other hand, the 1100mAh internal battery ensures all day long using time without charging problem. But the charging standard 5V/1A also tells us it will take you some time to full charge it.
The Pod Cartridge
Here we get some changes in this Onevape Golden Ratio Pod Kit. The twist airflow adjustment button. Different from the other pod system kits where the airholes and the coil position are both in one place. Onevape official decided to separate them so the leaking problem can be prevented to some extent. Good job!
As usual, we get two replacement coils to use. 0.6ohm regular coil for DL vaping and 1.2ohm ceramic coil for MTl vaping.
I don't know if you guys notice it or not. More and more new releasing pod system kits are all available for CBD oil. Specifically the recent months. I don't know how to express how I feel right now. But I'm lack of interests in CBD or THC.
Now you can find it in our store.
Click here to see: https://www.ave40.com/onevape-goledn-ratio-vape-pod-system-kit-1100mah.html
Vape Wholesale & buy Electronic Cigarettes online in Bulk.
Quality Vape Products, Trusted Vape Wholesale Supply by Vape Shops Owners.
Wholesale Inquiry: https://www.ave40.com/wholesale-service.html
Thanks for Reading!