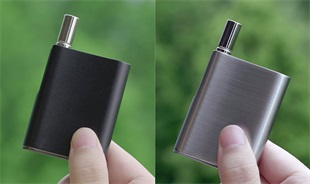 These months seem like to be the busy season of vape market. So many vape brands kept updating their product lines and more and more new vape gears start to show out. And Eleaf also is busy with it. Let's have a look at the new vape device from Eleaf. Eleaf iCare Flask Pod Kit.
Parameters:
Size: 12mm * 42mm * 71mm
Atomizer Diameter: 10mm
Battery Capacity: 520mAh
Weight: 69.0g
Package Included:
iCare Flask battery
iCare Flask Atomizer
510-threaded Magnetic Connector
2 * User Manuals
The Design
Just like the title written, the whole kit comes with very simple design. No various patterns, no colorful decorations. Just the metal shell.
And just like the product's name. Its shape is more like a hip flask with superior portable size. You can just hold it with one hand. And the curved body also offers much more comfortable grip feelings. Compare to the hip flask some of you guys used to use. This kit is more easily to carry with!
The pod cartridge of this Eleaf iCare Flask Pod Kit just makes me remember the same design pod in Joyetech eRoll Mac Pod Kit. Both of them come with similar features. Unchangeable coils, Long glass tube with screw structure drip tip.
On the other hand, magnetic connection also offers more conveniences in operations. And you can take a glance on the left side to know the exact capacity of the juice in your pod cartridge. Much more personalized!
Now you can find it in our store.
Click here to see: https://www.ave40.com/eleaf-icare-flask-kit-520mah.html
Vape Wholesale & buy Electronic Cigarettes online in Bulk.
Quality Vape Products, Trusted Vape Wholesale Supply by Vape Shops Owners.
Wholesale Inquiry: https://www.ave40.com/wholesale-service.html
Thanks for Reading!