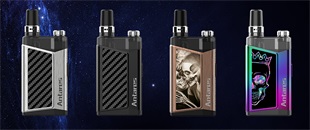 Recently, Nikola offcial just released their newly minted vape device, Nikola Antares Pod Kit, which has made all of us wait for almost half one year! If my memory serves me right, the last one deice from Nikola is the Nikola Lapetus tank which has been sold for eight months! That's quite a long time. Honestly, I have so many expectations on this new device cause I really want to see how much effort does Nikola Official have made!
Parameters:
Size: 41*20*97mm
Material: Zinc Alloy
Pod capacity: 2ml
Coil Resistance: 0.7Ω mesh coil(11-25W)
Battery Capacity: 1200mAh
Output Voltage: 3.0V/3.3V/3.5V
Input voltage: 3.2-4.25V
Standby Current: ≤10uA
Charging Voltage: 5V
Charging Current: 1A
Resistance Range: 0.5-2.0Ω
Low Voltage warning: 3.2V
Package Included:
Nikola Antares mod
Nikola Antares cartridge
Mesh Coil
Warranty card
Certificate
The Detail
Actually this kind design is really not strange to see, especially this year! Rectangle battery mod and rectangle pod cartridge. You can find this familiar design in many vape devices. Smok Trinity Alpha Kit, Geekvape Frenzy Pod Kit, Coilart Bron Pod Kit. What's more, the Lost Vape Orion Series.
Frankly, I don't want to call those as copying devices cause the rectangle shape design is not patented yet. And we can always find so many similarities in most vape gears from different vape brands. The resin material has started to hit the mainstream since Voopoo Drag series were launched. I think you guys remember that.
On the other hand, If you guys get a vape device which comes with reasonable price and the shape or appearance you want, I think you won't reject it!
Honestly, The shape of Nikola Antares Pod Kit really catches me! Especially the black color. The carbon fiber panel suits the style of the whole battery.
Made of zinc alloys material, So it won't be your burden if you want to carry with it due to the whole weight is just 112g. And its compact size also offers comfortable grip feeling.
Built-in 1200mAh is enough for you all day long vaping time. With the charge standard 5V/1A, even there's no fast charge, But the charging efficiency won't let you down.
As usual, the pod cartridge of the Nikola Antares Pod Kit also comes with some different changes. Top refill hole with screw structure. Honestly, I like the push-to-fill design on Smok Trinity Alpha Pod Kit more. Definitely, It's more convenient to refill.
On the other hand, there're two mesh coils included in the package. 0.6ohm and 0.7ohm. That's a little bit weird cause usually the replacement coils we get from the common package is the two coils which one is less than 1.0ohm and another one is more than 1.0ohm. For MTL and DL vaping needs. Well, we get the two similar resistance coils in the package is exactly just for replacement!
Now you can find it in our store.
Click here to find it: https://www.ave40.com/nikola-antares-vape-pod-system-kit-1200mah.html
Vape Wholesale & buy Electronic Cigarettes online in Bulk. Quality Vape Products, Trusted Vape Wholesale Supply by Vape Shops Owners.
Wholesale Inquiry: https://www.ave40.com/wholesale-service.html
Thanks for Reading!