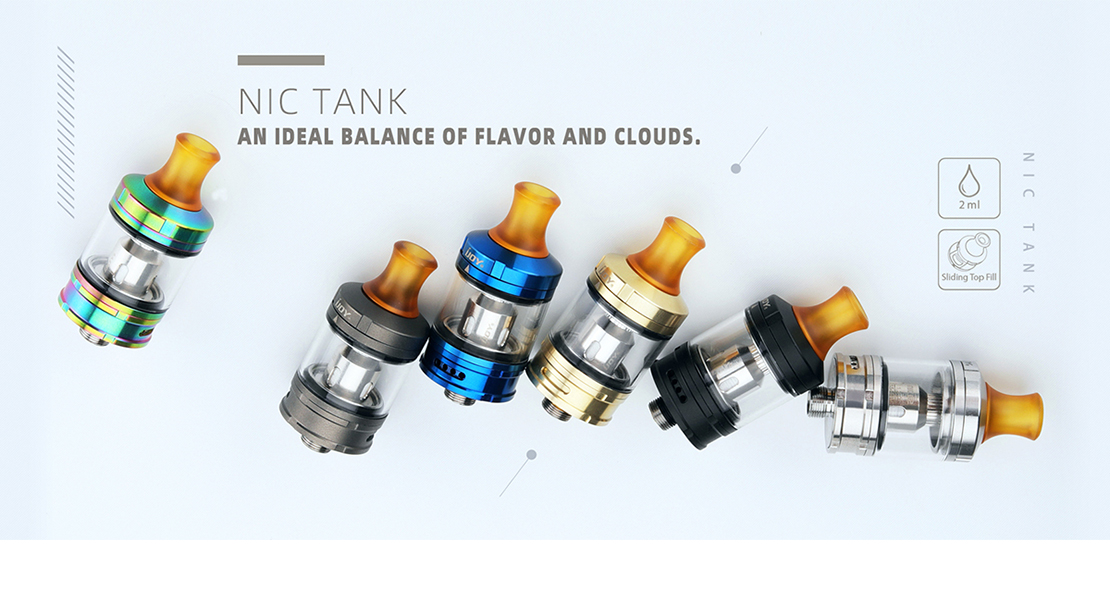 It's undeniable that most manufacturers are plowing too much in the field of pod system kits recently. When you wake up and open your eyes, you just find a new pod kit has been released. But eventually, iJoy was conscious that they did not launch a new atomizer for a long time! So, let's have a look at the iJoy Nic Tank(

)!
The structure of the iJoy Nic Tank just tells you it's designed for MTL vaping. Ultem 510 drip tip, 2 milliliters of e-liquid, and tiny size.
There're four air holes on both sides of the bottom airflow ring. Slightly twist it adjust the airflow abundance according to your preference.
There's a total of 4 coil heads available to choose from. And 1.2ohm Q2 coil and 0.8ohm Q3 coil are included in the package. By the way, iJoy also provides the rebuildable RTA coil head. If you prefer to choose a DIY type instead of the finished coil, that'll be your option.
As for the finished coil head, there's a total of 4 wicking holes on the surface. To some extent, It enhances the ability of the coil to saturate and speeds up the absorption of liquid.
Specifications:
Size: 21 * 46.2mm
E-liquid Capacity: 2.0ml
Resistance: 1.2Ω/ 0.8Ω
Fill Type: Slide-to-open top fill
Thread: 510
Drip Tip: 510
Kit Includes:
Ijoy Nic Tank * 1
Nic Q2 1.2Ω Coil(15-20W, Pre-installed)* 1
Nic Q3 0.8Ω Coil(20-25W)* 1
Spare Glass Tube* 1
Spare Parts Pack* 1
Warranty Card* 1
Ijoy Nic Tank:(

)
Now you can find it in our store.
Click here to see: https://www.ave40.com/ijoy-nic-tank-2-0ml.html
Vape Wholesale & buy Electronic Cigarettes online in Bulk.
Quality Vape Products, Trusted Vape Wholesale Supply by Vape Shops Owners.
Wholesale Inquiry: https://www.ave40.com/wholesale-service.html
Thanks for Reading!