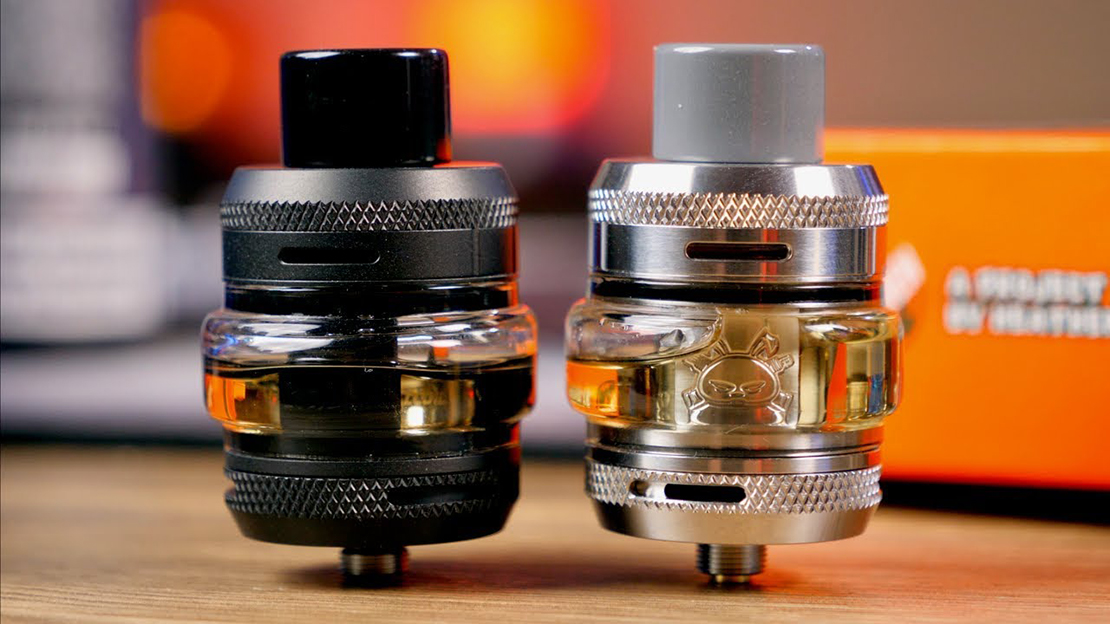 Finally, we have this sub-ohm atomizer version of Hellvape Rabbit series, the Hellvape Fat Rabbit Tank(

), which is the fourth collaboration between YouTube vape reviewer Heathen and Hellvape official. But obviously, there's something different! Let's check it out!
If I'm not mistaken, the Hellvape Fat Rabbit Tank is the first atomizer tank that featured top-to-bottom airflow design, which is a little similar to Augvape Intake RTA.
There're two air tubes on both sides of the inner chimney. And the airflow will come in from the top air holes and travel through the tubes then hit the coils from the bottom.
Exactly, there're two air holes on the top cap position and three air holes on the bottom. So there's a total of five air holes on the Hellvape Fat Rabbit Tank.
You can adjust the airflow freely according to your preference. Fully open the top airflow and shut the bottom airflow down, or vice versa.
And there're two new Hellcoils included in the package. 0.15ohm Quad OCC regular coil head and 0.2ohm single mesh coil head.
As for how to refill your liquid, simply screw the top cap off and do that. Pretty easy but not that convenient!
The Gallery
Specifications:
Diameter: 25mm (28mm of Widest Point)
Capacity: 5ml/2ml
Drip: 810 Widebore Drip
Connection: 510 connector
Coils Type: 0.2ohm Single Mesh Coil (H7-02)
0.15ohm Quad OCC Coil (H7-03)
Kit Includes:
Fat Rabbit Sub Ohm Tank * 1
Quad OCC Coil 0.15 Ohm(H7-03)* 1
Single Mesh Coil 0.2 Ohm(H7-02)* 1
Hellvape Sticker* 1
Accessories Bag* 1
Spare Bubble Glass* 1
Instruction Manual* 1
Hellvape Fat Rabbit Sub Ohm Tank:(

)
Now you can find it in our store.
Click here to see: https://www.ave40.com/hellvape-fat-rabbit-sub-ohm-tank.html
Vape Wholesale & buy Electronic Cigarettes online in Bulk.
Quality Vape Products, Trusted Vape Wholesale Supply by Vape Shops Owners.
Wholesale Inquiry: https://www.ave40.com/wholesale-service.html
Thanks for Reading!