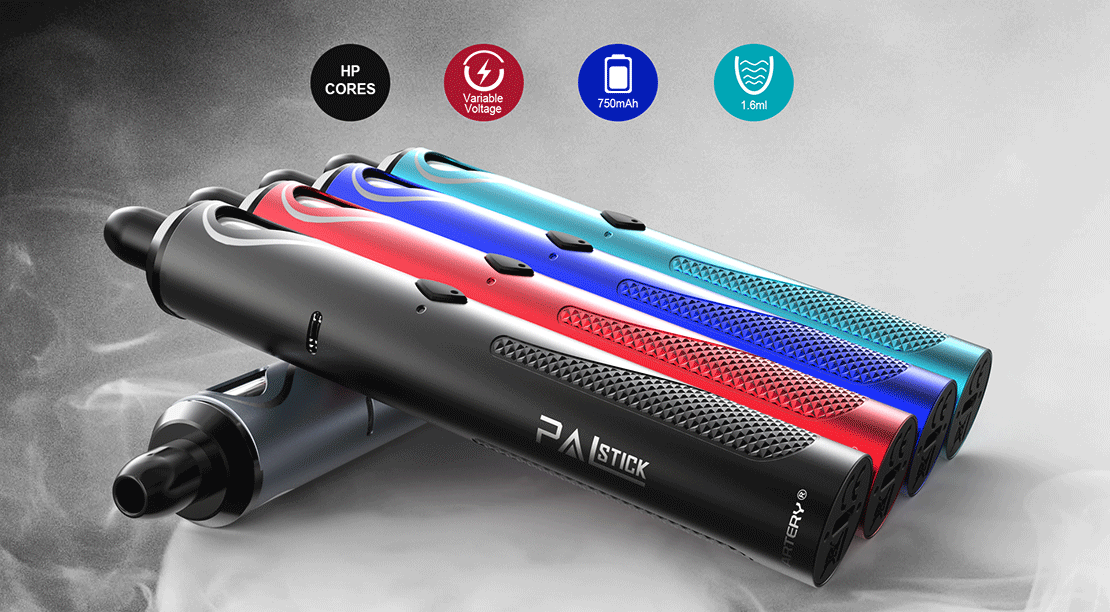 It's undeniable that the majority of vapers prefer to choose stick vape kits. Here are two reasons. First, stick vape kits are more portable to carry with. Whether you get used to grabbing it in your hands or putting it in your pocket, it won't make you feel any uncomfortable. The second one is stick vape kits are the original concept of e-cigarettes. Look back at those outdated vape devices, you will find stick vape kits will never be out of date. That also explains the reason why Artery released the Artery Pal Stick Kit(

).
The outer shell of the Artery Pal Stick Kit is made of aluminum alloy 6063 material. And the bottom part of the battery mod has been specially embossed to increase the friction between your hands and the mod. On the other hand, it also offers you a great touching feel.
You can do some simple operations with a single button like adjust the output voltages with 3 clicks and check the battery life with 2 clicks. What's more, the LED indicator will also tell you the status of the battery by flashing in different colors when it's charged.
The tank of the Artery Pal Stick Kit (

)is also easy to use. Unscrew the top cap to fill your liquid and twist the airflow ring on the bottom to adjust the airflow.
The highlight of this AIO kit is the new HP coil heads. It's a pretty new coil series from the Artery brand. As a matter of fact, it's compatible with all Pal series devices. To be honest, that's quite awesome.
The Gallery
Specifications:
Size: 18 x 119mm
Material: Aluminum Alloy 6063
Battery: 750mAh
Capacity: 1.6ml
Voltage: 3.5V/ 3.3V/ 3.0V
Kit Includes:
PAL Stick Kit * 1
Extra Coil* 1
USB Cable* 1
User Manual* 1
O-Rings* 2
Warranty Card* 1
Certification Card* 1
Artery PAL Stick Vape Starter Kit:(

)
Now you can find it in our store.
Click here to see: https://www.ave40.com/artery-pal-stick-vape-starter-kit-750mah.html
Vape Wholesale & buy Electronic Cigarettes online in Bulk.
Quality Vape Products, Trusted Vape Wholesale Supply by Vape Shops Owners.
Wholesale Inquiry: https://www.ave40.com/wholesale-service.html
Thanks for Reading!