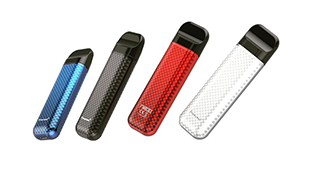 Freecool N800 Pod Kit is a newly released vape device from a new vape brand, Freecool, which is consisted of a battery mod and two flavors pre-filled pod cartridges.
Parameters:
Size: 88.3 x 24.5 x 14.5mm

Weight: 43g

Battery: 800mah

Capacity: 1.5ml

Output Power: 6W-25W

Input Voltage: 3.3V-4.2V

Output Voltage: 3.0V-4.0V

Resistance Range: 0.6Ω-2.5Ω

Charging Voltage: 5V

Charging Current: 0.5A±0.05(Max)

Overcharge Voltage: 4.3V

Dicovercharge Voltage: 2.4V

Overcharge Current: 1.75A

Standby Current: <20μA(no load)/ <50μA(load)
Package Included:
Freecool N800 Device

N800 DC 1.4Ω MTL Pre-filled Pod (1.5ml) (Mango/Purple Berry)

USB Cable

User Manual
The Battery Mod
The Freecool N800 Pod Kit is constructed in a pretty compact size which is much smaller than Smok Novo Pod Kit and Smok Novo 2 Pod Kit. Without exception, Freecool also applied the new technology to their products, the in-mould labelling technique, which makes the the whole surface of the battery mod smoother and durable.
The special grooves design is a little identical to Smok Novo 2 Pod Kit which brings some great changes.
Several grooves are ingeniously added around the body of the electrode so the condensate generated during vaping is temporarily locked in these grooves. As for the air induction hole, it's on one side of the U-shaped airflow channel and protrudes from the electrode plane, eliminating the occurrence of contactless puffs.
Two air slots are designed on both sides of the top of the device to form a bilateral U-shaped airflow channel, which greatly increases the air inflow and brings smoother taste.
The internal 800mAh battery will ensure you long time vaping needs. According to the testing data from Freecool Official, you can use it for 3 days with average use after a full charge.
The Pod Cartridge
The N800 pod cartridge is constructed with stainless steel material dual coil inside. Featuring e-liquid isolation technology to prevent the annoying leaking problem. What's interesting is when you try to replace a new pod, you need to take the outer cover first and push the bottom pin inside till there's no bulge. Then wait a few minutes till the coil saturated.
What's more, this pod is also compatible with Smok Novo Pod Kit and Smok Novo 2 Pod Kit.
There're 7 falvors pre-filled pods you can choose from. And what you get from the package are the mango and purple berry. If you want to try the others, you can order it separately.
Now you can find it in our store.
Click here to see: https://www.ave40.com/freecool-n800-vape-pod-system-kit-800mah.html
Vape Wholesale & buy Electronic Cigarettes online in Bulk.
Quality Vape Products, Trusted Vape Wholesale Supply by Vape Shops Owners.
Wholesale Inquiry: https://www.ave40.com/wholesale-service.html
Thanks for Reading!