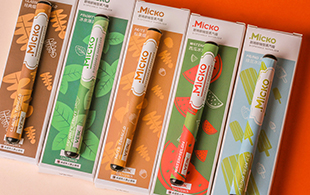 Veiik Micko Disposable Vaporizer is a new disposable vape kit released by Veiik brand.
Parameter:
Material: Stainless

Size: L106.5 * D10.5mm

Battery:310mAh

Pod: 1.5ml

Power: 10W

Puff: 400puff

Resistance: 1.8ohm

Quantity: 10pcs/pack
Package Included:
1 x Veiik Micko Disposable Vaporizer(10pcs/pack)
The Details
Now you can find it in our store.
Click here to see: https://www.ave40.com/veiik-micko-disposable-vaporizer-310mah-10pcs-pack.html
Vape Wholesale & buy Electronic Cigarettes online in Bulk.
Quality Vape Products, Trusted Vape Wholesale Supply by Vape Shops Owners.
Wholesale Inquiry: https://www.ave40.com/wholesale-service.html
Thanks for Reading!