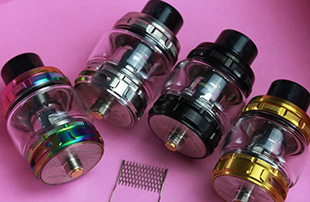 Five days ago, Wismec official posted their new mesh tank picture in their Instagram which named after Wismec Trough Tank. Finally, They brought it to the public! Now we can have a full view of this new atomizer! Let's check it out!
Parameters:
Size: 30*50mm
Juice Capacity: 6.5ml
Package Included:
Trough Mesh Tank
WT01 Single 0.35ohm Head
WT02 Dual 0.2ohm Head
User Manual
Spare Parts
The Appearance Design
Actually, Wismec brand was not that active in releasing new products like the others recently! Honestly I can not remember correctly when was Wismec Luxotic Surface Squonk Kit launched! Since then, Wismec seems like to vanish and prepare something better secretly! Well, pardon for my imaginations! Let's see it below!
The whole structure is still the traditional structure. Bottom base, coil, glass tube, top cap and drip tip.
Judge from the picture above, we can see a little details of its different appearance. The new appearance of Wismec Trought Tank is designed with EFVP technology which full name is Environment-Friendly Vacuum Plating Technology. In short, it will improve the durability of the outer shell color to make sure the color as good as new after long time using in daily life. Pretty great idea!
The Coils
And the Wismec Trough Tank also comes with new mesh coil series. Single coil, dual coil and triple coil. Absolutely it will directly improve the vaping experience. No matter the vapor or the flavor.
Also, the new mesh coils have been redesigned on its airflow slot to make the air rich. Needless to say, More air, Better flavor. Isn't it?
And here is another change! Recently, more and more manufacturers start to explore in the inner material field. I mean the cotton inside. Freemax and Vaporesso both start to use tea fiber in their new released products like Vaporesso VM Tank and Freemax Twister Kit(new color). So Wismec also brings us something new. The mixed cotton which combined with wood pulp and traditional cotton. Although the new material those manufacturers used are different from each other. Literally, their role is to improve the capacity of liquid absorption. That's quite awesome!
You can check this short unboxing video we made!
Now you can find it in our store.
Click here to see: https://www.ave40.com/wismec-trough-subohm-mesh-tank-6-5ml.html
Vape Wholesale & buy Electronic Cigarettes online in Bulk.
Quality Vape Products, Trusted Vape Wholesale Supply by Vape Shops Owners.
Wholesale Inquiry: https://www.ave40.com/wholesale-service.html
Thanks for Reading!