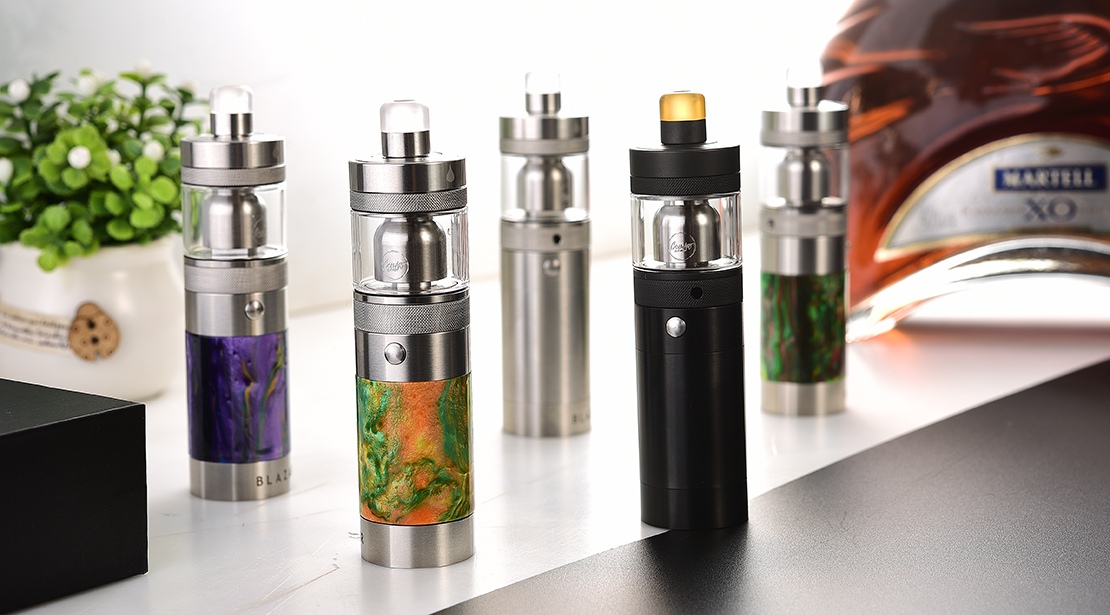 As a matter of fact, high wattage and huge vapor are always the unspeakable charming of vape. Well, there's no doubt that MTL vaping is still appealing to the majority of vapers. I don't know where to start introducing this new kit, Coilart Blazar MTL Kit(

). Anyway, let's have a look at it!
The Package
Inside of the package, you will get a single coil RTA, a palm-size semi-mech mod, an extra straight glass tube, an Allen key, and a bag of accessories.
Of course, you will get some paperwork.
The Battery Mod
Here is the highlight of this whole kit, this palm-size semi-mechanical mod. I want to put another word here first, this mod just reminds of the Ultroner Mini Stick Mech Mod. What a coincidence is the Ultroner is also a semi-mech mod.
On the other hand, this Coilart Blazar MTL Kit is constructed from stainless steel and resin material. Don't underrate it because of its size. Actually, it feels just comfortable in hand.
On the backside of the top piece, you will see a bare circuit board, which embedded with chips and some electrical components. On the front side, you will see the contact. Obviously, it's not a mechanical mod.
The bottom piece is detachable and you can see the positive mark and two vents.
By the way, this mech mod is compatible with 18350 battery only. Hard to imagine we can still see a 18350 battery mod in 2019.
The RTA
The Blazar RTA comes in two colors, which match the color of the mech mod. The black one is equipped with an Ultem material drip tip. If you like that, the whole black color will be your only option.
Tear down this RTA, you will find there's nothing special. Two posts on the building deck and two slots for you to insert your cotton. Use the Allen key in the package to install your coil. That's pretty simple!
The Verdict
All in all, this Coilart Blazar MTL Kit is a simple enough MTL kit. Due to the chipests equipped inside, there'll be much safer than the true mechanical mod. And single coil RTA won't be difficult to handle with. But, I kinda wish it'll be a 18650 battery mech mod at least. After all, it's 2019!
The Gallery
Specifications:
Size: 98 x 24mm
Capacity: 4ml
Battery: 18350
Working Voltage: 3.0 - 4.2V
Operating Mode: POWER
Supported Resistance: 0.15 - 3.0ohm
Protection: low/high resistance, overheating, short circuit, reverse polarity
Connector Type: Steel 510, Pin Gold Plated, Spring Loaded
Kit Includes:
Blazar Mod
Blazar RTA
Extra Glass Tube
Accessories Bag
CoilART Blazar MTL Starter Kit:(

)
Now you can find it in our store.
Click here to see: https://www.ave40.com/coilart-blazar-mtl-starter-kit.html
Vape Wholesale & buy Electronic Cigarettes online in Bulk.
Quality Vape Products, Trusted Vape Wholesale Supply by Vape Shops Owners.
Wholesale Inquiry: https://www.ave40.com/wholesale-service.html
Thanks for Reading!