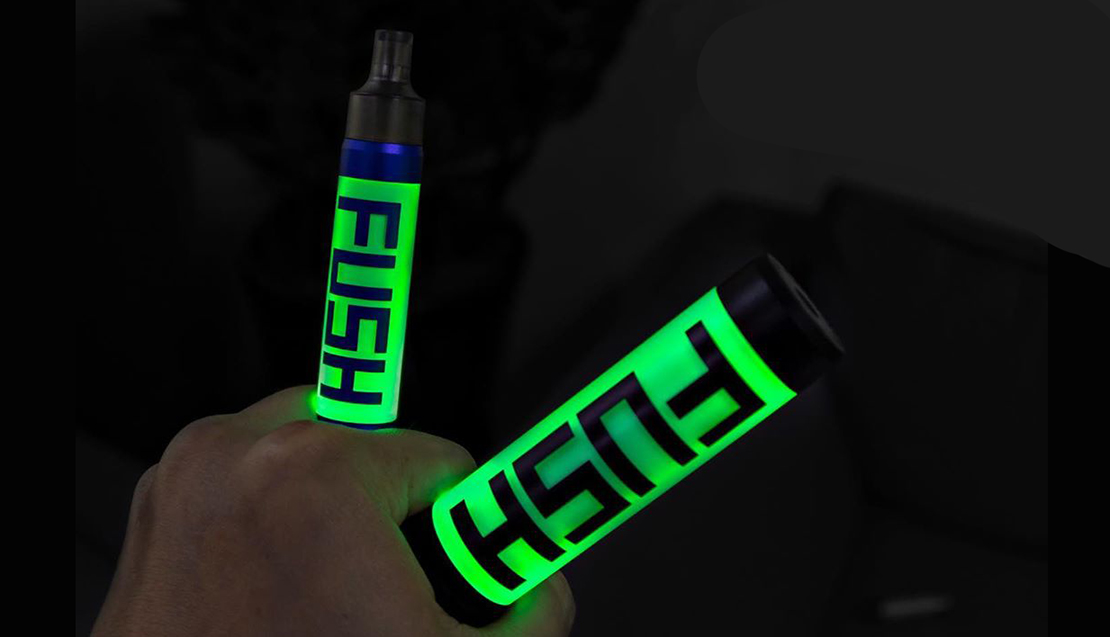 I was choked when I saw the Acrohm Fush Semi Mech Mod for the first time! Honestly, I just thought that would be my daily driver for the rest of my life without any doubt. The changeable LED light feature and the vivid vibration configuration both make me addicted to using it. But what we will see today is the twin brother of that mod, the Acrohm Fush Nano Pod Kit.
The Details
As the representative feature of Acrohm vape devices, the configuration of shaking to change the color of the LED tube has been also retained in the Acrohm Fush Nano Pod Kit.
There're two ways to operate this kit. Draw activation and button activation. When you inhale directly, the output is 7w. As you press the button on the bottom, the output will be 10w. Of course, you can press the button 5 times to turn the device off.
The pod cartridge is more like an RTA. It aims to provide more space for the airflow to fully atomize the juice. And you will get an extra pod cartridge from the package.
The airflow is adjustable as well. Due to there's plenty of various vaping styles, this design will enable everyone to find the airflow that suits them best!
The filling port is on the top side of the pod cartridge, which makes refilling easy!
Without exception, the necessary protection functions are all supported to make vape safe!
There's a total of 5 color profiles available you can choose from.
Specifications:
Product Size: 19.3 * 102mm
Battery: 550mAh
Capacity: 1.5ml
Resistance: 1.4ohm
Output Power: Airflow Control 7W / Button Switch 10W
Charging: Micro USB port
Charging Current: 1A
Full Charging Time: 40min
Connector: Magnetic
Kit Includes:
Fush Nano Pod Kit * 1
Lanyard* 1
Additional Pod* 1
USB Cable* 1
Quick Guide* 1
User Manual* 1
Warranty Card* 1
Now you can find it in our store.
Click here to see: https://www.ave40.com/acrohm-fush-nano-vape-pod-system-kit-550mah.html
Vape Wholesale & buy Electronic Cigarettes online in Bulk.
Quality Vape Products, Trusted Vape Wholesale Supply by Vape Shops Owners.
Wholesale Inquiry: https://www.ave40.com/wholesale-service.html
Thanks for Reading!