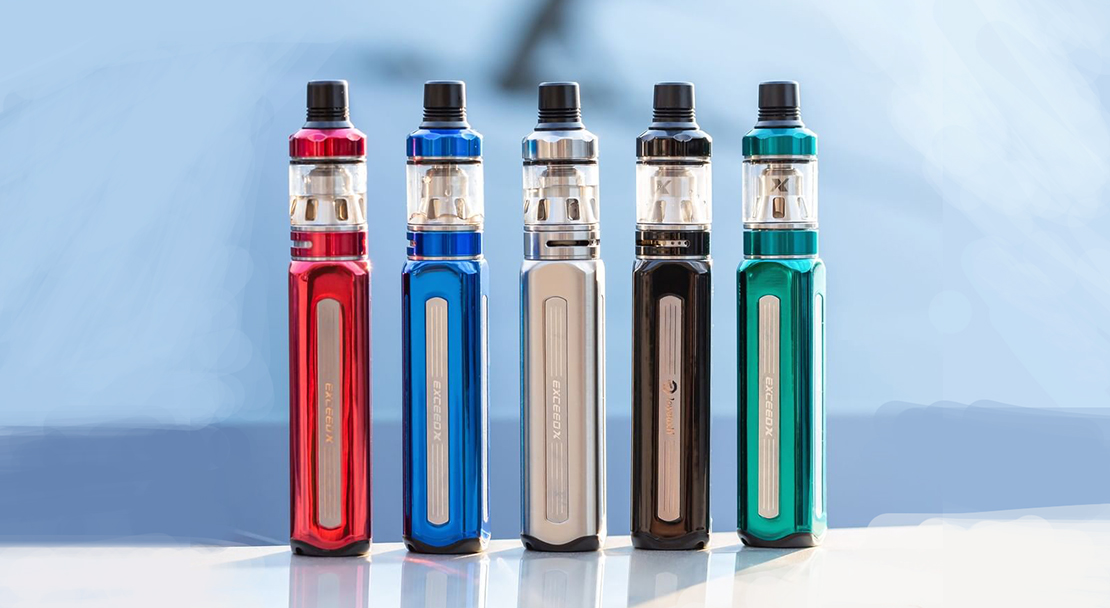 As the main line of the vape device series, Joyetech continuously keeps updating and adding new devices into the Exceed series. This time we can have a look at the Joyetech Exceed X Kit(

).
The Battery Mod
First thing first, the Joyetech Exceed X Kit is pretty portable. That quite makes sense because the majority of customers out there are always concerned with portability. Once they get a compact vape device, they can take it everywhere with them without worrying about the inconvenience caused by large size!
On the other hand, USB-C port and fast charging functions are always appealing to most users as well. The capacity of the battery is 1000mAh and it will only take you about 30 minutes to fully charge it. That's pretty impressive!
Adjustable output power and LED indicator are the common configurations of all vape devices by now!
The Atomizer
Go back to the Joyetech Exceed X Atomizer, there's actually nothing special. The childproof refilling design is the highlight here. When necessary, you need to press down the top cap and push it to one side, then you can squeeze your juice into the tank.
And this atomizer is compatible with all EX-series coil heads. So, if you're a big fan of Joyetech devices, you can use all your EX coils in this kit.
Specifications:
Size: 117.2x23.4x24.4mm
Weight: 98g
Battery Capacity: 1000mAh
Cartridge Capacity: 1.8ml
Resistance: EX-M 0.4ohm, EX 0.5ohm and EX 1.2ohm Coil Head
Power Mode: Constant Power Output (3 Levels)
Max Charge Current: 2A
Kit Includes:
Exceed X Battery * 1
Exceed X Atomizer * 1
EX 1.2ohm MTL Head (Pre-Installed) * 1
EX-M 0.4ohm Head * 1
TYPE-C Cable * 1
Joyetech Exceed X Vape Starter Kit:(

)
Now you can find it in our store.
Click here to see: https://www.ave40.com/joyetech-exceed-x-vape-starter-kit-1000mah.html
Vape Wholesale & buy Electronic Cigarettes online in Bulk.
Quality Vape Products, Trusted Vape Wholesale Supply by Vape Shops Owners.
Wholesale Inquiry: https://www.ave40.com/wholesale-service.html
Thanks for Reading!