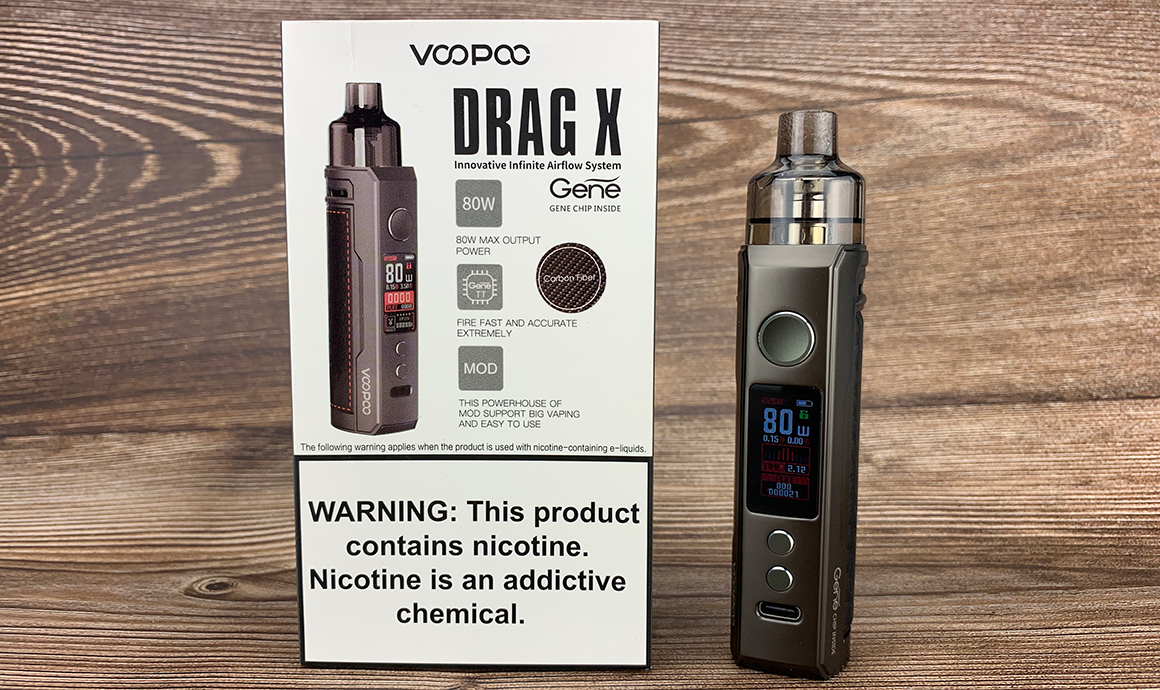 Preface
Actually, I almost finished this review on May 15th. Due to some unpredictable reasons, I had some issues with this Voopoo Drag X Kit. Basically, I'm always able to get new product samples for the first time when you guys have not heard of any information or releasing news. But this time, I have to admit something is not supposed to happen but it has happened already.


Voopoo Drag X Kit Review

Honestly, I personally regard the Voopoo Drag X Kit and Voopoo Drag S Kit as an almighty combination between Voopoo Vinci series and Voopoo Drag series. And the truth is both of them have far exceeded my expectations. Not only their comprehensive performances are a big surprise, but the entire design of the two devices also amazed me a lot. But something you have encountered with the previous Voopoo Vinci X Kit or Voopoo Vinci Mod Pod Kit may be able to happen again. As far as I'm concerned, it'll be a lethal flaw that prevents you from trying to make a choice. Let's check it out!


Initial Thoughts

Believe it or not, I think applying the Pod Mod Kit concept to Voopoo Drag series is an extremely correct decision. It not only enriches the product line, but the long-standing design philosophy of Voopoo Drag series is also capable of being inherited and implemented. To a certain extent, Voopoo Drag series always dashes out with some exploratory or stunning functions and that's the majority of consumers scramble for.
When I took the first glance at this Voopoo Drag X Kit, I just thought it's a splicing device between a regular pod mod device and a piece of leather panel decoration. After all, leather material is often seen so far. But it's undeniably that Voopoo has the great ability of product integration and color profiles. As you can see, these two devices easily stand out in the majority of the tremendous number of pod mod kits on the current market.


The Battery Module
The entire profile design should be the first highlight of this Voopoo Drag X Kit. If I'm not mistaken, it's the first time that Voopoo added the leather material to their product design. And the fun fact is I'm not surprised that Voopoo will do this. After all, there's a circle in the application of materials in the field of vape manufacturing. From PC/PCTG to Metal, then Resin and Leather both make a debut, and some current pod system kits are integrated with Glass material. When you begin to be fed up with the changeless profile design, a familiar design just springs up like before.
Honestly, the coverage of the leather panel of the Voopoo Drag X Kit is fairly impressive. But I have no idea what kind of leather is it because it feels not the same as the Geekvape Aegis series. Apparently, it can't be real leather or the price point would be much higher. The whole cover of the leather is on the soft side which is identical to iJoy Jupiter Pod Mod Kit. But obviously, the whole texture and processing on this piece of the leather panel are more delicate. The giant Drag logo and carbon fiber-like veins are both outstanding. Unluckily, I only got the carbon fiber version. If I could make a choice, I would go for brown color or classic color. In my view, the two colors are more beautiful.
I'd like to talk more about the buttons which are also different from the previous Vinci series. The adjustment buttons are used very frequently so it's easy to judge whether it's a good device or not via that. Comparing to the flat buttons on Voopoo Vinci or Vinci X, Drag X's buttons are slightly concave which fit human fingers better, and it's not as tight or hard as the Vinci series. At least in terms of buttons, some adjustments are made on earth. Besides, the up/down buttons get separated which is even better. Shortly, I like these buttons.
This Voopoo Drag X Kit is powered by an external 18650 battery which you probably know already. And the battery door is connected to the module unlike the one on Vinci X, so accidental falls or loss are not able to happen anymore. But I just keep thinking about why the max output of Vinci X is only 70 watts whereas the Drag X is able to provide up to 80 watts? After all, they use the same battery, a single 18650.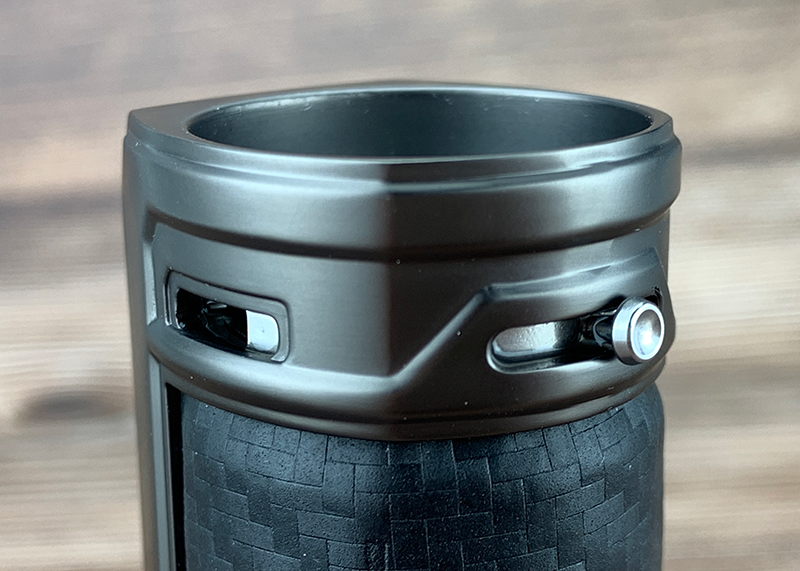 Apparently, the airflow ring has been changed a little. Instead of rotating the airflow rings or change the pod position manually, simply pushing the outward knob to make an adjustment is definitely straightforward and efficient. And the giant dual cutout allows more airflow to come through which is as great as sub-ohm tanks. As far as it goes, it also improves the air velocity due to the parallel layout to the coil. One thing I feel exactly is the airflow is richer than Vinci X.
Functionality

A new Drag device deserves a new chip! But that's not the reason for the emergence of GENE.TT chipset. Basically, all functions you've been experiencing on the Vinci series have been inherited by the Drag X Kit. What's more, it features another cool function that has never been seen before.
The actual operations remain the same as all Voopoo pod mod kits. Pressing the buttons in different combinations to receive different functions like wattage lock, mode switching, and puff cleaner are all easy to get started with. Obviously, it also lowers the threshold for switching through different devices. One more thing is the cool score mode.
I remember I've introduced this function in a comparison review between Drag X and Drag S. I described the score mode is more like a ranking system that some PC gamers must be familiar with. With the new chip, each vape or puff is under the detection of the chip and it will give out different scores through a bunch of different standards. Technically, it's just a function for fun. It won't affect the overall performance of the device. With or without it, the device still goes well.
Pod & Coil
The pod cartridge is more like a regular sub-ohm tank. At least in terms of the shape, it's similar. But it's still undetachable except for coil replacement. Even it features a new shape, the actual capacity of e-liquid is still 4.5ml. But it has a wide range of coil compatibility, all the coils which work on Vinci series are able to be installed on this kit. Thumbs up!
There're two coils included in the packaging, PnP-VM1,0.3Ω, and PnP-VM6,0.15Ω. The former is often seen in different Voopoo devices like Vinci and Vinci X, while the latter is a new OCC coil, which specifically designed for 80 watts. As for the flavor, we will talk about it below.


Verdict
Let's talk about performance first! Whereas the replacement coils are widely compatible, so it'll be fairly easy to find out the differences in flavor and vapor productions. 0.3ohm VM1 mesh coil is the most favored replacement coil. Even it's capable of withstanding only 40 watts, the actual performance can not be underestimated. No matter the flavor or the vapor are both on a satisfactory level. But I'm still surprised at the comprehensive performance it gives on Voopoo Drag X Kit. Give credit to the airflow cutouts, rich airflow is equal to great flavor. And the parallel layout between coil position and inlets is also a winning goal.
In addition, the entire design concept of the Voopoo Drag X Kit or Drag S Kit is also impressive. A combination of metal and leather is something we're extremely familiar with, but the adjustment to the colors is what I'm interested in. By any chance, I will give a try to that brown color.
And 80 watts seem like a great specification! As I switched up to 75 watts with the VM6 0.15ohm coil, I'm actually not able to stand the high temperature. In another word, the vapor is impressively hot. It feels like I'm taking a draw on an RDA tank. Perhaps, I've been digging pod system kits too much recently and a higher temperature is not that acceptable for the first time. Anyway, I'm glad to see Voopoo made a tough coil that is capable of withstanding higher or maximum wattage. After all, the flavor it gave out is optimal!
But something that bothered you before is still annoying you till now! Honestly, I've expected that the leakage issue could be fixed perfectly. After all, easy-to-leak is almost a label to Voopoo Vinci devices. And I convinced myself that the leaking problem will go forever on this Drag X Kit. But the truth is I just expected too much. It's still able to keep leaking.Even it's not as that bad as the previous Vinci series, even there're just a few drops, even there're just a few marks of e-juice, I still want this could be fixed in the next generation! Maybe?

The story tells us that if you lose something, you will get something. And the truth is that the flavor is fairly great, then you have to put up with the leakage. For me, I will try to accept that, will you?
Specifications:
Size: 95*32.5*28mm

Material: Alloy+Leather

Output Power: 5-80W

Output Voltage: 3.2~4.2V

Resistance: 0.1~3.0Ω

Battery Capacity: Single 18650(Excluding battery)

Capacity: 4.5ml

Material: PCTG

Resistance: 0.15Ω(PnP-VM6) 0.3Ω(PnP-VM1)
Package Includes:
DRAG X Device * 1

DRAG X Pod (4.5ml)* 1

PnP-VM1,0.3Ω* 1

PnP-VM6,0.15Ω* 1

Type-C Cable* 1

User Manual* 1

Warranty Card* 1

Chip Card* 1
Click here to check more vape devices: https://www.ave40.com/voopoo-drag-x-mod-pod-kit-80w.html
Vape Wholesale & buy Electronic Cigarettes online in Bulk.
Quality Vape Products, Trusted Vape Wholesale Supply by Vape Shops Owners.
Wholesale Inquiry: https://www.ave40.com/wholesale-service.html
Thanks for Reading!