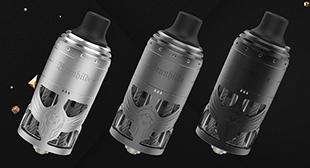 Since Brunhilde RTA was released, Vapefly seems to have found its way in developing vape devices. Such as Core RTA with unique Q airflow design, Jester Pod Kit with coil rebuildable feature, etc. And now, another unique device is coming. The Vapefly Brunhilde MTL RTA.
Parameters:
Diameter: 23.0mm

Capacity: 5ml

Height of Drip Tip: 59.5mm

Drip tip: 510 (two height sizes)

Coil rebuildable: Single coil build
Package Included:
Brunhilde MTL RTA

Glass tube

Long drip tip(resin)

2 * Stainless steel wires

6 * Screw airflow sets

9 * O-rings

2 * Pre-built 1.0ohm 26GA (Ni 80)

Allen Key

T-type screwdriver

8 * Screws

2 * Firebolt Cotton

User manual
The Details
As an MTL version of Brunhilde RTA, there're actually not much different from that. Its signature juice replenishment design has been retained. Different from the other RTA on the market, Vapefly redesigned the MTL structure which used stainless steel wire as the conductor to transfer the juice to cotton place. The difference between Brunhilde RTA and the MTL version is the number of wires and the building deck.
Now that it's an MTL version, so a single coil structure is more suitable. And the building deck has also been redesigned which comes with dual post. You will get two pre-built Ni 80 coils from the package which definitely provides more convenience.
And the way to adjust the airflow is also a little bit different. Even though there's an air hole located in the middle position of the tank, you can still use something interesting to set up your own airflow. 6 screws with different holes of diameter included in the package. People all have their own MTL style, so they get different restrictions in airflow control.
The capacity of juice is 5 milliliters which are a little less than Brunhilde RTA. In consideration of its MTL feature, so 5ml is pretty enough for daily use. And you can refill the juice through the hole located in the middle position of the tank as well which is identical to Vapefly Brunhilde RTA.
Now you can find it in our store.
Click here to see: https://www.ave40.com/vapefly-brunhilde-mtl-rta-5ml.html
Vape Wholesale & buy Electronic Cigarettes online in Bulk.
Quality Vape Products, Trusted Vape Wholesale Supply by Vape Shops Owners.
Wholesale Inquiry: https://www.ave40.com/wholesale-service.html
Thanks for Reading!