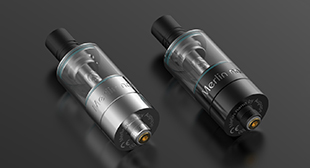 Augvape Merlin Nano MTL RTA is a new member of Augvape Merlin Atomizer series. After the Merlin RDTA, Merlin Mini RTA, Merlin RTA, and Merlin MTL RTA has been released, Augvape just tried to combine all the advantages and strength of those previous products together to make something better and different from before! Let's have a look!
Parameters:
Size: 18×55.8mm (Optional 22mm beauty ring)

Capacity: 2ml (3.5ml bubble glass option)

Refill Type: Bottom refill

Drip Tip: 510

Adjustable airflow inserts:

1.0mm hole 1.2mm hole 1.0mm dual holes

Two posts, single coil build deck

Gold plated 510 connector
Package Included:
Merlin Nano MTL RTA

22mm Beauty Ring

3.5ml Bubble PCTG

Bag Accessories(O-rings, Screws)

Screwdriver

User manual

Premade Kanthal Coil 1ff

Premade Nichrome Coil 0.6ff

2 x Airflow inserts(Diameter 1.2mm/2mm)
The Details
Talking about the structure of this Augvape Merlin Nano MTL RTA, actually, there are a lot different and strange parts we can see. But first of all, let me introduce some essential info about it. 18 mm in diameter and 55.8 mm in height so you can know it's a pretty tall RTA. And the single-coil building deck is quite easy for you to use. The juice capacity is 2ml and it can hold up to 3.5ml with the extra PCTG bubble tube.
The first different thing is the peek chamber. It's constructed from PC material or something like that and used to cover the coil. And you can clearly see there're two holes on both sides which are used to let the juice come in.
Another different thing is the stealth annular air hole design. Well, you don't need to twist the airflow ring like before anymore. Anyway, you also get nothing to twist on this tank.
But that does not mean you can not adjust the airflow according to your preference. Augvape just redesigned the airflow adjustment method on this tank. You can get three different tiny parts from the package, each insert has holes of different diameter! If you don't know how to choose, you can try them all at first to find your favorite one!
In consideration of the size of the Augvape Merlin Nano MTL RTA, Augvape just gives you a beauty ring to make the tank more suitable and coordinated on most box mods.
Now you can find it in our store.
Click here to see: https://www.ave40.com/augvape-merlin-nano-mtl-rta.html
Vape Wholesale & buy Electronic Cigarettes online in Bulk.
Quality Vape Products, Trusted Vape Wholesale Supply by Vape Shops Owners.
Wholesale Inquiry: https://www.ave40.com/wholesale-service.html
Thanks for Reading!