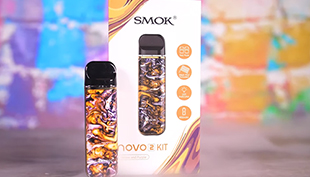 Welcome the new Smok Novo 2 Pod Kit! After almost one year, Smok finally decided to upgrade their hottest pod system kit! But is there something new? Let's check it out!
Parameters:
Size: 88.3*24.5*14.5mm

Battery Capacity: 800mAh

E-liquid capacity: 2ml

Standby Current: <20uA(No-load) <50uA(Load)

Resistance of Pre-installed Pod: 1.0Ω

Input voltage: 3.3V-4.2V

Output wattage: 6W-25W

Charging Current: Max:0.55A

Charging Voltage: 5V

Overcharge Voltage:4.3V

Overdischarge Voltage:2.4V

Overcharge Current:1A

Output Voltage: 3.0V-4.0V

Weight: 43g
Package Included:
NOVO 2 Device

Mesh 1.0Ω Pod(No e-liquid)(2ml)

DC 1.4Ω MTL Pod

USB Cable

User Manual
The Details
Smok Novo 2 Pod Kit comes with a new appearance design and features the color matching of resin, which absolutely will hit the spots. And its dimension is not much different from Smok Novo Pod Kit. Just a little bit wider and thicker!
But its battery capacity has been increased which is almost twice as large as Smok Novo Pod Kit. Keep the dimension the same, and increase the battery capacity! That's awesome!
And air-activated design has been retained in consideration of convenience! Two air slots on both sides ensure enough air supplement which is also different from the air hole design of Smok Novo Pod Kit. In a word, this Smok Novo 2 will draw in more airflow.
The sensor hole also has been redesigned and the accuracy is guaranteed to avoid the spurious triggering operations to some extent.
Also, LED indicators will remind you of the battery status clearly like before to let you know when you should charge it! Compare to button-activated Smok Nord Pod Kit, this kind of simplified design definitely increases efficiency and brings much more convenience!
In addition to the design of appearance and structure, Smok Novo 2 Pod Kit is also equipped with new pod cartridges. This pod features dual coils inside, which is similar to the dual mesh coil in sub-ohm tanks, to make sure the liquid you filled will be more evenly vaporizing and bring the flavor back to original.
Moreover, you will get two pod cartridges from the package, a 1.0ohm mesh and a 1.4ohm MTL, to offer you more options which are different from Smok Novo Pod Kit as well.
So what's the differences between Smok Novo 2 and Smok Novo?
Actually, it's easy to tell you what's the differences between them. The same tiny and portable size, more gorgeous appearance design, higher output range, larger battery capacity, new pod cartridge design, and much more awesome vaping experience.
Now you can find it in our store.
Click here to see: https://www.ave40.com/smok-novo-2-pod-system-kit-800mah.html
Vape Wholesale & buy Electronic Cigarettes online in Bulk.
Quality Vape Products, Trusted Vape Wholesale Supply by Vape Shops Owners.
Wholesale Inquiry: https://www.ave40.com/wholesale-service.html
Thanks for Reading!