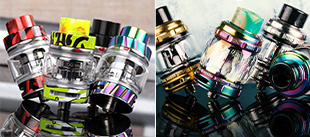 Organic cotton is the traditional selection of coil construction. Since e-cigarettes showed up in the market, cotton material has been the main part of it, no matter the sub-ohm tanks or RTA and RDA, even pod system kits which have hit the spots in recent years.
But manufacturers never stop their explorations and keep developing in so many available fields. Such as the alloy metal materials. Aluminum alloy, zinc alloy, stainless steel, and PCTG. These kinds of material all have taken a great part in the structure of e-cigarettes devices. Now, it's the turn of cotton material to make something fancy!
Here are the two new released and representative sub-ohm tanks which both feature something interesting! What's it? Let's check it out!
Freemax Fireluke 2 Tank
Freemax Fireluke 2 Tank has been released for a while. As the 2nd generation of Fireluke series, it's already a must-have sub-ohm tank for most vape lovers due to its mesh coil feature. Also, it also comes with different versions which included graffiti edition, metal edition and the new resin edition of 2019.
Features:
Patented 90% Tea Fiber Cotton & 10% Organic Cotton Formula

Diamond Pattern Mesh Coil Structure

Fireluke 2 With Updated TX1/TX2/TNX2/TX3/TX4 Mesh Coil Options

7 Solid Colors Available (SS, Black, Purple, Blue, Green, Rainbow, Golden)

360-degree e-liquid feeding system
Specifications:
Size: 24 x 47.8mm/28 x 47.8mm

Capacity: 5ml(Standard Edition)/2ml(TPD Edition)

Coil: TX2 mesh coil 0.2ohm 40-80W/TX1 mesh coil 0.15ohm 40-90W

Material: Stainless steel/ Glass tube

Drip tip: 810 drip tip

Thread: 510
Click here to see: https://www.ave40.com/freemax-fireluke-2-subohm-tank.html
Wismec Trough Tank
Wismec Trough Tank is the latest sub-ohm tank from the Wismec brand which has been released a little while ago. It comes with brand-new appearance design with EFVP technology. Also, wismec also equipped their new trough tank with a quartz material tube.
Features:
Exquisite appearance with EFVP technology

360° Diversion e-liquid leading system

WT mesh coils, restore The most authentic e-liquid flavor

30% Wood Pulp and 70% Organic Cotton for better flavor

Large airflow slot & Adjustable airflow control system

Various tank versions available for your Preference
Specifications:
Size: 30x 50mm(6.5ml/2ml); 28.5 x 50mm(4.9ml, with a Quartz tube)

Capacity: 6.5ml/4.9ml/2ml

Type: Child Lock Version; No Child Lock Version

Coil: WTO1 Single 0.35ohm(30-50W) / WTO2 Dual 0.2ohm(30-70W) /WTO3 Triple 0.15ohm(50-90W)

Drip Tip: 810

Thread: 510
Click here to see: https://www.ave40.com/wismec-trough-subohm-mesh-tank.html
The Difference
So what's the difference between Freemax Fireluke 2 Tank and Wismec Trough Tank? Leave aside the appearance due to people all has their own style. So the main difference here is the cotton material inside of the coil!
Freemax decided to mix the tea fiber with organic cotton to make their new embedded cotton material. The ratio of 90% tea fiber with 10% cotton material.
Wismec also finds their own way. They tried to mix the wood pulp and organic cotton together to make their new mesh coil, which in the ratio of 30% wood pulp with 70% cotton!
So how about the new material coil?
The answer is pretty awesome! Compare to the traditional single organic cotton material, tea fiber and wood pulp both improve the liquid absorption of cotton. That means there's no more dry hit when you do a few chain vapes. Dry hit always bothers us when we vape with sub-ohm tanks. And from now on, that case will be decreased a lot!
Also, these kinds of new embedded materials also improve the flavor to a new level. Liquid conductivity and liquid storage performance both make the juice you refilled be adsorbed much faster than before. So the juice will be heated evenly and the flavor will be much more original!
So is there any difference between these two coil materials?
Although these two kinds of materials are completely different from each other! Their effects are properly identical! Don't mind the different ratios of the material. That could be the best ratio that can be made! As for their true performance! How can I describe it? Each has its own merits! Try these two tanks out, you won't be disappointed!
By the way, you can also find the tea fiber cotton material coil in Vaporesso Target Mini 2 Kit and Vaporesso VM Tank.
Vape Wholesale & buy Electronic Cigarettes online in Bulk.
Quality Vape Products, Trusted Vape Wholesale Supply by Vape Shops Owners.
Wholesale Inquiry: https://www.ave40.com/wholesale-service.html
Thanks for Reading!