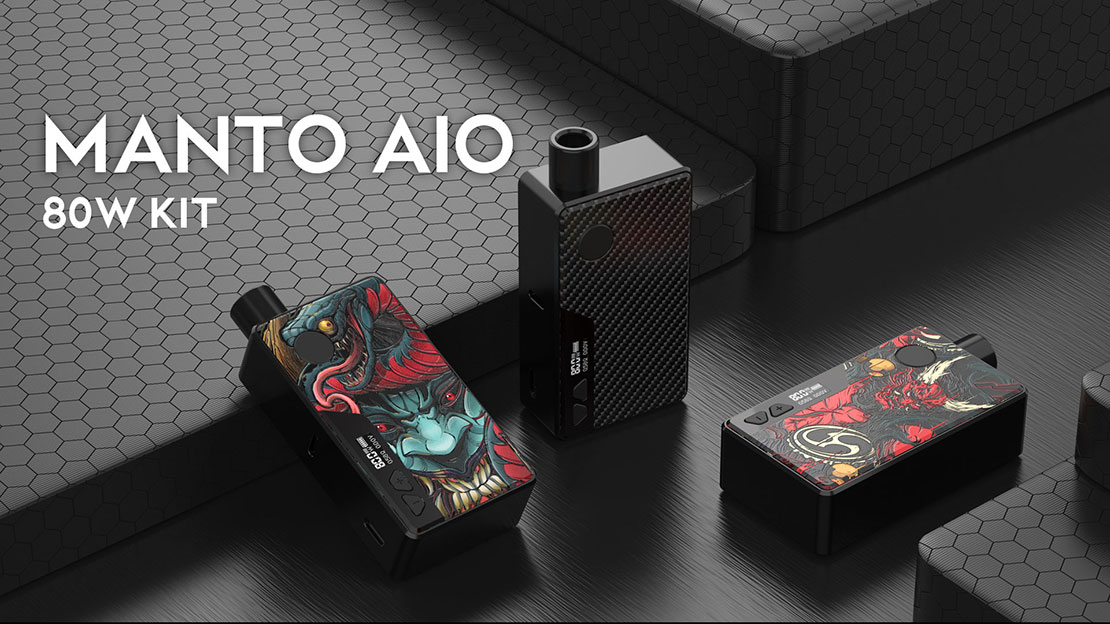 As the main product series of Rincoe brand, the Manto series has been updating till now. But it's rare to see the same huge success as the previous Rincoe Manto kit has achieved. Nonetheless, Rincoe doesn't seem to give it up. Several weeks ago, Rincoe Manto Nano Kit and Rincoe Manto AIO Kit both had been launched. So, let's take a detailed look at Rincoe Manto AIO Kit.
If you want to know the details about Rincoe Manto Nano Kit, please check this video out: https://www.youtube.com/watch?v=oE74-uYJq_g
The Details
First of all, the profile design of this Rincoe Manto AIO Kit is definitely outstanding. There're different patterns covered on the front side. Actually, there's a ton of color options you can choose from. But currently, there're only 3 colors available. Raijin, Snakeman, and Carbon Black.
The chassis of this kit is made of aluminum alloy material. On the front side, you can see an intuitive fire button, up/down button, and a teeny tiny 0.49" OLED screen display.
The Rincoe Manto AIO Kit is powered by a single 18650 battery and it can deliver a maximum output of 80w. And you can replace the battery by taking off the battery door on the back. Of course, you can also take off the pod cartridge as well.
On the other hand, you can charge this device via the Type-C port on the left side.
The pod cartridge is made of PCTG material and its transparent appearance will let you know the level of juice inside clearly. The capacity is 3ml.
There're two replacement coils included in the packaging. 1.2ohm regular coil for MTL vaping and 0.3ohm mesh coil for DL vaping. Furthermore, Rincoe also provides RBA coil head for this kit. But you need to purchase it separately.
And you can twist the ring on the coil base to adjust the airflow.
Also, there're two drip tips included as well, which are also designed for MTL and DL vaping needs. Moreover, there's also a hole on the left side of the battery mod where the airflow comes through.
Specifications:
Dimensions: 24.3*45*80mm

Firing Time: 0.001S

Charging Voltage: 5V/1A

Material: Aluminum Alloy

Juice Capacity: 3ml

Battery Using: Single replaceable high rate of 18650 cells (CDC>=25A)
Kit Includes:
MANTO AIO 80W Kit (DTL Drip Tip) * 1

Pod Cartridge (Mesh 0.3ohm coil inside)* 1

Regular 1.2ohm coil* 1

Type-C Charging Cable* 1

Certificate Card* 1

Warranty Card* 1

User Manual* 1

MTL Drip Tip* 1
Click here to see: https://www.ave40.com/rincoe-manto-aio-80w-pod-kit.html
Vape Wholesale & buy Electronic Cigarettes online in Bulk.
Quality Vape Products, Trusted Vape Wholesale Supply by Vape Shops Owners.
Wholesale Inquiry: https://www.ave40.com/wholesale-service.html
Thanks for Reading!