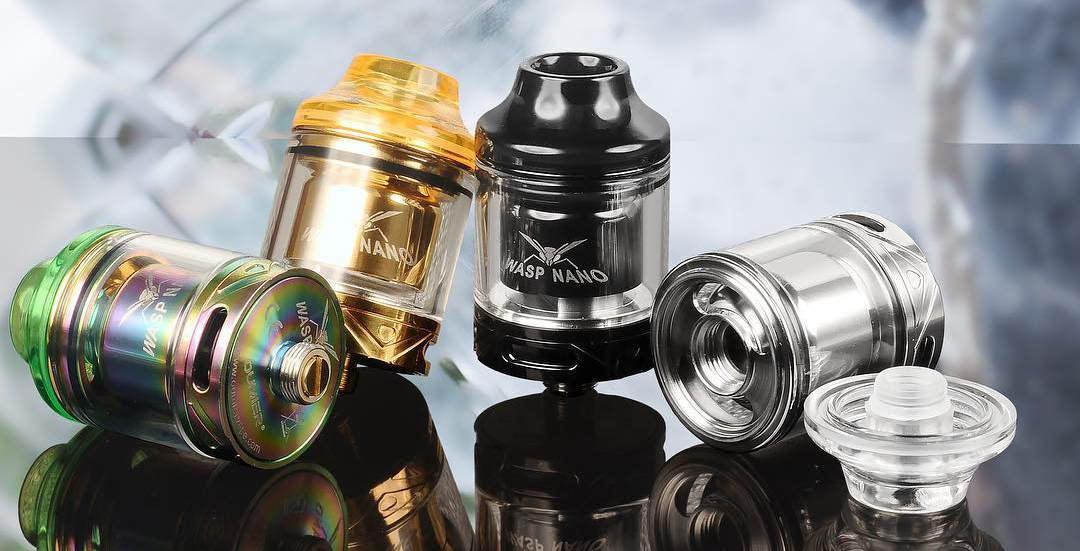 This atomizer , Oumier Wasp Nano RTA, is the latest atomizer tank from Oumier family. Exactly it has been released almost one month ago. And I have made its unboxing video in our YouTube channel, you guys can click the link to see where on the bottom of the review. Oumier keeps contributing in atomizer market all the time so you can find that there're just a few box mods they produced and launched. That's why we have such a great RTA to review today! Well plus this oumier wasp nano rta, the oumier wasp nano series is complete now. The other two is Wasp Nano RDTA and Wasp Nano RDA which has already sold at our store for a long time. Ok, now let's get back to today's topic.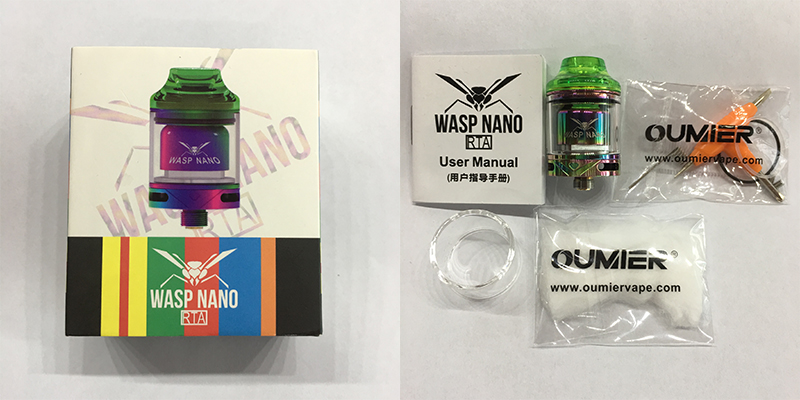 Parameters:
Size: 23mm x 35mm
Capacity: 2ml
Coil: Single Coil
Drip Tip: 510
Package Included:
OUMIER WASP NANO RTA
Spare Parts
1 x Organic Cotton
1 x Extra Glass Tube
The Design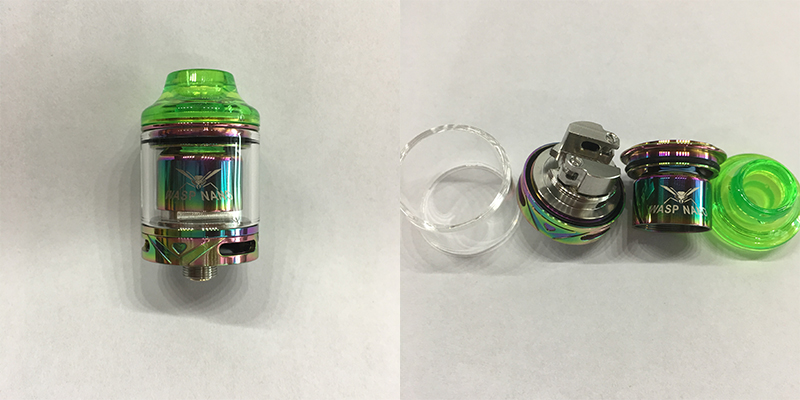 My initial impression on this tank is the compact size. Well compare to other RTA atomizers, this compact advantage is expanded a bit. Talk about the material on this tank, traditional material selection and the same craft combination. PCTG drip tip and SS metal frame are the all manufacturers choice in atomizer making. PCTG material or resin material drip tip has an effective prevention to avoid the heat from the hot cloud. And there're also more replacement resin drip tips for vapers to select. Well judge from the picture above, you know you can not replace any extra drip tips on this mini RTA cause its none drip tip design but just one whole cap. The inner chamber part is easily to take off for coil building and cleaning. You can clearly see the painted wasp pattern with wasp nano logo. And another point is the small size building deck. So you need to carefully trim with the coil and cotton you install. On the other hand, the screw structure of the chamber part is not easily handled with. I mean, it's not easy to screw on even just a little dislocation.
The Building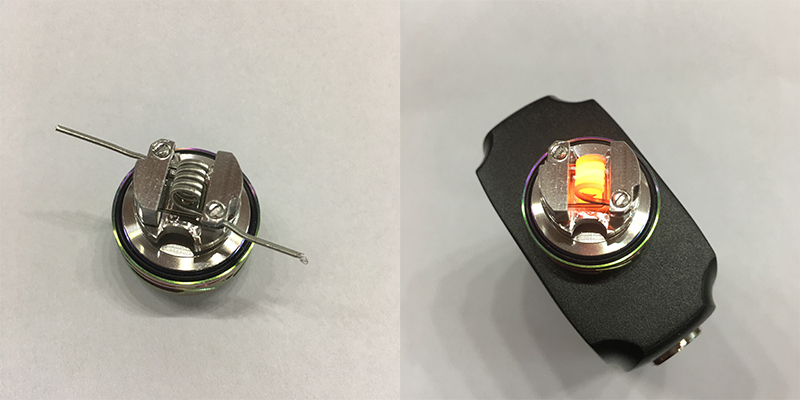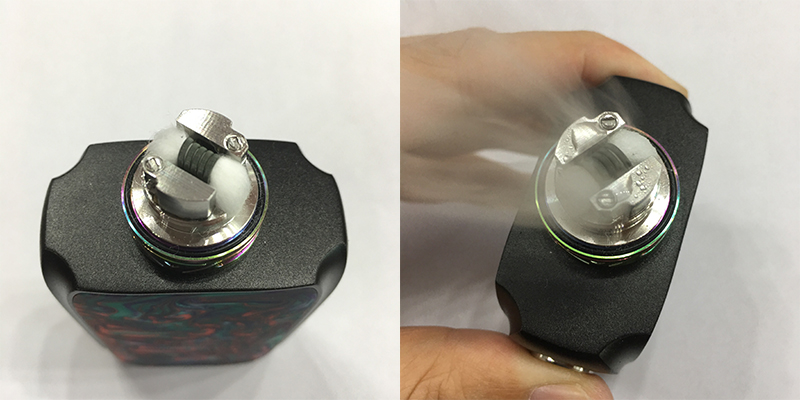 The whole process of building the coil goes smoothly. I used the coil which included in the package and it works well in this tank. Given that this is an RTA tank so carefully trimming the length of the cotton is necessary. Just like what I mentioned above, the screw structure of the inner chamber is not easy to screw on so better make sure the cotton won't be a problem for you to reassemble. I used this wasp nano RTA on my ijoy shogun mod. If I used a resin top cap on this tank, they two would look much better together. The wattage I used is 52w and the coil resistance the mod reads is 0.2ohm. I'm not sure it's just my personal feeling or what. Cause this tank is already in stock in every vape store and probably some of you guys have picked one using. It's not easy to please everyone and I know that. Well let me tell you about my personal experience below. Honestly there's a big disadvantage of this tank is the hot vaping. Mini size tank is attractive to RTA lovers without any doubt. Compare to the common RTA tanks in the market, the size design of Wasp Nano series is impressive and competitive. Well at the same time some problems happen. Pursuing the superior mini size design absolutely gives us something what brighten our eyes. But too small size also lead to the unavoidable too hot vaping cloud. Personally I'd like 60w vape, more or less. Well it's won't be my choice on this wasp nano RTA tank cause there's less space for the hot vaping to spread its heat but just goes straightly to your mouth. You can clearly feel the juice in the cotton is gasified by high wattage. Then straightly goes into your mouth in one second. That feeling is weird but no juice spilling tells you it's the normal operation.
The Comparison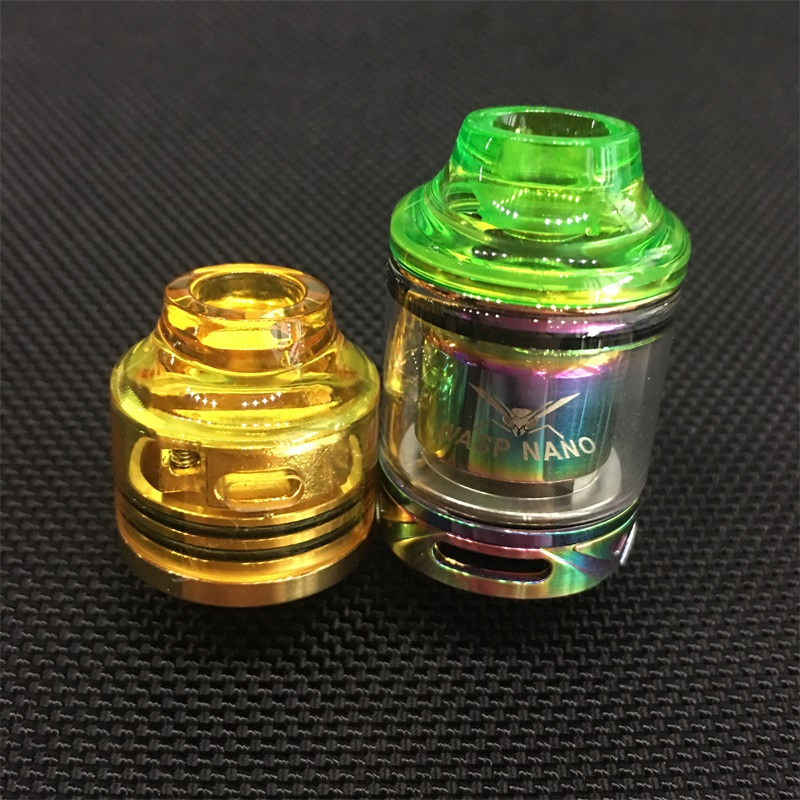 We talk about the mini size design all the time, well actually there's another more mini tank here. Oumier Wasp Nano RDA. The material between these two tank is totally the same. Also, the same single coil building structure. And there's no more need to talk about on this RDA tank, transparent appearance design makes you clearly know about its whole structure with one glance. As for its performance, so familiar to wasp nano RTA. If you guys have this RDA tank, talk about your experience below.
The Verdict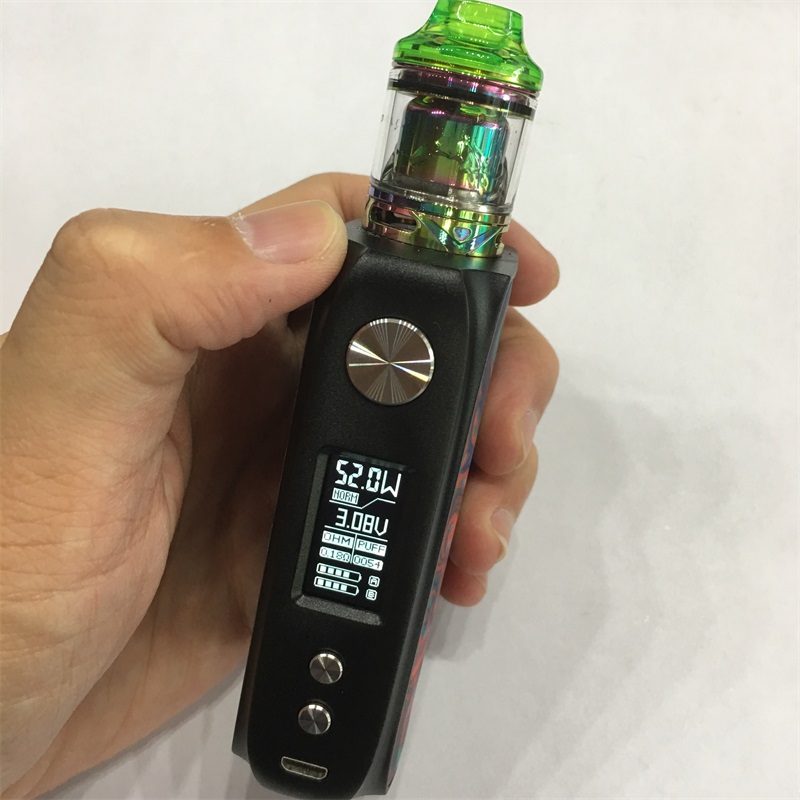 Though the strange vaping experience on this RTA, I still want to recommend it to you guys. Awesome size design with traditional but just right inner structure. Not normal experience but great performance. That's the reason to choose it. Honestly I'm fed up with rainbow color vape device, maybe gold or black color is a better choice. Now you can find this RTA at our store, click here to see: https://www.ave40.com/oumier-wasp-nano-rta-w-o-battery.html Click here to see the unboxing video: https://www.youtube.com/watch?v=uSpF6BdVdQs
Thanks for Reading!