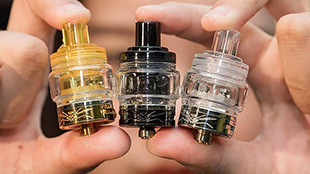 Do you guys still remember the Oumier Wasp Nano RTA(

)? I'm 100% sure there are so many vapers that have heard of this device and definitely used it as their daily driver. Needless to say, all the positive reviews and feedback drive the Oumier manufacturer forward to make another perfect device once again. Now it's coming! The Oumier Wasp Nano MTL RTA!(

)
The Details
The dimension of this MTL version has not changed a lot. Its diameter has been reduced to 22 mm. Due to the new drip tip, it's a little bit higher than the original version. What a pity that the drip tip is still irreplaceable.
The building deck is capable of building a single-coil as usual. As an MTL RTA, single-coil could not be much better. In the package, you can get an extra bubble glass tube as a replacement which can hold up to 2 milliliters of liquid.
To coordinate the whole structure, the chimney and the drip tip both have been adjusted a little. Well, the bottom airflow adjustment and the top refilling design have been retained.
The design of airflow is identical to the Oumier Wasp Nano RTA. The airflow comes in from the bottom air inlets and hits the cotton directly.
The Gallery
Specifications:
Size: 22mm * 40.9mm

Capacity: 2ml

Coil: Single Coil

Drip Tip: 510

Fill: Top-refilling

Color: Gold, Black, SS
Kit Includes:
Wasp Nano MTL RTA * 1

Spare parts

User Manual* 1
Oumier Wasp Nano MTL RTA:(

)
Now you can find it in our store.
Click here to see: https://www.ave40.com/oumier-wasp-nano-mtl-rta.html
Vape Wholesale & buy Electronic Cigarettes online in Bulk.
Quality Vape Products, Trusted Vape Wholesale Supply by Vape Shops Owners.
Wholesale Inquiry: https://www.ave40.com/wholesale-service.html
Thanks for Reading!