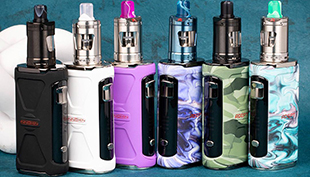 It seems like waterproofing is another way of developing box mods. A few days ago, we have the new Wismec Reuleaux Tinker 2 Kit which featured waterproof, dustproof and shockproof functions. And now, we have another one, the Innokin Adept Kit.
Parameters:
Product Type: MTL Box Vaporizer

Size: 130mm * 43.5mm * 30mm

Battery: 3000mAh/3.7V

Maximum Voltage: 5.5V

Resistance Range: 0.4-3.0Ω

Wattage Range:

>1.0ohm: 11-12-13-14W

<1.0ohm: 14-15-16-17W

Charging Current: 5V 2A

Cut off time: 10sec

Thread Material: SS

Tank Capacity: 2ml

Thread Type: 510

Connection Type: Spring Loaded
Package Included:
Innokin Adept Kit

Zenith Z-PLEX3D 0.48ohm Atomizer Head (Pre-installed)

Zenith 1.6ohm Atomizer Head

Set of Spare Parts

Replacement Glass Tube

Micro USB Cable
The Details
Actually, the Zlide tank has been already out there and maybe some of you have used it. From the feedback about the zlide tank, it shows how great this tank is. So here is mainly about the adept box mod.
First of all, the IP67 level waterproof feature. It's hard to tell if this kind of function is important or necessary, but from the reactions of most vapers out there shows that's a great feature. It's tough, designed strongly and unbreakable in daily use. As for the shockproof and dust-proof functions, I don't know how to describe that, who tend to drop their devices heavily off to the ground on purpose to prove it's constructed toughly?
The Innokin Adept Kit is designed for MTL vaping. So the max output you can adjust is 17w. If you like this kind of design and also are an MTL person, this mod will be your choice. Otherwise, you should consider 17w max output could meet your needs or not!
On the other hand, you can switch the wattage from 11w to 17w. And the mod will detect the coil resistance you installed and automatically switch it to the appropriate power range. The truth is that even though you want to use another sub-ohm tank on this mod, its working wattage is still the same.
The capacity of the internal battery is 3000mAh which is definitely awesome. You have to know the max output is only 17 watts, plus the 5V/2A charging standard, thus you can enjoy your time with it at will.
Even though this is a waterproof, dustproof and shockproof box mod, some safety protections are still important and necessary. Of course, the Innokin Adept Kit features the necessary protections you want.
Now you can find it in our store.
Click here to see: https://www.ave40.com/innokin-adept-starter-kit-with-zlide-tank-3000mah.html
Vape Wholesale & buy Electronic Cigarettes online in Bulk.
Quality Vape Products, Trusted Vape Wholesale Supply by Vape Shops Owners.
Wholesale Inquiry: https://www.ave40.com/wholesale-service.html
Thanks for Reading!