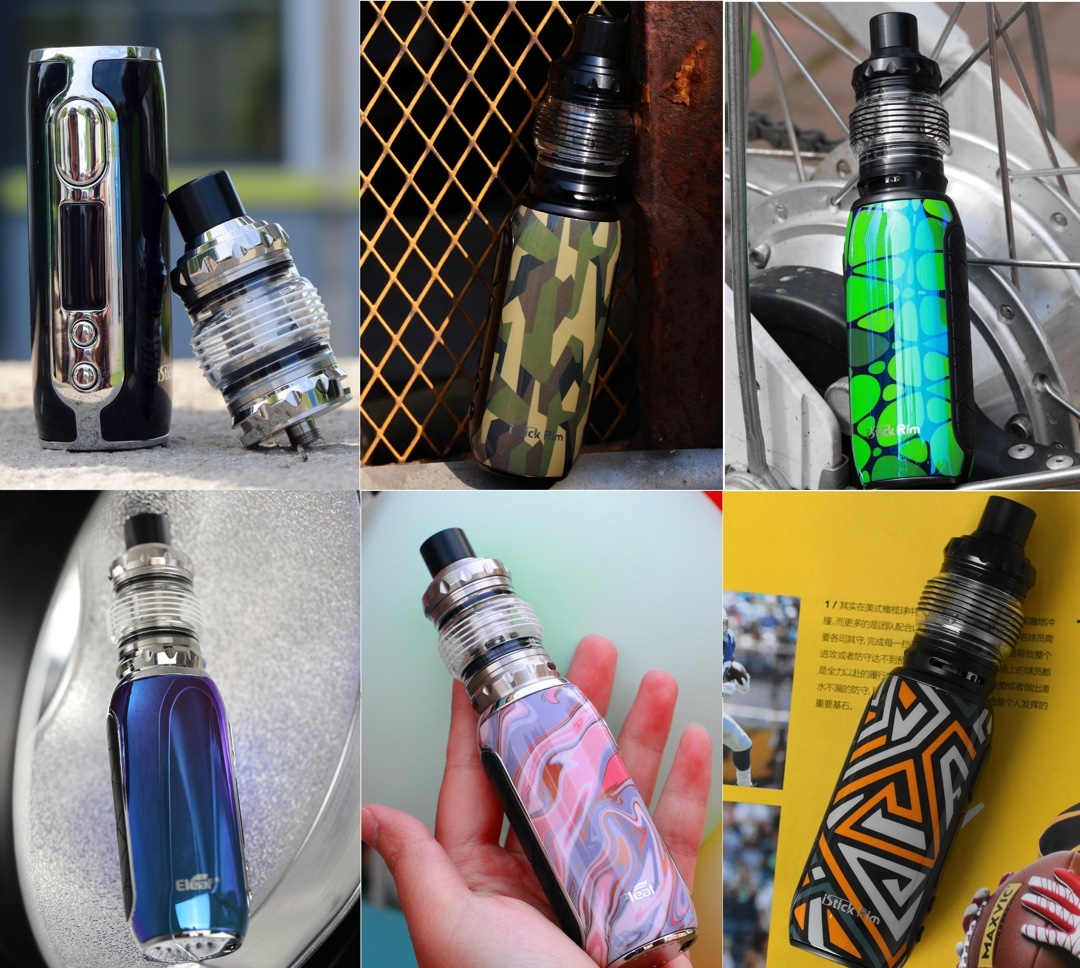 Actually I don't know when did Eleaf start their iStick series. All I know is iStick series is an all-round vape device family which covers box mod kit, squonk kit and pen style kit. Look back to all the products in iStick series, You can find Eleaf iStick Pico S kit which comes with all metal body, Eleaf iStick Pico Squeeze kit which is for squonking lovers and Eleaf iStick Mix kit, Comes with resin panels decoration which is following the resin hot trend in today's vape market! Well this time, We get a new member from iStick series - Eleaf iStick Rim Kit. Ler's check it out!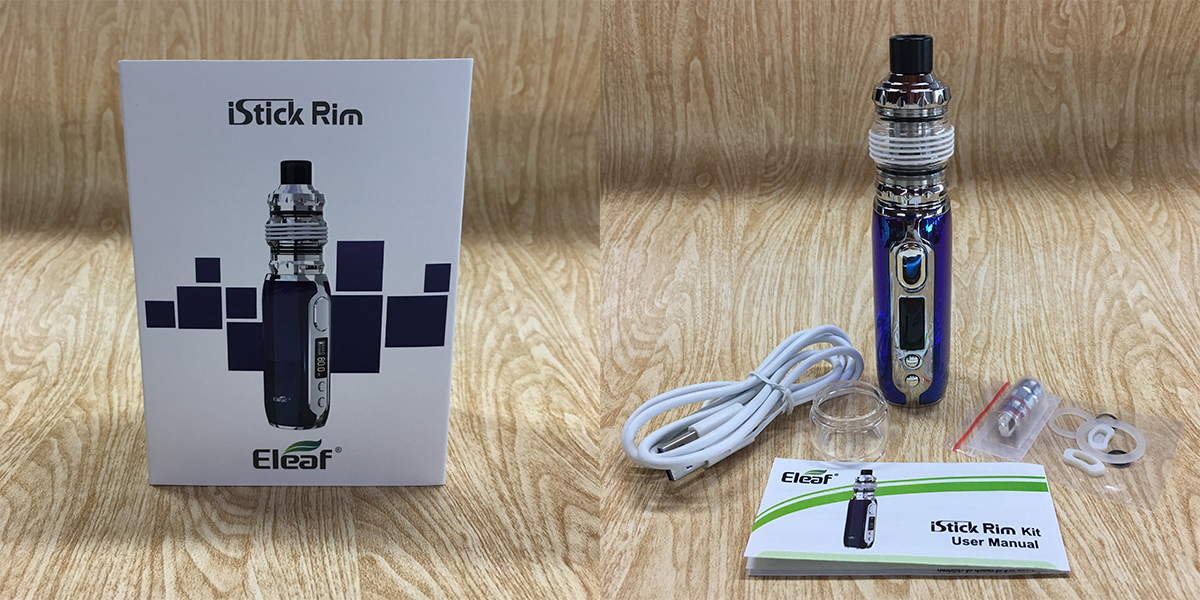 Parameters:
Size: 30.3 * 36.0 * 133.0mm
Weight: 187.4g
Liquid capacity: 4ml/2ml
Battery capacity: 3000mAh
Output wattage: 80W
Resistance range: 0.05-3.0Ω
Package Included:
iStick Rim Battery
MELO 5 Atomizer(4ml)
EC-S 0.6ohm coil
EC-M 0.15ohm coil
1 × QC 3.0 USB cable
2 × User manual
The Battery Mod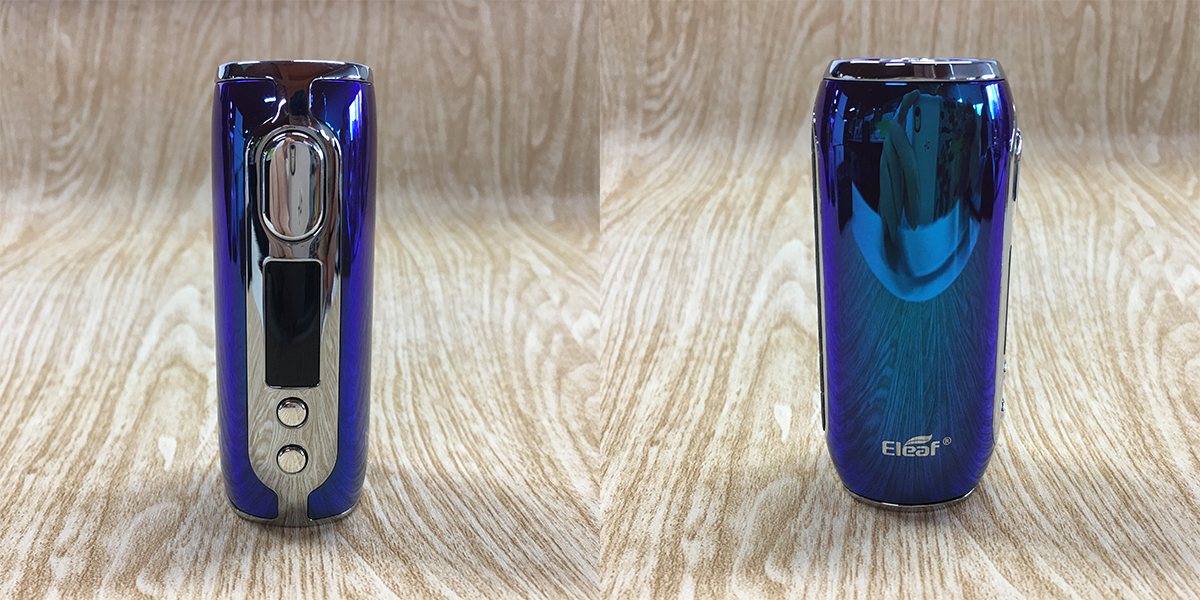 Honestly this rainbow color is really impressive. But I'd like to name it as aurora color cause you can clearly see the color gradually changes under the light in different angles. Eleaf starts to develop their appearance design step by step which they try to apply IML tech in their each new device, And you can also find this IML tech in their last one new resin box kit - istick mix kit. Well different from the resin panels in istick mix, this glossy appearance design is absolutely more attractive and more outstanding. Besides, Thanks to IML tech, this glossy shell could stay for much longer time in daily life using instead of worrying the unavoidable scratching and frictions. On the other hand, the rubber patch on the back also guarantee there's no accidental drop off or slip off caused by the smooth metal shell when hold it in hand.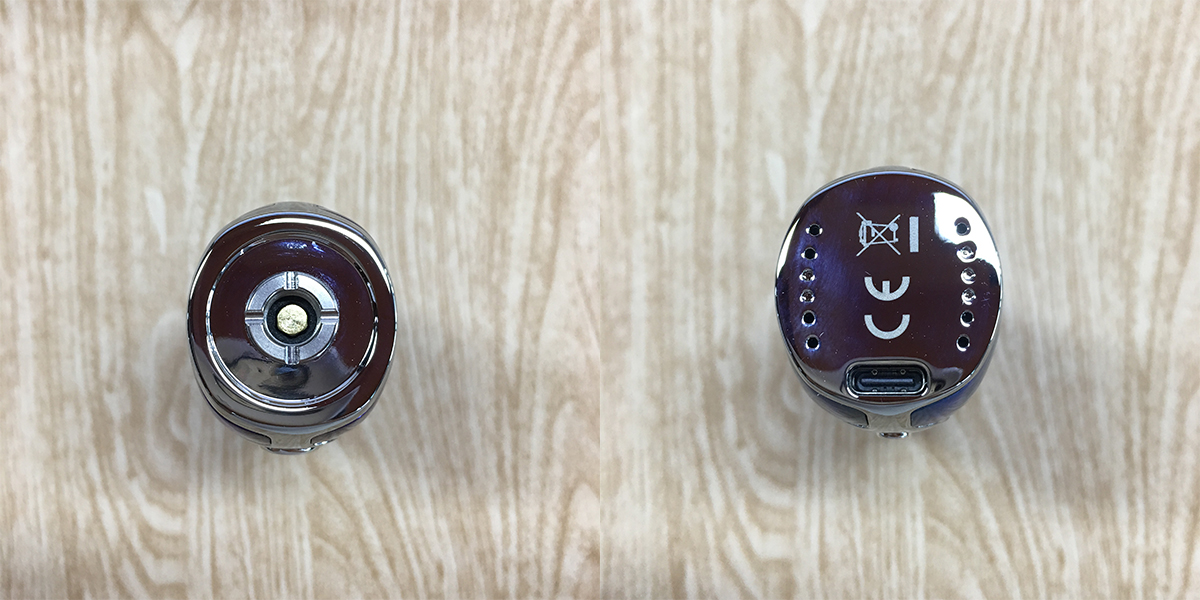 What's more, there's fast charging tech applied in this beautiful battery mod which is my favorite and the most necessary technology in this kind inbuilt battery mod. But don't forget this mod comes with 3000mAh battery so absolutely it can ensure you almost 2 days using time. Plus the fast charging tech, I think this kit is a must have. On the bottom of the mod, you can see there's a type-c charging port, if what I remember is right, Eleaf devoted themself into promoting the type-c charging port in their vape devices for all the time, Of course they did great! The battery mod size is super compact and portable. Curved corners design makes sure it's always comfortable to hold in hand no matter how you grip. Anyway, I want to describe more on the appearance of Eleaf iStick Rim kit design but it's just beyond the words. You guys can clearly see the beauty from the pics above. And I think you all will love it!
The Tank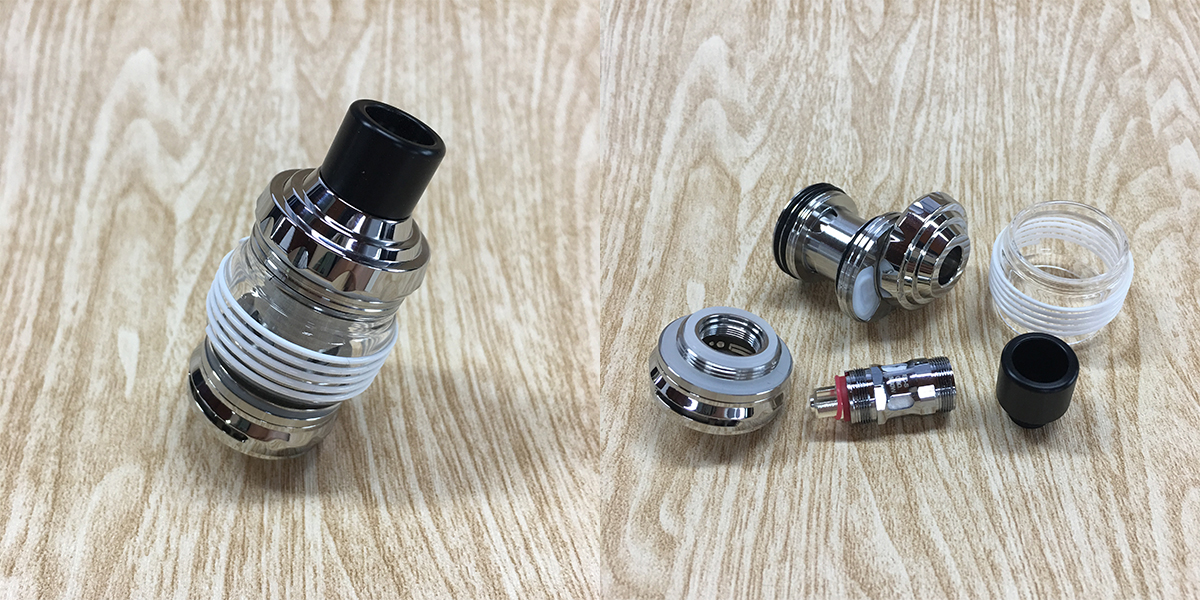 Everytime there's new member released in iStick series, the Melo tank always comes with a new upgraded version. The melo 5 mesh tank comes with new structure this time. Look at the pics above, you can find there's a chamber-like component with the tank top cap together which you can see it in so many RTA tanks. The same material and processing method as the battery mod make the whole kit looks more harmonious. On the other hand, If you ever used eleaf melo tank before, you will know they always like to provide some extra functions, such as the children proof lock on the top cap. I'd like to call this structure like this cause I just think it's to prevent children who always express their curiosity when you enjoy your vaping time! Well as for refilling the juice, you just need to pull up the cap then push in the right position.
Actually this melo 5 tank equips with new designed mesh coils. The new EC coil series, which come with mini size but you should not underrate its performance. With the fast development in replacement coils, there're more and more different coils launched in the market which sometime comes with uncommon size while sometimes comes with new structure. As for the EC coils in Eleaf iStick Rim kit, it just comes with much smaller size. The pre-installed coil is 0.15ohm single mesh coil which can withstand 75w high wattage. While the 0.6ohm single mesh coil is just for 30w.
The Verdict
Although I've been expressing my compliments on this Eleaf iStick Rim Kit all the time but I'm not exaggerating at all. You can see its gorgeous appearance design even via the pictures I took. Honestly I don't pay much attention to eleaf devices cause I can see clearly see the gap between their new products with Smok's or Voopoo's. Well this time, I think they just bridges the gap and catches up. I just want more and more different kinds vape devices with specially design and various thoughts inside come out in the market. Absolutely Eleaf bring us a great device this time! Now you can find it in our store. Click here to see: https://www.ave40.com/eleaf-istick-rim-kit-80w-with-melo-s-atomizer-4ml.html
Thanks for Reading!