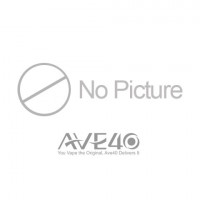 Frankly, the appearance design of Augvape V200 Mod is not common to see. Inspired by the Honda engine, or you can say Augvape just imitated that shape design. Anyway, customers are glad to see something uncommon. So that's why we have an upgraded version this time, the Augvape Vtec 1.8 Mod.
Parameters:
Material: Zinc Alloy

Size: 87.5 * 45 * 29.2mm

Weight: 165g

Battery: Dual 18650 cells

Output Power: 5-200W

Input Voltage: 0.5-7.2V

Charging Current: 1.2A

Standby Current: <500 QA

Resistance Range: 0.05-3.0ohms

Color: Blue, Black, Red

Working Modes: Auto, Bypass, VV Mode, V Mode
Package Included:
Augvape Vtec 1.8 Mod

USB Charging Cable

Warranty Card

User Manual
The Details
As an upgraded version, the actual difference is not too much. Its signature appearance design remains the same as the old version. And the detailed configurations are not changed too much as well. The same dimension, the same knob button which you can use to do some adjustment, the same fire button and screen, and the same USB charge port. Honestly, Augvape just makes some detailed adjustments to the V200 mod. Then it becomes a mod with a new name!
So where are the detailed adjustments? Let's have a look!
The output range(5-200w) of Augvape Vtec 1.8 Mod is identical to V200. But now you can change the output voltage on this mod since it's equipped with VV mode function.
The backside now is decorated with a leather strip to offer you a much better gripping feel. Of course, The traditional combination of metal and leather always makes the device much more attractive.
If you've used the V200 mod before, you must come across one issue that the battery door makes you feel so uncomfortable. Augvape seems to know how you feel about that and enhances the durability of the battery door on the Vtec 1.8 mod, making it easier to open and close.
As for the other configurations are no need to talk further because you will find out they're the same as the V200 mod.
Overall, Augvape V200 mod is an awesome device that comes with so many great features. Now, we have the Augvape Vtec 1.8 Mod, which is a much more perfect box mod, will hits the spots once again.
Now you can find it in our store.
Click here to see: https://www.ave40.com/augvape-vtec-1-8-box-mod-200w.html
Vape Wholesale & buy Electronic Cigarettes online in Bulk.
Quality Vape Products, Trusted Vape Wholesale Supply by Vape Shops Owners.
Wholesale Inquiry: https://www.ave40.com/wholesale-service.html
Thanks for Reading!