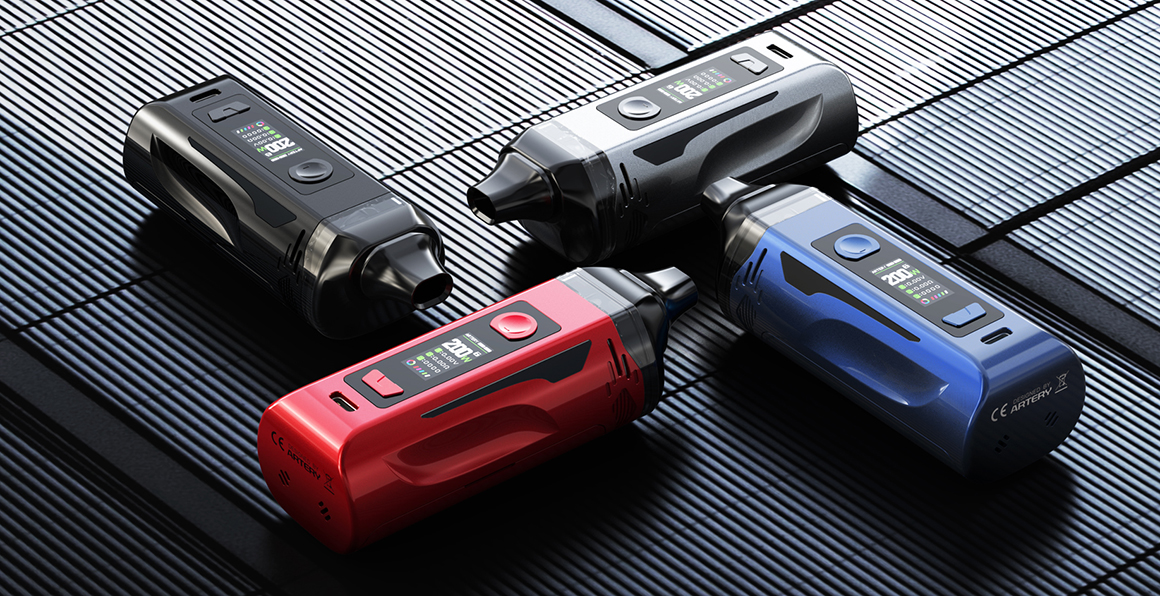 It's been a few months since the first pod mod kit, Smok RPM40 Pod Mod Kit was released! And this new type of vape product has been developed at a great pace in a quite short period of time. From 40 watts at the beginning to much higher 80 watts at current, it's clear to see the consumers have a high requirement at the aspect of the output performance just as the box mods. And manufacturers are all glad to do so. The truth is internal battery devices are not capable of outputting high wattage due to low voltage and capacity, so external battery like 18650 type is a great way to fix that. If a single 18650 battery is not as satisfied as what we expect it to be, it's time to put the dual battery inside. Let's check out today's role, Artery Nugget GT Pod Mod Kit.
The Details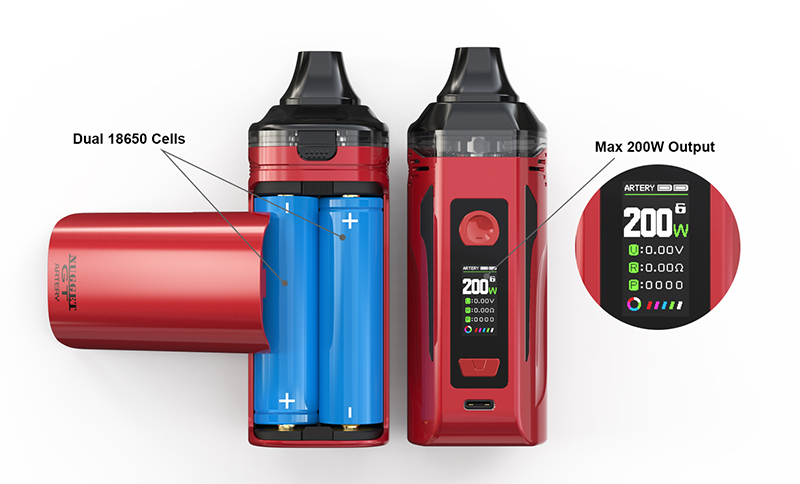 First of all, the designation of the Artery Nugget GT Pod Mod Kit is really appropriate. Guess that GT stands for Ground Tour of something similar, which learned from the way auto companies always do. It's not as simple as a suffix but shows how great the entire performance is. And don't be fooled by the picture or the compatibility of dual 18650 battery, the actual size of the Artery Nugget GT Pod Mod Kit is under well control which is a little bigger than Smok RPM40.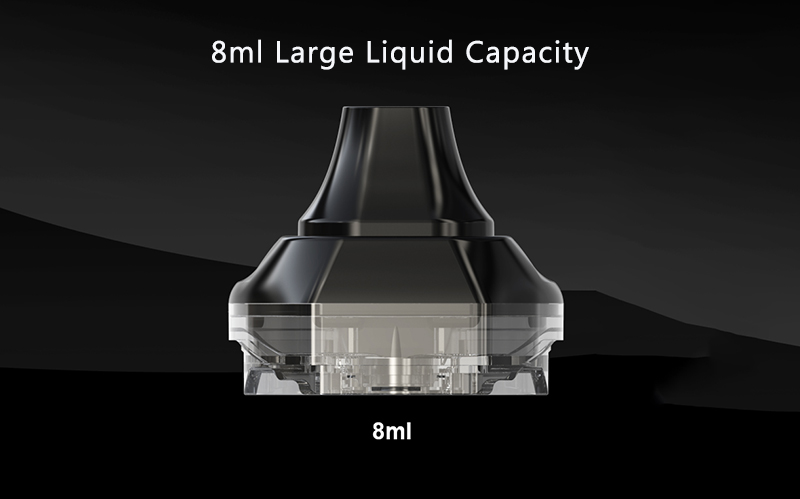 When it's possible that a pod mod kit features 200w max output, then a big liquid capacity is necessarily needed as well. 8ml liquid capacity is really tremendous and impressive which is far more than the regular sub-ohm tanks on the market.
Most consumers are always concerned about how much airflow a vape device can deliver due to non-adjustable airflow design. Comparing to fixed airflow abundance, adjustable airflow design is well-received by most users. Undeniably, we tend to design our very own airflow unless the airflow is beyond our expectations. With four airflow cutouts on the top of the battery module, the Artery Nugget GT Pod Mod Kit will give us satisfaction.
Even the maximum output of Artery Nugget GT Pod Mod Kit is 200 watts, the coils included in the packaging can't withstand more than 80w. Fortunately, there's an extra RBA coil option you can choose. In addition, you can purchase a 510 adapter to install your Atty or RDA/RTA on the 200w pod mod kit. Most importantly, you will be not worried about your battery life.
Since higher wattage output was granted, a safety chip is necessary to keep your device and battery safe. Besides, the AERO chip in the Artery Nugget GT will also balance between battery capacity and voltage to ensure the output stable.
Specifications:
Size: 40 X 31 X 102mm

Material: Zinc Alloy & PCTG

Battery: Dual 18650(Not Included)

Wattage Range: 5-200w

Voltage Range: 0.5-8v

Resistance Range: 0.1-2.0ohm

Pod Capacity: 8ml

Charging: 5V/2A
Package Includes:
Artery Nugget GT Mod Device

Artery Nugget GT Pod

0.15ohm XP Core(Preinstalled)

0.4ohm XP Core

510 Drip Tip

Extra Silicone Plug

Type-C Cable

User Manual

Battery Safety Card
Click here to check more vape devices: https://www.ave40.com/artery-nugget-gt-pod-mod-kit-8ml-200w.html
Vape Wholesale & buy Electronic Cigarettes online in Bulk.
Quality Vape Products, Trusted Vape Wholesale Supply by Vape Shops Owners.
Wholesale Inquiry: https://www.ave40.com/wholesale-service.html
Thanks for Reading!