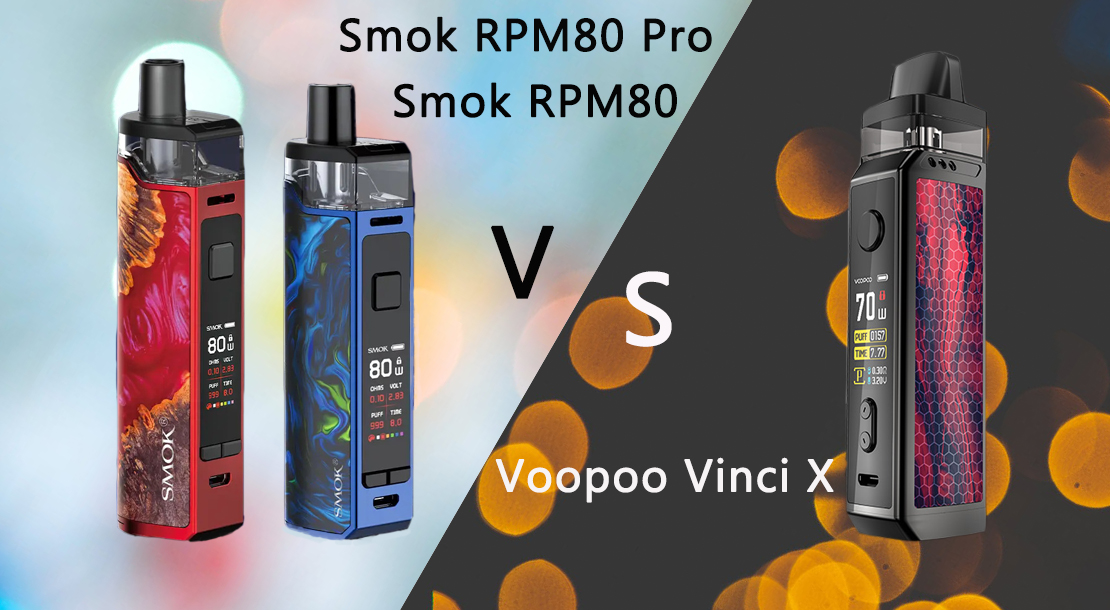 Honestly, I'm pretty excited to hear that Smok has launched its 'brand-new' Smok RPM80 kit and Smok RPM80 Pro kit. As a trendsetter on the market, Smok can always make something innovative for us. Needless to say, that's the reason why there're more and more pod mod kits. And I think some of you are a little curious about the differences between these two new products and Voopoo Vinci X Kit. Now, let's find it out together!
Difference Between Smok RPM80 and Smok RPM80 Pro
First thing first, there's something worth mentioning in case you guys get me wrong. The essential difference between Smok RPM80 Kit and Smok RPM80 Pro Kit is the battery type. The regular version features a 3000mAh interior battery, and the pro version is powered by an external single 18650 battery. Because of that, the dimension, standby current and charging current is a little different.
Smok RPM80 Kit / Smok RPM80 Pro Kit
Except for the basic differences, the main parameters between them two are totally the same!
The outer shell is made of zinc alloy and the pod cartridge is made of PCTG material, which is identical to Voopoo Vinci X Kit and the original Smok RPM40 Kit. Due to the higher battery capacity, both of these two RPM80 kits can deliver a maximum wattage of 80 watts which is more powerful than Voopoo Vinci X Kit.
On the front side, the basic configurations remain the same as the previous Smok RPM40 Kit. The intuitive fire button, 0.96" screen display, up/down button, and USB port.
And the basic operations also remain the same! You can press these three buttons in different combinations to lock the power, lock the button, clear the puff counter, and change the theme color.
One thing you may notice that the user interface on the Smok RPM80 Kit/ Smok RPM80 Pro Kit has been redesigned. Compare to the original RPM40, it becomes clearer and more straightforward!
There's also something improved inside the battery mod. A new chipset, IQ-80, has made its debut on both RPM80 kits. Due to higher battery capacity and output, a powerful safe chip is necessary!
Furthermore, the pod cartridge has been redesigned as well to fit the new battery model. And there're two pod cartridges included in the package in order to fit different OCC coils.
The brand-new RGC cartridge features an airflow adjustment ring on the bottom, so you can adjust the airflow abundance on RPM80 kits from now on. As for the regular RPM pod cartridge, there's no airflow adjustment option. But it's compatible with all RPM OCC coils, which is pretty awesome!
Voopoo Vinci X Kit
I'm sure most of us are all familiar with this kit, Voopoo Vinci X Kit.
Powered by an external 18650 battery and max output is 70w. Well-built battery mod and transparent pod cartridge both provide a great user experience. And it's compatible with all PnP OCC coils that definitely makes itself more versatile!
What's the difference between Smok RPM80 and Voopoo Vinci X?
Here're the similarities between them!
Zinc alloy and PCTG construction material

Detachable pod cartridge & replaceable coil head

Fire button & adjustment buttons(up/down)

0.96" color screen

USB port
Now let's talk about the differences between them below!
Shape: The edges of these two products, Smok RPM80 Kit and Smok RPM80 Pro Kit, are pretty rounded to fit the arc of the palm. And Voopoo Vinci X features a cuboid shape.
Battery Type: An external 18650 battery(Smok RPM80 Pro and Voopoo Vinci X)/ Interior 3000mAh battery(Smok RPM80)
Output: Smok RPM80 devices(80 watts)/ Voopoo Vinci X(70 watts)
Liquid Capacity: Smok RPM80 devices(5ml)/ Voopoo Vinci X(5.5ml)
Coil Compatibility: Smok RPM Pod(All RPM coils and RPM RBA)/ Smok RGC Pod(Smok conical coil and RGC RBA)/ Voopoo Vinci X(All PnP coils and Vinci RBA)
Airflow Adjustment: Smok RPM80 devices(Airflow adjustment ring on RGC pod)/ Voopoo Vinci X(Pod rotation)
Chip Type: Smok RPM80 devices(IQ-80)/ Voopoo Vinci X(GENE.AI)
That's what I want to share with you guys. If you also find something different as well, I really appreciate you can share it in the comment below!
Click here to see:
https://www.ave40.com/smok-rpm80-pod-mod-kit-3000mah.html
https://www.ave40.com/smok-rpm80-pro-pod-mod-kit.html
https://www.ave40.com/voopoo-vinci-x-mod-pod-kit-70w.html
Vape Wholesale & buy Electronic Cigarettes online in Bulk.
Quality Vape Products, Trusted Vape Wholesale Supply by Vape Shops Owners.
Wholesale Inquiry: https://www.ave40.com/wholesale-service.html
Thanks for Reading!