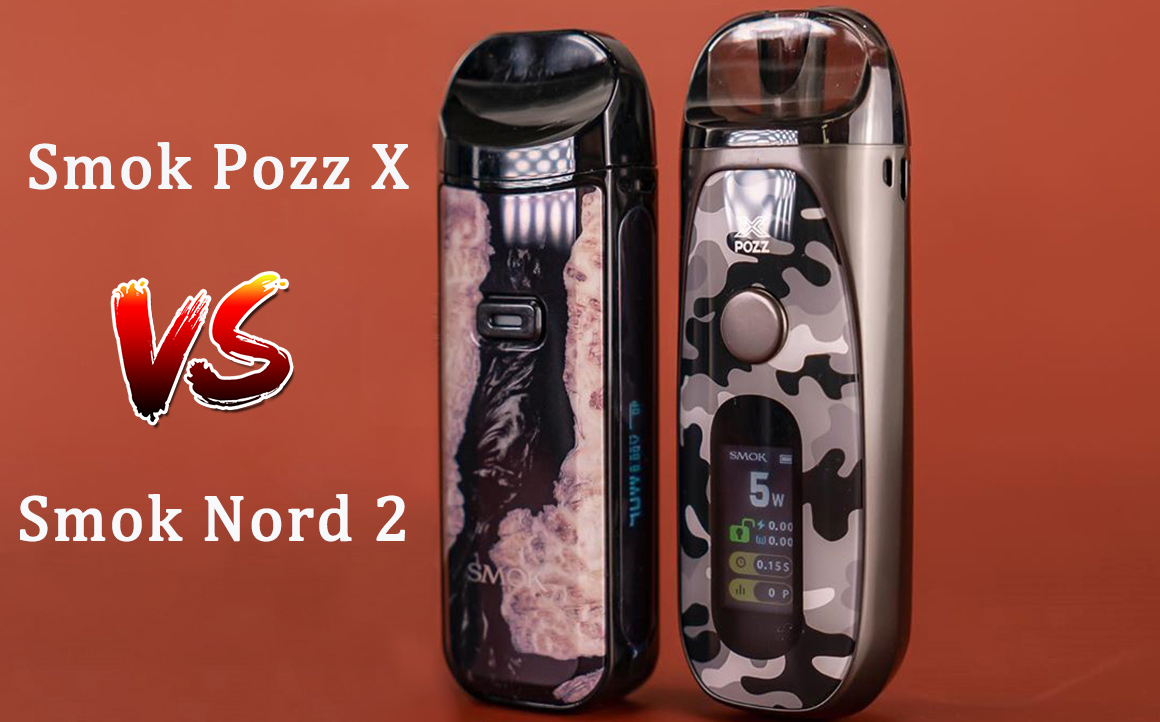 Two months ago, Smok unveiled the Smok Pozz X Kit to celebrate its 10th anniversary. Apparently, this Smok Pozz X Kit is a brand-new vape device that is fairly enough to show their sincerity. Nevertheless, it still has a lot in common with Smok Nord 2 Kit which has been released for 3 months. So, I think it'll be fun to discover the differences.
Form Factor Differences
Smok Nord 2 Kit retained the same form factors of the previous version to keep the original. From the aspect of appearance, there're fewer differences between the two generations.
On the contrary, Smok Pozz X Kit features fairly different form factors that have never been unveiled before. Its shape is more on the streamlined side, and the design at the bottom is more rounded to deliver a much better grip feeling.
Besides, there're barely differences in dimension. If you don't mind, you can directly ignore the size difference. But if you take them both in hand, you will find Smok Pozz X Kit is much heavier. Although they share a similar size construction, the Pozz X Kit is almost 20 grams heavier than Nord 2 Kit.
Battery Module Difference
Though Smok Pozz X Kit is much heavier, its battery capacity is 1400mAh, which is 100mAh less than Smok Nord 2 Kit. But both of them share the same max output, 40w.
For a pod system kit that houses a 1400mAh internal battery, 40w max output is massive. So, the quick charge function is essential and necessary. Fortunately, they both possess. The charging power of 5V/2A is not too high, but more than enough.
For e-cigarettes, a clear screen display is much more intuitive than a physical button. As you see, both of them possess. But the new Smok Pozz X Kit has a bigger and colorful screen.
Besides, these two devices are both button-activated. All operations are based on how you press this little single fire button. Due to different product designs, the actual operation is a little different, too. So, it will take you a little time to get used to it if you switch to another device. But it won't cost you too much. After all, how complicated could it be to operate a pod system kit?
Just like the pictures shown above, Smok Pozz X Kit has more airflow cutouts on both sides. While Smok Nord 2 Kit only has a single one on each side.
Pod Cartridge Difference
The biggest difference between them is coil compatibility. Nord coil series and RPM coil series are both hot series of Smok e-cig. So, if you want to experience both of them, Smok Nord 2 Kit will be your only choice. Or, you can directly choose Smok Pozz X Kit to taste different flavors brought by different RPM coils.
Furthermore, the airflow on Pozz X Kit is adjustable by twisting the coil base. On the contrary, you can just experience fully opened airflow on the Nord 2 Kit.
Conclusion
That's it! I think I've covered all the differences between these two devices. I hope it useful for you to make your selections.
Click here to see: https://www.ave40.com/smok-nord-2-pod-kit-1500mah.html
https://www.ave40.com/smok-rpm80-pro-pod-mod-kit.html
Vape Wholesale & buy Electronic Cigarettes online in Bulk.
Quality Vape Products, Trusted Vape Wholesale Supply by Vape Shops Owners.
Wholesale Inquiry: https://www.ave40.com/wholesale-service.html
Thanks for Reading!