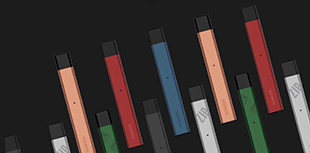 What I didn't expect, Literally, was this kinda simply designed vape devices would be favored by those vape manufacturers. The last one I saw is Joyetech eRoll Mac Vape Pen few weeks ago. Now it's Voopoo's turn to make something fancy! What is it! Let's have a look at Voopoo Zip Pod Kit!
Parameters:
Size: 103*15*7MM
Power Range:-12W
Battery Capacity: 250mAh
Input Voltage: 3.5-4.2V
Resistance Range: 1.8Ω
Material: Aluminum Alloy & PCTG
Package Included:
Zip Pod Kit
USB Cable
User Manual
Warranty Card
The Battery Mod
Frankly, the package of Voopoo Zip Pod Kit is much better than Joyetech eRoll. At least it's packed into a paper box which also included a warranty card and user manual(lost...).
And the sample color is orange. But I think rose golden maybe much more appropriate which looks like the same to the color of my iPad. Judge from the picture above, you can easily figure out what material does Voopoo apply on this kit due to its matte feature. The aluminum alloy material is widely used in vape pod system kits. JUUL, PHIX and some other pod kits you used ever. Due to its lightweight and durability, Aluminum alloy is always the first choice of those producers.
But I have to say. Aluminum alloy material can not offer much better grip feeling by comparing to stainless steel or zinc alloy because of its structure features. The finished products surface which are made of aluminum alloy material can not be smooth at all!
Well, Back to this Voopoo Zip Pod Kit. Voopoo official tells that They have applied high-end AAO technics in the outer metal shell to balance the weight and toughness. In a word, more lightweight and more durable!
On the other hand. Due to the AAO technics and aluminum alloy material, this Voopoo Zip Pod Kit comes in a superior thin shape. Well, don't worry it's still comfortable to hold. But the battery capacity has to be reduced to a certain extent. Only 250mAh battery capacity is uncertain whether it can meet your whole day long vaping time but it won't take you much time to full charge it.
Almost I forget to introduce something important. The GENE.POD chipset equipped inside which is identical to the one in Voopoo Drag Nano Pod Kit. It's not rare to see various chipsets become to be inserted into pod system kits. Well, better than none!
The Pod Cartridge
You can find out that this pod cartridge is also exactly the same to the one on Voopoo Drag Nano Pod Kit. Take off the drip tip first, then just refill the juice straightly due to there is no rubber plug, and assemble the drip tip.
The whole refilling way is quite convenient. If you are still concern with the leakage problem due to no rubber plug. You can find reviews under Voopoo Drag Nano Pod Kit to know a little about it! After a short test, I have to say Voopoo did a great job in this pod design. The leakage is under well control.
Further more, 1.8ohm cotton coil inside offers much better MTL vaping. But according to some feedback on Drag Nano, Some customers said that the vaping experience is a little bit weird. Maybe caused by this kinda pod cartridge. So if you use the Voopoo Zip Pod Kit for the first time, it may take you few puffs to get used to it!
The Comparison
Just like what I said above, These two pod kits are both simply designed. That's the reason I make a comparison between them. Actually these two kit comes in individual style. Thin shape and pen style. It only depends on which style you prefer!
Now you can find it in our store.
Click here to see: https://www.ave40.com/voopoo-zip-vape-pod-system-kit-250mah.html
Vape Wholesale & buy Electronic Cigarettes online in Bulk.
Quality Vape Products, Trusted Vape Wholesale Supply by Vape Shops Owners.
Wholesale Inquiry: https://www.ave40.com/wholesale-service.html
Thanks for Reading!