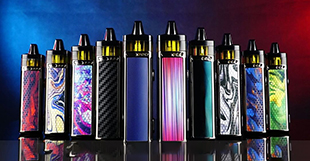 Something different just happened on the vape market! The boundary between box mods and pod kits is clear to see for all the time that box mods are much bigger than pod kits. But it starts to change. Let's have a look at Voopoo Vinci Mod Pod Kit.
Parameters:
Size: 104 * 25.3 * 25.3mm

Battery Material: Zinc Alloy

Pod Material: PCTG

Cell Type: Built-in 1500mAh battery

Wattage Range: 5 - 40W

Resistance Range: 0.1 - 3.0Ω

Output Voltage: 3.2 - 4.2V

Refillable Pod Capacity: 5.5ml

Coil Type: PnP 0.3Ω, PnP 0.8Ω

Screen Type: 0.96" TFT Colorful Screen
Package Included:
Voopoo Vinci Device *1

Voopoo Vinci Replacement Pod(5.5ml) *1

PnP 0.3Ω *1

PnP 0.8Ω *1

User Manual *1

USB Cable *1

GENE Chip Card *1

Warranty Card *1
The Battery Mod
First of all, the whole structure design is totally different from the others. Rectangle shape design with giant pod cartridge both make you change your perspective on pod kits from now on. It looks much bigger from the picture above, but the actual size is controlled in the right place. The dimension is 104 × 25.3 × 25.3 so you clearly know it's still compact and portable.
The colorful screen is always favored by some vape lovers out there and this kit is also equipped with that. 0.96 inch TFT screen definitely brings you something different to experience.
There're some interesting functions you can get from the Voopoo Vinci Mod Pod Kit. First of all, manual mode and auto mode. Simply click the fire button 3 times to change. In manual mode, you can adjust the wattage as you wish. And you can also vape directly without any operations in auto mode, which is more like a dram-activated device.
On the other hand, the puff counter function will record your frequency of vape in the recent two weeks which intelligently shows you vape habit.
More than that, the brand-new GENE.AI chipset also makes its debut. More intelligent, more powerful, and much safer.
The airflow control system is also designed in a new way. This time, you don't need to twist the airflow ring like before, just simply change the pod position to adjust the number of air holes to control the airflow abundance.
1500mAh large battery is what you always want. And it allows you to adjust the output wattage to 40w. That's really awesome for those big cloud chasers.
The Pod Cartridge
The pod cartridge is really giant that can hold up to 5.5 milliliters of juice. The refilling port is on the front which is covered by a black rubber stopper where you can squeeze your juice in.
There're two mesh coils included in the package that both from Voopoo PnP series. What's more, the pod cartridge is compatible with every PnP coil to make you experience various vaping.
The Gallery
Now you can find it in our store.
Click here to see: https://www.ave40.com/voopoo-vinci-mod-pod-kit-40w-1500mah.html
Vape Wholesale & buy Electronic Cigarettes online in Bulk.
Quality Vape Products, Trusted Vape Wholesale Supply by Vape Shops Owners.
Wholesale Inquiry: https://www.ave40.com/wholesale-service.html
Thanks for Reading!