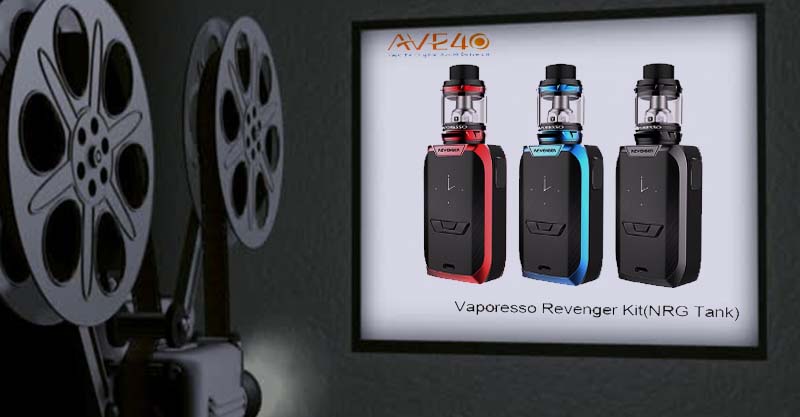 If you are a beginner vapor then you need to have an e-cigarette that's easy to use and gives you the best taste. If you are a professional vapor then you need a sophisticated gadget to make you stand out from the rest. You get all that from the Vaporesso Revenger TC Kit that comes with NRG Tank. There is so much that makes this device stand out from the rest. Here is a look at what you get.
What's new
Every advancement made to the Vaporesso kit makes it stand out from the rest. This device comes with a 220W output power revenger MOD and 5ml capacity NRG tank which allows you to enjoy your vaping experience for longer. The fact that this device has adopted the advanced OMNI Board 2.0 chipset means it can support multiple modes. To add class to its style, the Vaporesso kit has a massive 0.96-inch screen you have never seen on any e-cigarette. And to take your vaping experience to a whole new level, the 2A quick charging system upgrades the functionality of this device. What draws most beginner smokers to this device is the RT function. This is what offers a precise way to know when its time to charge the device. So there is no guessing.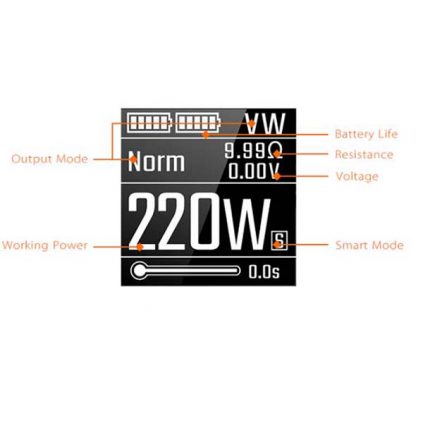 The
NRG tank
, on the other hand, has also been designed to give the user easy time when operating it. It features the innovative interchangeable GT core and slide-n-fill design. This is what will bring the purest flavor close to you and offer an easy operation to you.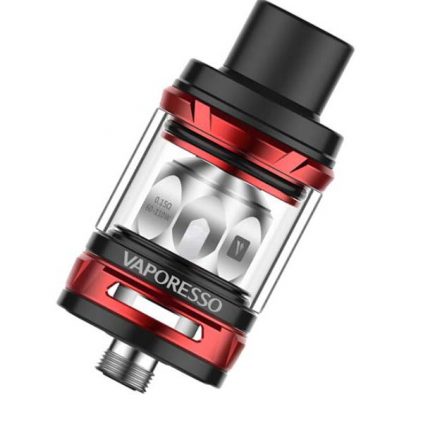 Vaporesso Revenger 220W Kit
stands out from the rest in the market in different ways. Revenger and NRG tank is a great combination that provides a superb vaping experience. What makes the NRG tank unique is the fact that it has irreplaceable cores from GT2 to GT8. These come with traditional cotton and the unique signature CCELL ceramic materials you will love at first sight. The best part is that this device comes in 7 different colors to allow you to choose whatever matches your personality. The manufacturer of Vaporesso Ecig put size into consideration and designed a pocket-sized device you can take with you anywhere and smoke anytime. This gadget measures 89 x 45 x 28mm. The NRG tank, on the other hand, measures 26.5 x 56mm. It fits two 18650 batteries that power the device longer giving you more time to enjoy your vaping. It is important to remember that these batteries are replaceable. So nothing should stop you from vaping.
Operation Guide
Operating the Vaporesso vape is quite easy as mentioned above. To switch it on/off, you need to press the fire button 5 times in quick succession—within 2 seconds to be precise, the device will be powered on/off. If you are a first timer and still don't know how to vape, simply hold the fire button and inhale. Release the fire button and exhale. The device also has an automatic atomizer recognition. So as soon as the connection is detected, the mod will read the coil's resistance. The Vaporesso revenger kit can also recognize the coil type. For instance, when you use a kanthal coil, the mode will automatically shift from TC mode to wattage mode.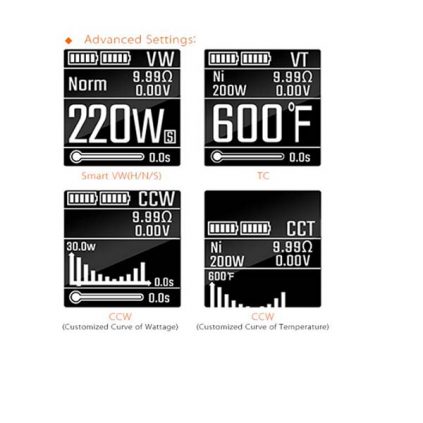 Adjusting the button lock/unlock is also quite easy. You simply keep pressing the mode button and up bottom simultaneously for 2 seconds until the device gets powered on. You will see that the up and down button will be locked. This will be displayed on the screen as "SYSTEM LOCKED". Unlocking is possible by following the same procedure. If you wish to switch the modes, you don't have to be a professional. You simply need to long press the mode button for 3 seconds then switch among the VW/VT/TCR/BYPASS/CCT/CCW modes.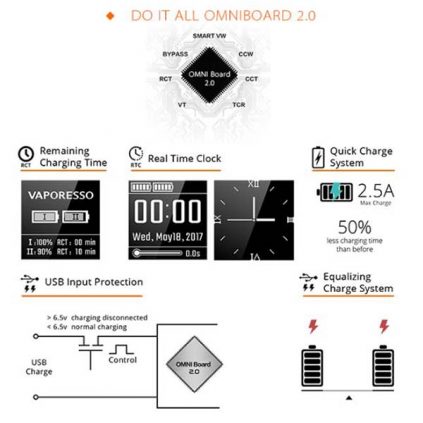 If you notice that your atomizer needs to be replaced, you need to twist and open the mouthpiece base counter clockwise. Remove the top lid and take the used atomize out. Replace it with a new one and ensure that it has been secured in place. Twist back the top lid of your device and screw back the mouthpiece and you will have your e-cigarette ready.
| Conclusion | Rating |
| --- | --- |
| Build Quality | |
| Performance | |
| Ease of Use | |
| Price | |