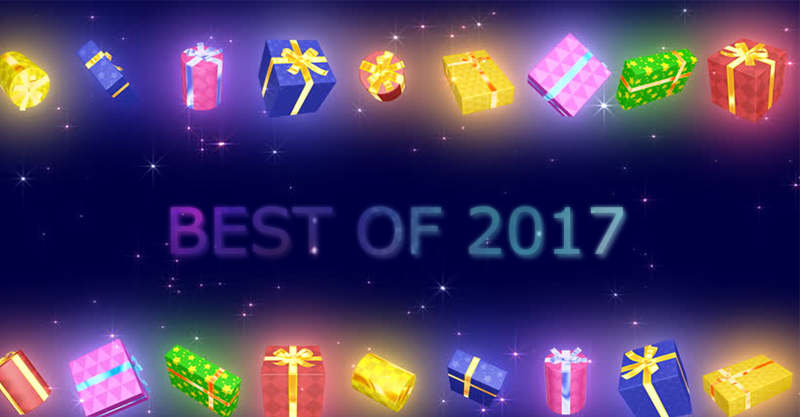 An e-cigarette
kit
mainly includes a box mod and a
tank
, both of which contribute to big clouds and smooth taste. I personally think, however, the box mod plays a pivot role in vaping experience, partly because there are many functions in box mods that determine puff experience. For instance, adjusting the voltage up or down will maximize the flavor intensity, throat hit. Therefore, there is no doubt that choosing a good box mod can bring you a different and pure and smooth experience or a bad one will give you terrible memory. Whilst facing an array of
box mods
in the marketplace, many people feel confused about how to select a right box mod tailored to his or her taste and preference. Now, I will introduce some good box mods to you. Prior to introducing best box mods in 2017, we must answer a question: what is the best mod? In accordance with my experience, I think that they feature a high wattage, fast powering and firing and multiple batteries as well as a good looking. Ok, let's explore best box mods.
Smoant Charon TS 218 Touch Screen Mod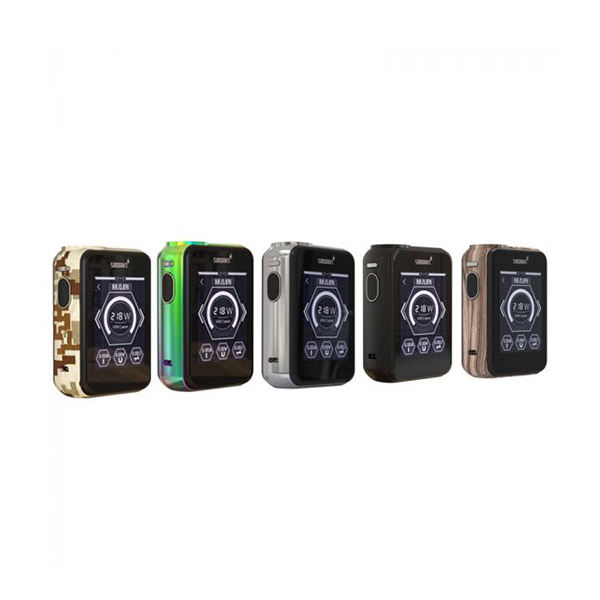 Perfect UI design, with Strong sense of science and technology
The agilest touchscreen ever
   Customizable Temperature Control Curves
   Superior Zinc ALLOY Construction
   Three Memory Modes
   Versatile Temperature Control Module
Magnetic Battery Element
Intuitive Large OLED display
   Oversized Textured Firing Button

Brand: Smoant Size: 59.5mm x 29.3mm x 85mm Wattage Range: 1W - 218W Temperature Range: 200℉-600℉/ 100℃ - 300℃ Resistance Range: 0.05ohm - 2.0ohm Battery Support: 2 x 18650 Five Heating Modes: Min / Norm / Hard / Max / VW Curve Touch Screen Size: 2.4-inch Thread Type: 510 Spring loaded thread Color: Camouflage, Wood, Black, Stainless Steel, Rainbow, Dark Bue
The touch screen technology has garnered a lot of attention since its release and is widely applied to mobile phones. In the vaping market, traditional buttons have been out of step with the modern touch screen. However, the Smoant Charon TS 218
Touch Screen Mod
does a good job in terms of touch screen, as a result, it has earned a lot of voters to make it to the top 1. The Smoant Charon TS 218 Touch Screen Mod is furnished with a 2.4-inch touch screen, presenting big words to users. It is easily recognizable for those who have troubles in eyes in particular. Best of all, the touch screen mod suits for beginners and seasoned vapers as you just operate this mod via tapping the screen instead of buttons. Powered by
dual 18650 batteries
, the box mod can be fired up to 218W and supports various compatible materials(Nickel-200, Titanium, Stainless Steel), offering you big clouds via adjusting these data. Smoant Charon TS 218 Touch Screen Mod worth the cost. But unluckily, there are many finger-prints left on the screen when touching it frequently, which will damage to its appearance and influence user experience. Every time, I should remove these annoying fingerprints with a cloth, which perplexes me. My goodness! https://youtu.be/KxrqIHEfb9w
Limitless LMC 200W Box Mod New Color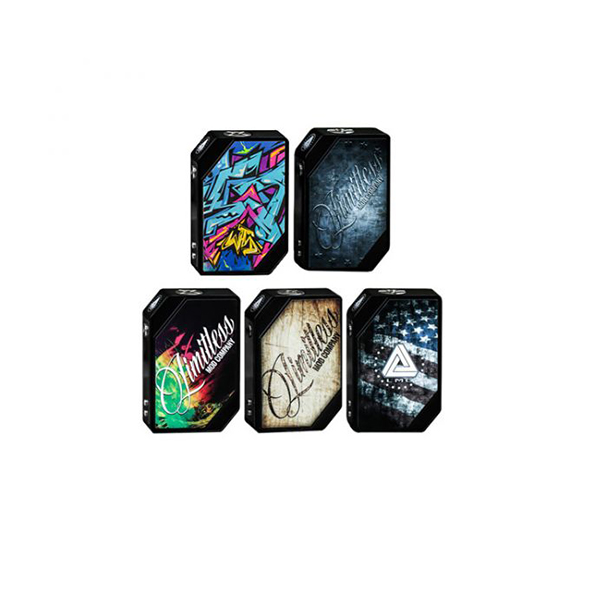 Three Firing Mods: Soft, Standard, And Powerful To Boost A Limitless Hit Interchangeable Magnetic Plates on Front And Back Mirrored Finished Screen For A 200W TC Display Various Protection systems

Brand: Limitless Dimensions: 92mm x 58mm x 25mm Thread Type: 510 spring loaded thread Resistance Range: 0.08ohm-5ohm Temp Control: Nickel, Titanium, Stainless Wire Firing Timeout: 10 Seconds Overheat Protection: 80 Degrees Celsius Battery Required: 2 x 18650 batteries with 20a continuous discharge or greater Working Mode: VW/Bypass/TC-Ni/TCTi/TC-SS/TCR Mode TC Range: 100-300 Celsius | 220-580 Degrees Fahrenheit
The Limitless has taken its first step into the regulated box mods sector, at the same time,
Limitless LMC 200W Box Mod New Color
, as a good outcome,  is followed by many vapers. I am also certain that this vaping mod is a well-performance and stunning box mod I ever used. As a flagship device, this box mod has many interchangeable magnetically metallic plates that attach to the mod. For sure, I like this new feature very much because I am fond of different and amazing patterns and colors. They may make me excited. Honestly speaking, Limitless does a good job in personalizing vapers' preference, which serves as an example to other box mods. This vaping mod is furnished with a 510 connector that can accommodate 25 diameter tanks, and I am certain that
Limitless Gold RDTA Tank
and
Limitless RDTA Plus 6.3ml Atomizer
are good choices. Additionally, what surprises me is that this box mod has really no firing the delay, while other mods get coils hot for few seconds when pressing the power button. Limitless LMC 200W Box Mod New Color is not a perfect mod, which has its own flaws. Most box mods I ever used have the USB port for updating the box, but this one has no this function, in the meantime, it has no venting holes, which may take a toll on heat dissipation. Importantly, I am inclined to say that its annoying navigation menu disappoints me very much as there are a host of operations to keep in mind while adjusting parameters, which is so complex. But all in all, the Limitless LMC 200W Box Mod New Color is the best device so far. It never lets you down. https://youtu.be/QWSydryH5SU
VOOPOO Alpha One TC Box Mod 222W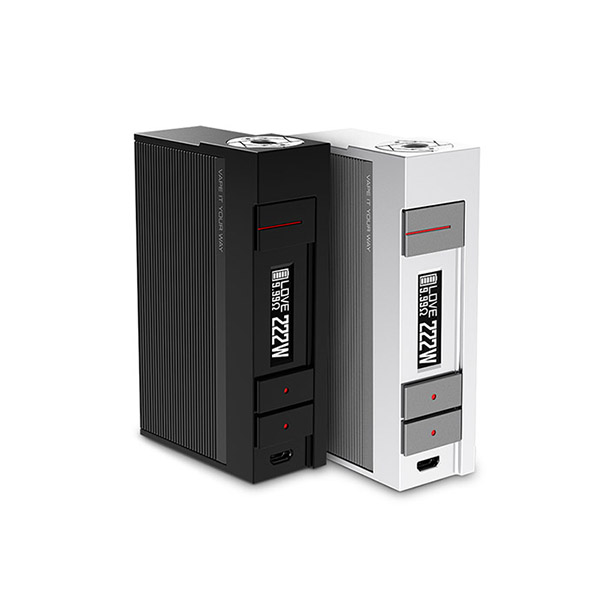 222W Maximum Output Geometric shape design All in one press design Convex style and ripple cooling design With LOVE pulse, waved output provides longer vaping time Intelligently recognizes new and old atomizers and recommends the optimum output power Changeable battery covers available in several colors, to satisfy your personal tastes Support balanced charging with different brands of batteries 8 battery charging protection functions for a safer internal charging system

Brand: VOOPOO Size: 89.5mm x 54mm x 25mm Battery: 2 x 18650 batteries (not included) Temp Range: 200℉- 600℉/ 100℃- 315℃ Resistance: 0.05ohm - 3.0ohm(Wattage Mode), 0.05ohm - 1.5ohm(TC Mode) New Function: LOVE Mode TC Mode: SS316, Ni200, Ti, NC Working Voltage: 6.4V - 8.5V Output Power Range: 5W - 222W Output Voltage Range: 0 - 7.5V Output Current Range: 0 - 55A Charging Voltage:5V Charging Current: 1800mA Working Current: 1A - 45A Working Efficiency: 95% Material: Aluminum Alloy Color: Black, Pearl Chrome
According to my experience, I used and reviewed many box mods, but the
VOOPOO Alpha One TC Box Mod 222W
, to be honest, is a surprisingly small device. What makes a distinction between this mod and others is that it has a LOVE mode. Originally, I am confused about this new mode, and then I understand it after collecting mass information. The brand-new love mode is designed to offer you lasting vaping time and reduce the impact of the continuous high-powered hit under the high-wattage. In fact, I never vape at this high-wattage level. If you are interested in it, you can choose a tank to test this feature. On top of that, this vaping mod has a Gene chip, capable of recognizing the old and new coil as well as coil resistance so as to warn users when inappropriate use. This feature significantly improves its safety. The safety, I think, is an important factor for choosing vaping mods. But it is a little heavy for me, and I cannot hold it with one hand. Furthermore, it cannot fit into my pocket well.
Tesla Nano 120W TC Box Mod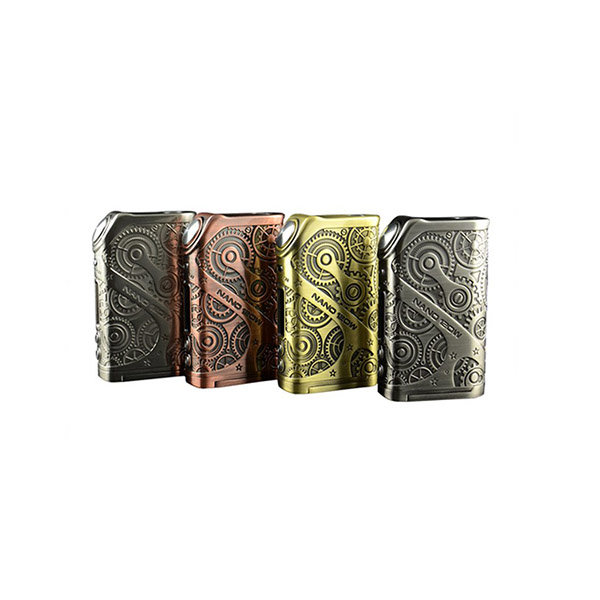 120W Maximum Output with Two 18650 Batteries Toggle Switch Design Innovative Taste Control, Normal/Soft/Hard/User Mode New Battery Cover Design with 4 Venting Holes

Brand: Tesla Dimensions: 90mm x 55mm x 25mm Thread Type: 510 thread Cell Type: Two Hi-rate 18650 Batteries Output Mode: KA/TC-Ti/TC-Ni200/TC-SS316/TCR Mode Output Wattage: 7-120W(in 0.5W increments) Color: Antique Copper, Stainless Steel, Antique Brass, Black Max Output Voltage: 9V Max Output Current: 35A Battery Required: 2x 18650 batteries (not included) Resistance Range: 0.1-3.0ohm for VW mode TC Range: 100-300℃/200-600℉
In my view, if a box mod wants to catch user's attention and build a reputation as fast as possible, it should have some innovative and distinctive ideas. The
Tesla Nano 120W TC Box Mod
has gained an advantage in this regard. This box mod stands out among box mods for its shocking steampunk design and taste mode. When I get this mod, I feel shocked as so many different-sized gears are engraved into decorative metal, which brings me into the industrial age. Initially, I think that it feels rough when holding it with my hands. But finally, through testing, it still feels smooth and comfortable. Regardless of its price and performance, I immediately love it from the bottom of my heart.  Therefore, an eye-catching design is also a great weapon to win a market. Additionally, Tesla Nano 120W TC Box Mod is equipped with a user-friendly taste mode(including  Normal, Soft, Hard and User options). You can totally choose one of them in line with your taste. This mod supports 120W and is powered by dual 18650 batteries. This mod must excite you.
IJOY Captain PD270 234W BOX MOD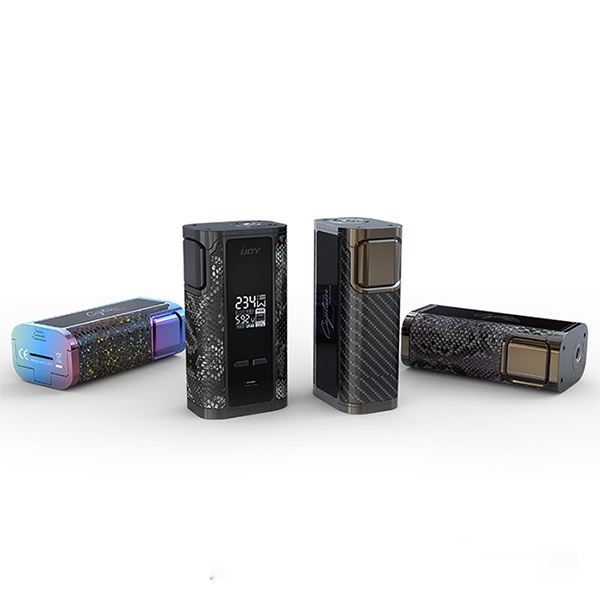 First Dual 20700 Battery Box Mod (include battery) 234W Max Output Compact and Portable Size Bright and big size screen No overhang with 30mm tanks 3 Body Colors, 18 different skins to choose from 18650 battery fit with adapter

Brand: IJOY Dimensions: 89mm×48mm×32mm Color: Black,Gun colour,Rainbow 3 body colours(with more than 18 different skins) Output Wattage: 1-234W Battery Capacity: 20700 battery×2(batteries included,18650 battery adapter included) Resistance range: 0.05-3.0 ohm
IJOY always attracts my attentions, partly because I like its special design and delicate colors. I have two IJOY products-
IJOY Genie PD270 Box Mod 234W
and
IJOY Captain PD270 234W BOX MOD. But
I will introduce the latter to you. This box mod reminds me of the
Smok Alien TC 220W
I ever used. The IJOY Captain PD270 234W BOX MO is capable of dual 20700 batteries as well as 18650 batteries. It is said that 20700 batteries will replace 18650 batteries in the future vaping world as it can dramatically enhance the battery life. Moreover, this box mod can make device's operation quite smooth and easy with the High-Quality IWEPAL Gene Chip. This box mod has a good 510 connector, allowing any atomizer up to 30mm in diameter without overhang, and I recommend you that
IJOY Captain Subohm Tank
is the best tank. An important fact should be noted that its big power button seems to take up the half of mod's one side, which is a good news for me as I hate the small button. Thanks to this big-size button, I just press this via my thumb effortlessly and then take a puff. To be honest, the IJOY Captain PD270 234W BOX MOD is a compact and solid mod with respect to its design and performance. You should buy it. These box mods are the best devices, and some of them do well in performance, while others do a good job in design. All in all, I select these box mods based on my experience, and you may choose one of them based on this list or you can buy one in line with your likings. Keep in mind that box mods are very important device.