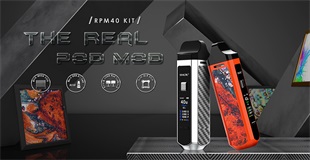 On 13th Aug, Smok announced the news about their upcoming new device, Smok RPM40 Pod Kit, on their official Instagram. Now, we can have a detailed look at this mysterious device!
Parameters:
Size: 25 * 25 * 99mm

Battery Capacity: 1500mAh

Standby Current: <140uA

E-liquid Capacity: 5ml(Empty pod) / 4.3ml(Standard Pod) / 4.5ml(Nord Pod)

Firing Time: 0.001S

Input Voltage: 3.3V-4.2V

Output Voltage: 0.5V-4.1V

Output Wattage: 1W-40W

Charging Current: 0.88A (Max)

Charging Voltage: 5V

Output Mode: Watt

Resistance Range: 0.2ohm-2.50ohm

Overcharge Voltage: 4.3V

Over-discharge Voltage: 2.4V
Package Included:
RPM40 Device (1500mAh)

Standard Pod (RPM Mesh 0.4ohm Coil Preinstalled) (4.3ml)

Nord Pod (Nord DC 0.6ohm Coil Preinstalled) (4.5ml)

USB Cable

User Manual
The Battery Mod
Honestly, Smok brand always has the great ability to produce their signature devices. And I think no one doubts about that. Even though they released the Smok Trinity Alpha and Smok Mico which were both regarded as copying products, it still can not stop the two devices from becoming so much popular. As for this one, Smok RPM40 Pod Kit, Can it still hit the spots? We shall see that later!
Let's talk about the design of the whole kit. Rechargeable battery mod and refillable pod cartridge. The standard configuration of today's pod starter kit. I'd like to call this kind of device that you can replace the coil inside as a pod starter kit instead of a pod system kit. And I think what I'm insisting on is right.
The biggest USP of this Smok RPM40 Pod Kit is its 40w maximum output. Even though 40w output is still weak for those big cloud chasers, it's pretty crazy for a pod starter kit on the market.
1500mAh internal rechargeable battery is awesome for long time use. But what disappointing is the charge wattage is only 4.4w(5V/0.88A). According to the test data from Smok, it will take 2 hours to charge to 75%. Of course, it's quite annoying when you wait for the full charging of your vape devices. But from another perspective, low wattage charging will extend the service life of your battery. Hmm, you can not have it both ways.
0.96 inch TFT material colorful screen provides a much better sense of vision. Although you can adjust the output wattage according to your preference, the actual operations are not much to do. Except for the wattage adjustment, you can set up the color of your user interface as well.
The Pod Cartridge
The juice capacity of this Smok RPM40 Pod Kit reaches up to 4.3ml which is also satisfactory. The refilling port on the side is quite easy to operate. But the annoying black rubber stopper makes some vapers go bananas actually.
Smok launched its new coil series for this Smok RPM40 Pod Kit. What's interesting is this device is compatible with nord coil series. But you can not install the nord coil on the RPM40 pod cartridge straightly. You'll have an extra RPM nord pod to do that!
Now you can find it in our store.
Click here to see: https://www.ave40.com/smok-rpm40-vape-pod-system-kit-40w-1500mah.html
Vape Wholesale & buy Electronic Cigarettes online in Bulk.
Quality Vape Products, Trusted Vape Wholesale Supply by Vape Shops Owners.
Wholesale Inquiry: https://www.ave40.com/wholesale-service.html
Thanks for Reading!