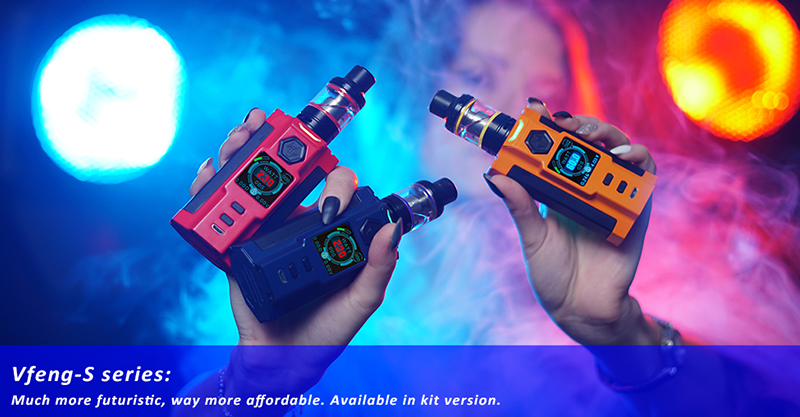 Sigelei Snowwolf Vfeng-S 230W Kit
is a compact device with
Sigelei T3 Tank
and
Sigelei Snowwolf Vfeng-S 230W Mod,
such a perfect union, making it the very cutting-edge one of the
Sigelei
series products. T3 tank, measuring 24mm by 55mm, adopts top refilling to guarantee the leak-proof and convenience with 2.8ml liquid capacity. Such configuration quite makes sure of a whole day vaping. Sigelei vfeng-s 230 kit definitely brings you the best vaping experience. It is capable of heavy use thanks to its material of 303 SS, silicon and glass. It is lovely in four colors to choose ---dark, blue, red and orange.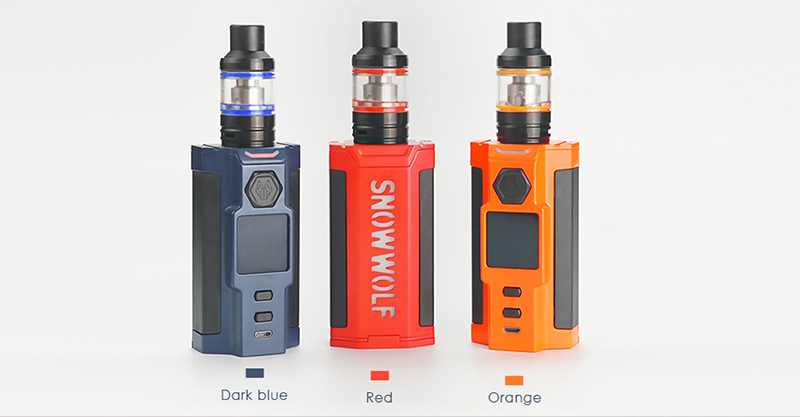 Sigelei Snowwolf Vfeng-S 230W Mod
, as the remarkable part of the
Sigelei Snowwolf Vfeng-S 230W Kit
, it measures 46mm by 34mm 87mm. Max 230W high power output box mod which needs to install dual high drain 18650 batteries and support atomizer resistance:0.05-3.0ohm, which conducts huge staying power for a whole day vaping. It was made of zinc alloy and plastic, making it not only a fresh look but also durable and lasting. To be the next revitalization of the beloved
Vfeng series
, it was displayed by a highly advanced 1.30〞TFT color screen which can support color screen changing.  Few products are on the market that provides this processing. The side-mounted fire button caters to the ergonomic design, making it more portable. This device is available in three colors---Red, Dark Blue and Orange---totally match your personal preference.
[tabs] [tab title="Parameters"]Sigelei Snowwolf Vfeng-S Mod Brand:Sigelei Size:46mm x 34mm x 87mm Battery:High Drain Dual 18650 Batteries Wattage Range:10W - 230W Screen:1.30" TFT Color Screen Resistance:0.05ohm - 3.0ohm Material:Zinc Alloy+Plastic Color:Dark Blue, Red, Orange[/tab] [tab]Sigelei T3 Tank Brand:Sigelei Size:24mm x 55mm Capacity:2.8ml Materials:303 SS+Silicon+ Glass Coil Size:14.6mm x 18mm Coil Resistance:0.2ohm Color:Dark Blue, Red, Orange[/tab] [/tabs]