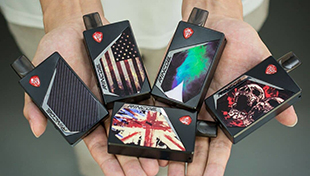 It seems like the shape design of the pod system kits starts to learn from the box mods. Even though pod kits are growing explosively, it is undeniable that the box shape is still favored by most vapers. So, we can see more and more box-shape pod kits on the market. Rincoe Tix Pod Kit, a new box-shape design pod device, is what we're talking about today!
Parameters:
Material: Zinc alloy + PC + IML

Size: 90.7*43*19mm

Battery: 1000mAh

Capacity: 2ml

Power: 10-20W

Input: 3.2V-4.2V

Coil Resistance: 0.3-3Ω

Charging specification: 5V/1A

Efficiency: 95%
Package Included:
Tix Battery Mod

Tix Cartridge(Tix Mesh 0.8Ω coil inside)

Regular 1.0Ω coil

Type-C Charging Cable

Certificate Card

Warranty Card

User Manual

Lanyard
The Battery Mod
Talking about my initial impression on this kit, I have to admit the Rincoe Tix Pod Kit is designed exquisitely. Constructed from zinc alloy material so its weight is just in the right place. There're different pattern panels on the front and the battery door has knurling decoration. No matter which hand you're used to using, you can feel the subtle feel these details bring. The whole battery mod is boxy with sharp edges and corners on four sides so it'll make you feel a little bit uncomfortable when gripping it in hand for a long time. Well, as long as you get used to it, I think it's pretty easy to find a way of holding it comfortably.
On the right side, you can find the air hole, the voltage adjustment button, two indicators, and the type-c charging port. If you do not find the fire button, try to press the red logo 5 times on the front. :)
The lower indicator will flash three times when you turn the device on/off. And the upper one will flash twice in the corresponding color when you try to adjust the voltage.
I think someone out there also prefers the type-c port. Needless to say, this configuration definitely provides much better convenience than the USB port. Specifically when there's no light.
Open the battery door up, you will find there're three magnets on the back. And I have to say the strength of the magnets is pretty great. I don't think I am the only one who is concern about accidental falling due to insufficient magnet strength. And I have lost my few pod cartridges because of that! But that does not mean the removable battery door design is good enough cause it will be slightly loose when you shake the device.
As for the location of the groove where you put the pod cartridge is not magnetic. But you can rest assured because it will be stuck tight.
The Pod Cartridge
There're a few highlights of the pod cartridge of Rincoe Tix Pod Kit. First of all, transparent appearance makes it easy to see the level of juice inside. But you need to take off the pod first. Or it'll be hard for you to check that correctly.
Second, the refilling port on the front is really great. Well, just like what I said above, it's a little bit hard to check correctly if you do not take the pod off, so you need to be careful with the strength of squeezing the juice bottle.
As for the adjustable airflow is what we all expect to see. People have their own vaping style so there're quite different preferences for the abundance of airflow. Now that the airflow is adjustable, so the coil is changeable as well. You will get two coils from the package. 0.8ohm mesh coil and 1.0ohm regular coil.
The Verdict
I just want to say this Rincoe Tix Pod Kit is a pretty great device even though there're a few cons exist.
The biggest con of this device is the slightly loose battery door. I don't know how it happened, because the strength of the magnets on the door is pretty great. Adding another magnet may be much better.
And I don't know if it's appropriate to categorize this part as a con because it's hard to adjust the airflow up to your preference due to the richness of airflow. Especially for those MTL vaping fans. Of course, abundant airflow is what we want, but I just want the airflow on this kit could be much more restrictive.
As for the pros, nice looking, 1100mAh battery, type-c charging port, adjustable voltage, changeable coils, and the refilling port position. I think it's pretty enough to prove that it's an awesome device.
Maybe I forget to tell you the actual vaping experience on this kit. 0.8ohm mesh and 1.0ohm regular coil both work great. Just like what I said above, the rich airflow surprised me a lot, 0.8ohm mesh coil gave me great flavor. Well, that precisely did not provide good MTL vaping. Even though I adjust the airflow ring to one-fifth, the airflow was still abundant. If the coil resistance is 1.3ohm or 1.5ohm will make the MTL experience much better.
Now you can find it in our store.
Click here to see: https://www.ave40.com/rincoe-tix-vape-pod-system-kit-1000mah.html
Vape Wholesale & buy Electronic Cigarettes online in Bulk.
Quality Vape Products, Trusted Vape Wholesale Supply by Vape Shops Owners.
Wholesale Inquiry: https://www.ave40.com/wholesale-service.html
Thanks for Reading!