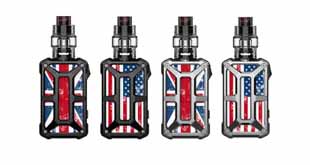 It's been a long time since the last one vape device from Rincoe was released till now! Few days ago, I just received this Rincoe Mechman Kit sample from Rincoe and shot a short detailed video in our official Instagram(Ave40 Official). From the comments and feedback from all of our social media, I think it's necessary to make a review on this a little different mod kit. Before we start, May I ask that have you guys ever been tired of the resin panels mod kit? If you do, That's a right decision to check this review!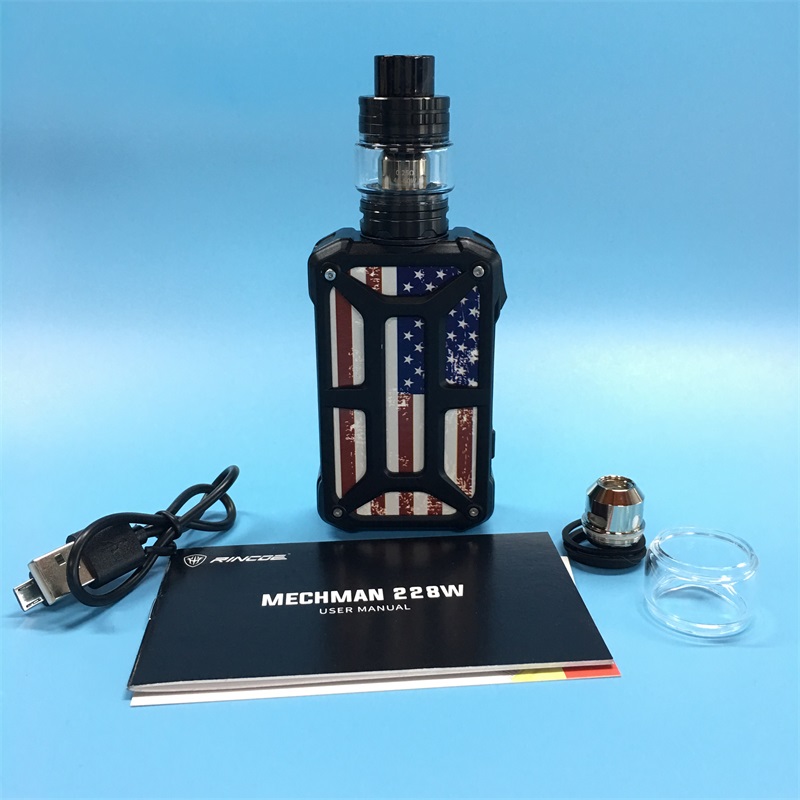 Parameters:
Mechman 228W mod
Size: 53.8* 29.2* 90mm
Material: Zinc alloy & leather
Battery: dual 18650 batteries(not included)
Output: 1-228W
Screen: 0.96 inch display
Max output current: 50A
Max output voltage: 8V
Input voltage: 6-8.4V
Resistance range: 0.08-5ohm(VW/Bypass modes)/0.05-3.5ohm(TC/TCR modes)
TC: Ni200/Ti/SS
Temperature range: 200-600°F/100-315°C
Charging: 5V/2A
Mechman mesh tank
Size: 28* 36mm
Material: Stainless steel & quartz bubble glass & resin drip tip
Capacity: 4.5ml
Resistance: 0.25ohm single mesh coil(40-60W)
0.2ohm dual mesh coil(50-80W)
Drip tip: 810 drip tip
Thread: 510
Package Included:
Mechman 228W mod
Mechman mesh tank (single mesh coil 0.25ohm)
Extra dual mesh coil 0.2ohm
Extra bubble glass tube
Accessory
Certificate card
User manual
USB Charging cable
The Tank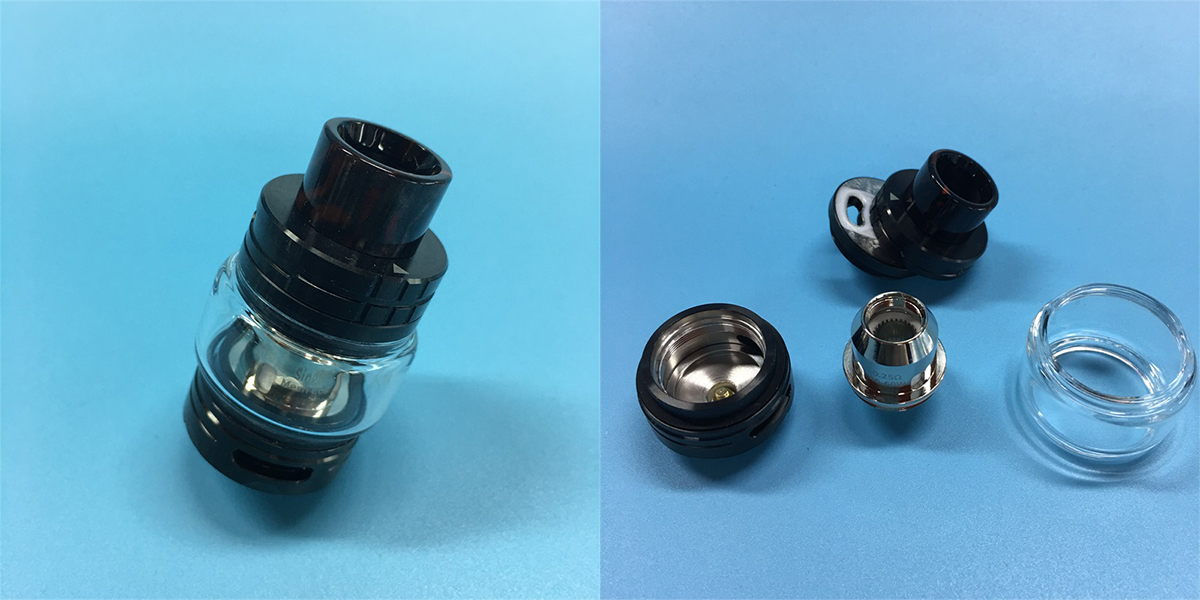 Let's start with this simple mesh tank on the Rincoe mechman kit. Since the first one mesh tank launched in 2018, there're more and more mesh tanks released in the market and now mesh coil is applied in the vape pod system kit as well. Compare to the traditional coil, bigger heating area and more evenly heated are the awesome advantages that mesh coil features. So the better flavor and richer vapor both are guaranteed. Meanwhile, there're more and more multihole mesh coils developed. So you can see dual mesh coils, triple coils, quad coils and more. As for this mechman mesh tank. Actually there's not too many special features you can find. Comes with resin material drip tip and metal frame. Push-to-fill design with bottom airhole adjustment method. Quite a traditional and common mesh tank. While in the package, you get two mesh coils to use. 0.25ohm single mesh coil and 0.2ohm dual mesh coil.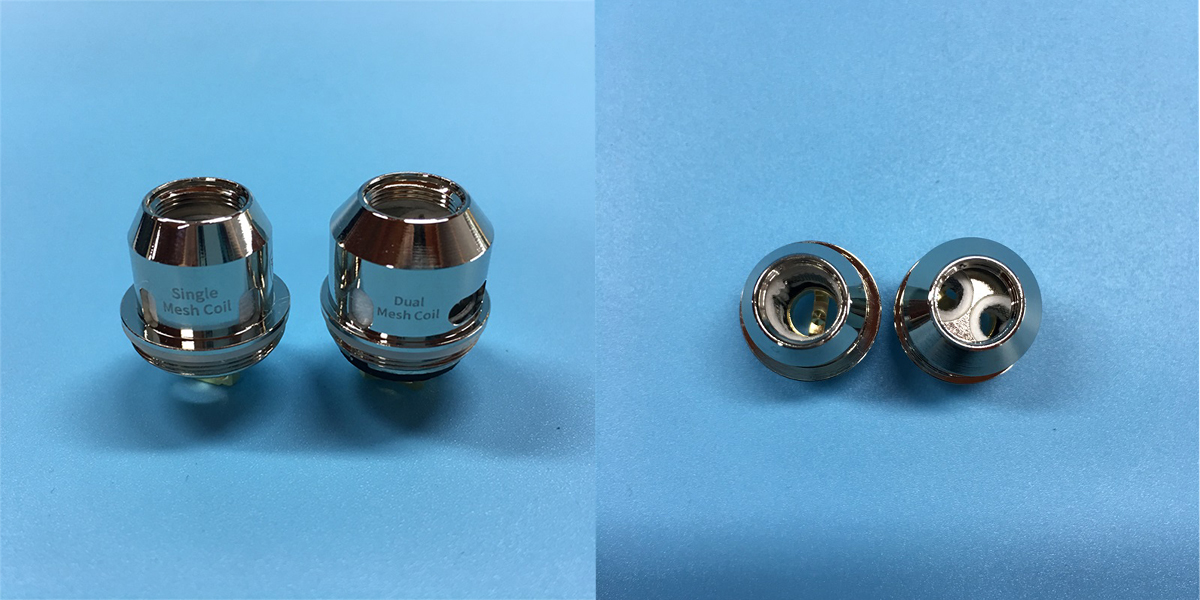 The Mod
I remember I have asked that have you ever been tired of resin panels mod kit in the market in the beginning. Honestly I have seen so many resin panels box mod recently. Voopoo drag series, ijoy shogun series, Eleaf istick mix kit and more. Now even in pod system kit. I have to admit that resin material is the great material to be applied in the vape device but the increasingly tendency of using in every part of vape device just make me wonder if there're any better or different materials to use?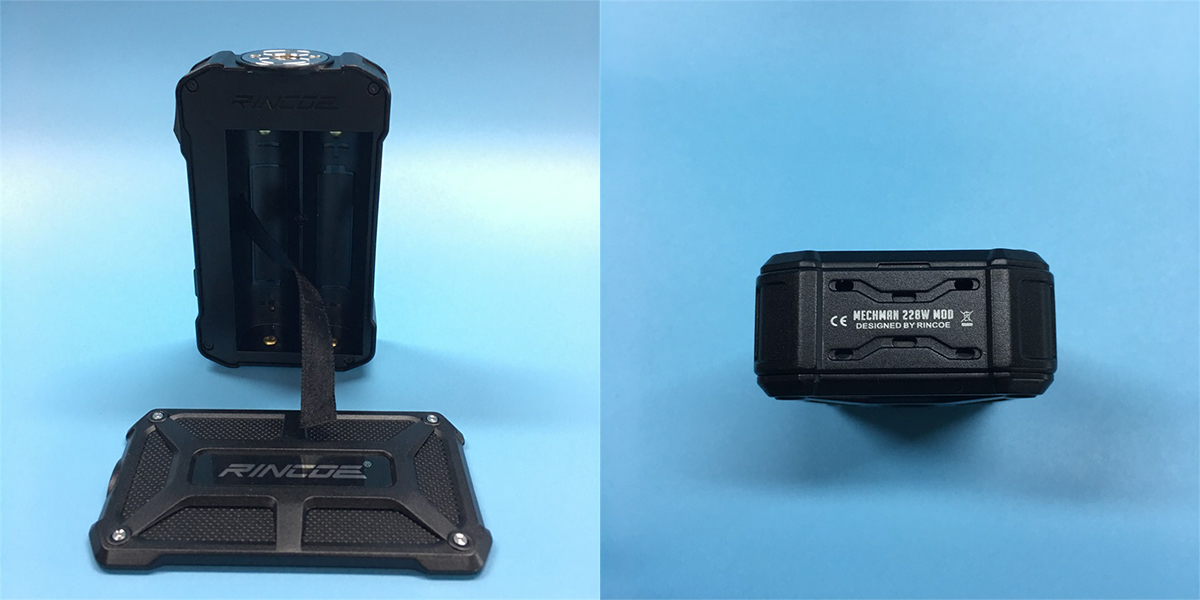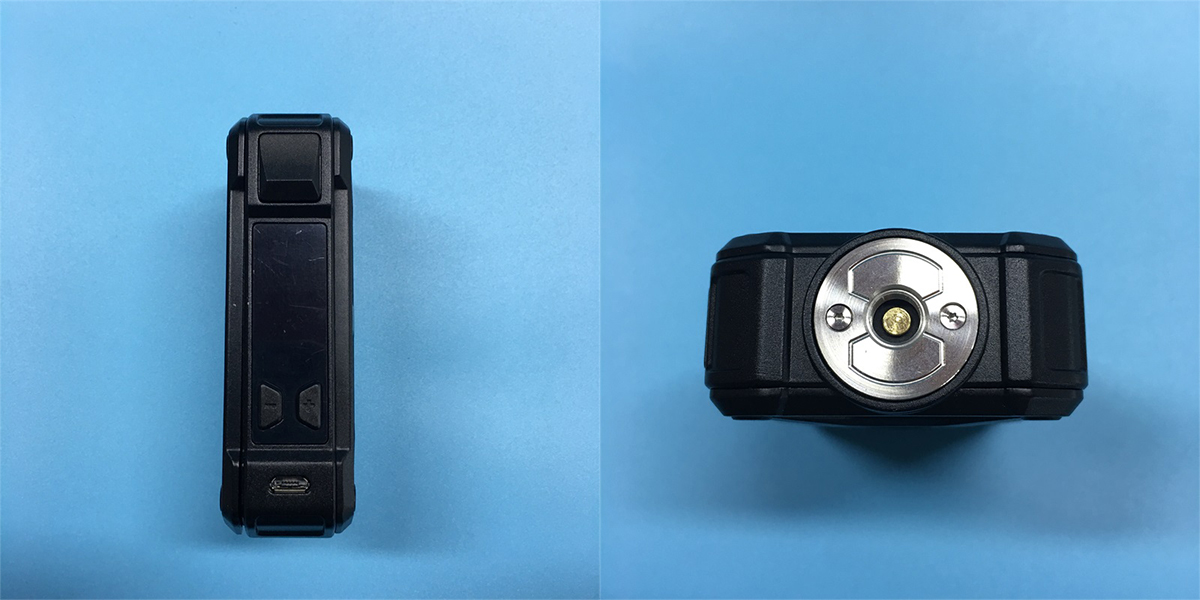 In the Rincoe mechman box mod, you can not find any resin material but just metal. The whole mod all comes with metal material except for the buttons. Different from the rounded corners design which is for better grip feeling in hands. The mechman mod is designed more toughly. No streamlined design, no rounded corners and no ergonomic thoughts inside. Just one mech style box mod. Even though this is an all metal box mod but thanks to the zinc alloy material so this mod is not that heavy in hand. And the size(53.8· 29.2· 90 mm) won't be a problem for you to hold and carry with. As for the whole design is not focused on the mod structure but on the interchangeable panels. Attention that the Rincoe official doesn't produce the postcard-like panels so you have to DIY some to use. Well I think it's not a problem to do that!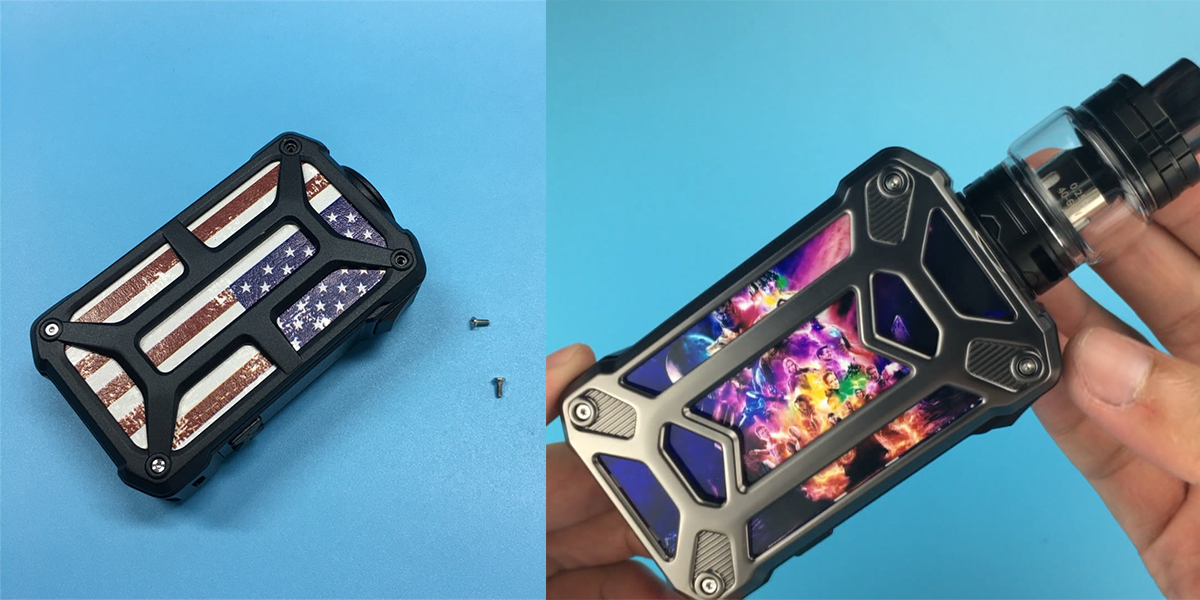 On the other hand, there're three different metal frames you can choose from. Steel wing, steel bone and steel case. And each frame all comes with 7 or 9 different inner pattern panels inside. Personally I tend to recommend the steel wing with USA flag, UK flag and camouflage colors to you guys. Especially the SS color.
The Verdict
Actually this is a totally different box mod kit from the others in the market. There're not so many great features you can get from this mechman kit but it's just different. I don't know if Rincoe will make it this time but they have express their sincerity with this mechman kit. They don't follow the hot trend to design and produce new devices but lead another way to make their own devices. Absolutely Rincoe knows what's the popular and what's the hot sell and best sell. But they just do what they want to do instead of reproducing or copy. That's really precious and we should respect this kind company like Rincoe. Good job, Rincoe! Besides, I get the news that Rincoe prepare enough Mechman kits this time so that's absolutely good news for those vapers who want to purchase one! You don't have to pre-order any more! Now you can fins it in our store.
Click here: https://www.ave40.com/rincoe-mechman-tc-kit-228w-with-mechman-mesh-tank-4-5ml.html
Thanks for Reading!