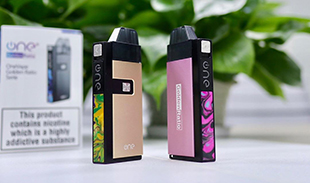 So here we are! Another review on another new pod system kit - Onevape Golden Ratio Pod Kit.
Before we dive down on this kit. I think it's necessary to talk about its name here! Actually, you can not find any information about the reason why Onevape official named this kit in this way. Literally means it's sort of cool or something else. Personally, I don't know for sure! If you guys know, please leave your comment down below!
Now, let's have a quick look at this new pod system kit with an interesting name!
Parameters:
Size: 94 * 38.5 * 14 mm
Battery Capacity: Built-in 1100mAh
E-liquid Capacity: 2ml
Input Voltage: 3.2-4.2V
Power Range: 10-25W
Changer Parameter: DC5V 1A
Standby Power: <100uA
Resistance: 1.2ohm Regular-MTL Coil (Max 14W, Fit for Nicotine E-liquid / 0.6ohm Mesh Coil (Max 27W, Fit for Non-Nicotine E-liquid)
Package Included:
Golden Ratio Device
Empty Pod (2ml)
1.2ohm Regular-MTL Coil (for Nicotine E-liquid)
0.6ohm Mesh Coil (for Non-Nicotine E-liquid)
Micro USB Cable
User Manual
The Battery Mod
Frankly, I don't like this kinda color which they called rose gold. There're totally of 6 colors available. I just think it is the least appealing one.
Even though this one is just a pod system kit, it's still constructed of three different materials. Aluminum alloy outer shell, Zinc alloy middle frame, and resin sticker or panel. What impressed me a lot is when I took this kit out of the package and hold it in hand. I just felt it is pretty heavier than the ordinary pod system kits on the market! So as for its workmanship, Just pretty durable. A well-built pod kit.
The capacity of the interior battery is 1100 milliampere-hour which is a standard configuration! And the charging standard is 5V/1A which is the same as your iPhone. So I still want to say that's a great pity this kit does not support fast charging function! Only 5 watts of charging power means it will take you more than one hour to fully charge it!
Though this kit is a little bit heavier, it's still friendly to your hands. 8 corners, tops and bottoms, are all polished into a suitable shape. Actually, when you hold it, you can still feel a little uncomfortable due to the hardness of zinc alloy material. But that's still OK cause you can easily switch to another comfortable way to hold it.
And Onevape also redesigned the lock button of their new device - Onevape Golden Ratio Pod Kit. It's not an uncommon design cause you can find some similar locks from some hot sale products like Smok Trinity Alpha. Compare to the magnetic connector in most pod system kits, lock button will make sure the pod cartridge you install is connected tightly to your battery mod. And also it will prevent some accidental situations happening like slip-off.
Of course, this kit is a button-activated device. As usual, the logo of Onevape brand is the indicator to remind you of battery status by flashing in different colors. Even though you have a button in this kit to press, there are no adjustment functions you can do. In a word, this button is only for vaping!
The Pod Cartridge
I don't know whether this is a semi-finished version or not. The pod cartridge I got is not transparent enough for me to check the level of juice inside or let me clearly know when should I stop refilling. But when I check their official website, I saw the pod cartridges are all transparent white. That will be much better to use. I just hope this one I got is just a semi-finished sample!
The capacity is 2ml. And the fill port is located on the bottom which is close to the coil installation position.
The way to adjust the airflow also has been redesigned. You can just twist the knob to an appropriate position which meets your vaping needs. That's easy to use but not easy to twist in some way!
You will get two coils from the package. 1.2ohm regular coil for MTL and 0.6ohm Mesh Coil for DL. And you just need to plug in and press down. Pretty easy!
The Verdict
So it's time to talk about my thoughts on it. First of all, I'd like to say this is a greatly well-built pod system kit. The appearance, the material, the weight and the pod, personally I'm deep into it already!
Secondly, after a few days use, I just find the 0.6ohm DL mesh coil is awesome with freebase nicotine juice. The wattage will be adjusted to 27w when using this coil. Fully open the air hole so the airflow will be rich enough! As for the flavor, it's just awesome!
And the 1.4ohm coil is better for MTL. And the wattage will be switched into 14w when the kit detects the coil you use. If you want better MTL vaping, personally I advise you to twist the airflow knob to the middle position! That will make you feel better!
As for the cons of this kit, I'd like to say more about the lock button. When you install the pod cartridge, you need to press the button down as well to make sure the inner part of the lock button will not be broken. Of course, you can only press the pod cartridge down to the position without pressing the lock button. I'm just worried about the service life of the lock.
All in all, this device, Onevape Golden Ratio Pod Kit, is worth trying! The price on our website is $39.99. Well, if you need a new pod device, You can just check it out!
Now you can find it in our store.
Click here to see: https://www.ave40.com/onevape-goledn-ratio-vape-pod-system-kit-1100mah.html
Vape Wholesale & buy Electronic Cigarettes online in Bulk.
Quality Vape Products, Trusted Vape Wholesale Supply by Vape Shops Owners.
Wholesale Inquiry: https://www.ave40.com/wholesale-service.html
Thanks for Reading!