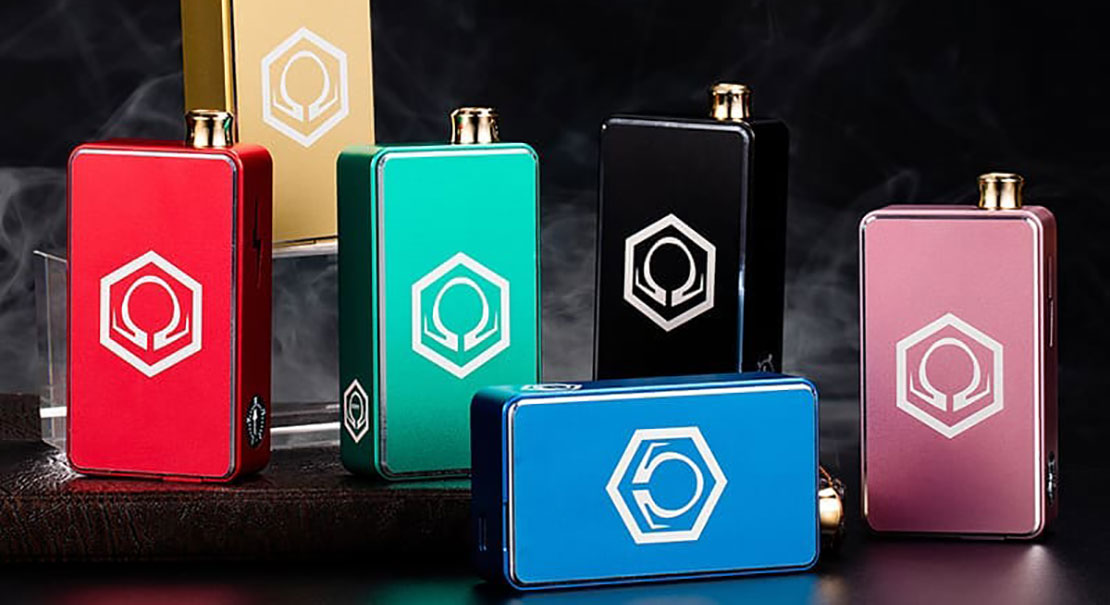 First thing first, this device, Ohm Vape Ohm AIO Kit, is not 100% the same as Dotmod DotAIO kit. But one thing we all know is it draws on the whole design of the DotAIO kit.
There's a total of seven colors you can choose from. The build quality of the metallic body, which painted in a bunch of different colors, definitely gives you a comfortable experience. By the way, there're also resin versions you can pick up.
The Ohm Vape Ohm AIO Kit is powered by a single 18650 battery. It may seem a little weird that to put a battery in a pod kit, but it definitely does bring us a lot of conveniences.
You just need to swap the dead battery out with a fully charged one instead of charging it with a USB cable. From my own perspective, I think it is necessary for pod kits to adopt this kind of design.
The two panels on both sides of the Ohm Vape Ohm AIO Kit are removable. On the front side, you can install your own 18650 battery. And you can replace the coil heads from the backside.
There're two replacement ceramic coils included in the package, which rated at 1.5ohm and 0.3ohm. You can adjust the airflow by twisting the ring on the bottom of the cartridge.
On the left side of the mod, you can see a lightning-shaped opening where airflow comes from and a potentiometer for adjusting the output voltage. In some sense, it reduces the number of openings on the mod. However, turning the potentiometer is not as easy as pressing the button.
Specifications:
Size: 81mm x 45.5mm x 22.6mm
Adapter battery:single 18650 battery
Pod Capacity: 3ml
Coil:1.5ohm/0.3ohm ceramics
Color: Gold, Black, Blue, Purple, Red, Green, Pink
Kit Includes:
Ohm AIO Pod Kit * 1
Type C charging cable* 1
0.3ohm coil* 1
1.5ohm coil* 1
E-juice tank* 1
O-rings* 8
Instructions* 1
Now you can find it in our store.
Click here to see: https://www.ave40.com/ohm-vape-ohm-aio-pod-vape-system-kit-3ml.html
Vape Wholesale & buy Electronic Cigarettes online in Bulk.
Quality Vape Products, Trusted Vape Wholesale Supply by Vape Shops Owners.
Wholesale Inquiry: https://www.ave40.com/wholesale-service.html
Thanks for Reading!