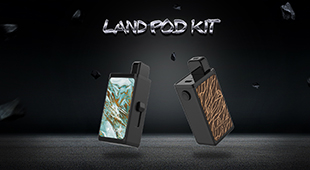 On 15th Aug, OBS brand released the news of their upcoming pod system kit. The OBS Land Pod Kit. And now, we can have a full view of the first pod system kit from OBS.
The Details
The OBS Land Pod Kit also adopted the mainstream design that there're two pattern panels covered on both sides. The benefits of this kind of design are better color-matching and make up for the insufficiency of grip feeling design.
There's a unique button on the left side. What's it for? You can take off the pod or hide the pod by pushing up/down. And the benefit of this design is to make you feel much more comfortable when you put it in your pocket. On the other hand, it probably to prevent children from misusing!
The capacity of the pod cartridge is 1.5ml and the resistance of the coil inside is 1.4ohm. The refilling method is also as simple as shown above. Keep this in mind that there're two pod cartridges included in the package. That's great!
As for how to operate this device, it could not be much simpler. Press the fire button 5 times to power the device on/off. Then, press the fire button and vape.
Specifications:
Size: 73x32x24mm

Weight: 77g

Battery: 750mAh

Capacity: 1.5ml

Power: 7W-10W

Quiescent Current: <10uA

Output Voltage: 3.3V-4.2V

Pod Resistance: 1.4Ω

Charging Time: 1 hour

Charging: Micro USB Port
Kit Includes:
BS Land Battery * 1

OBS Land Pods* 2

USB Cable* 1

User Manual* 1
Now you can find it in our store.
Click here to see: https://www.ave40.com/obs-land-vape-pod-system-kit-750mah.html
Vape Wholesale & buy Electronic Cigarettes online in Bulk.
Quality Vape Products, Trusted Vape Wholesale Supply by Vape Shops Owners.
Wholesale Inquiry: https://www.ave40.com/wholesale-service.html
Thanks for Reading!